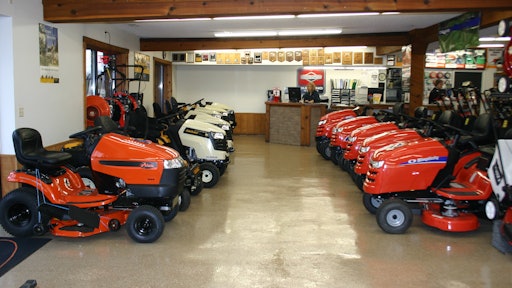 In this day and age, it can feel like a "dealer-eat-dealer" kind of business. What can you do to break apart from the pack?
Something that should be on the mind of every great dealer is how he or she can gain more market share. Tom Shay, a consultant for retail business owners, managers and staff, has provided insight into some of his tried and proven ideas to assist owners on how they can stand out and attract the most customers.
"What I see happening now is that we work so hard to make a sale," Shay says. "We runs ads in the paper and offer deals. It doesn't matter if you're a Toro, Stihl, Husqvarna or whatever type of dealer, we kind of get lost out there in the muddle with everybody else."
Shay feels that advertising has become a sort of screaming match, with business owners determined to spend the most money and get their message out over multiple outlets. In a business where everyone wants to not only attract customers, but also acquire loyal ones who return again and again for service and new equipment purchases, what can you do to stand out?
"We're so concerned about a customer coming in the front door, but what we don't pay attention to is that image that there's a back door," Shay explains. "A customer can come in, but next time they get ready to buy a piece of power equipment, they go out and watch the ads again and my thought is, why? Why is it that they don't just come back to the same place?"
Protecting equipment
Offering your customers service that no other dealers offer will make the customer feel appreciated and that you've gone the extra mile to ensure that their experience is a successful one.
"I would hope that every dealer out there would do the same thing that we did at our business," Shay says. "If I sold you a piece of power equipment, I didn't care if you walked in and had cash in your hand. I had those little 3x5 cards, and on one of those cards I wrote down the piece of equipment you bought. I wrote down the make, model and serial number, and I asked you for all of your contact information. I explained to my customer, who maybe wondered why I wanted this information, that I wanted it in case anything should happen."
Shay outlines why keeping the customer's equipment purchase on file can be beneficial for a number of different situations. Say a customer needed warranty work. Rather than relying on the customer to keep a receipt to ensure that they're still within the warranty period, Shay says his 3x5 card method was a simple way to have that information readily on hand. This system would also be useful in the unfortunate case that a piece of equipment is stolen from a contractor's truck while he's on the job.
"The contractor is going to want to file a report with the police, and the police are going to ask what the stolen piece of equipment looks like and what the serial number is. If it's an Echo blower, for example, they're all the same color. Well here I am to your rescue. If you come back and see me, I've written down the serial number down and I can give it to you and you can give it to the police—so basically I've saved you," says Shay, adding that in the event the police don't find the stolen piece of equipment, he would dummy up a receipt for the customer to submit to his insurance company.
A few other tricks to draw customers back
Gaining a customer's information also means that you can contact them later with deals and offers. Shay highlights that you can get someone in the door by offering free service for a small piece of equipment, and that is a far smaller cost than advertising dollars.
Shay recalls an experience when a contractor from a small business came in and needed to get a chainsaw fixed that was "on its last leg". Shay fixed the chainsaw for free and told the contractor that he should start looking into replacements. The contractor came in again two days later looking at chainsaws. Shay recommended one he should think about, and the contractor bought it on the spot—without even hearing a sales pitch.
"By offering something like a little bit of free service to my customers, I'm kind of different from the competition," Shay explains.
Other tactics Shay used was hiring a high school kid who was in the mechanical arts program. Whenever a piece of equipment came in, that kid was the first to work on it. He'd power wash it, change the oil and air filter if necessary, sharpen chains and anything else that was needed—all at no cost. He'd also spray paint scratches or marks; they had a shelf of paint that matched every color of equipment. All of this "prep work" was done at no charge.
"What my customers didn't catch is that I'm billing them my dealership's standard hourly rate for the primary repair while this kid is doing all of that initial prep work. Well think about it, what am I paying an entry-level kid and what are my shop rates? My mechanic is making a whole lot more than the kid is. The big kicker is that I've given away a few little things that are perceived at a high cost, and I'm billing the kid out at my mechanics' rate—so I've made a profit," explains Shay.
Customers loved the results, Shay points out, adding that they were shocked when their equipment was returned in far better condition than when they dropped it off.
Shay says that he hears frequently from business owners who think they're the best, and he always questions why they think that. While your customers may be saying one thing, online reviews may be saying something else.
"There can't be that many customers making up the same (negative) story," Shay says, while recommending that business owners reply to online reviews themselves. Maybe it's a difficult person, or maybe your staff may have made a mistake. It's important not to be in denial and ignore it. Just respond back, 'I'm sorry, that's not how I run my business. I'm sorry you had a bad experience. Contact me to let me know how I can change the situation.'"
Shay says that then when prospective customers go onto online business directories like Yelp, they'll see that the business is owning up to mistakes and is attentive.
Timing is also important. Opening before your competition can mean that you get the professional customer's business.
Tom Shay spent more than 25 years working with his family's business. He eventually sold the business and in 1997 devoted himself full-time to developing seminars and writing magazine columns and books. Visit profitsplus.org for more information.