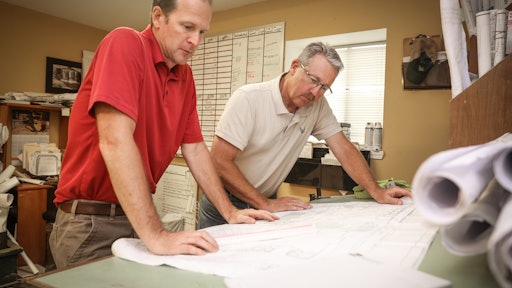 mburfordphotography.com
In 2007 at the height of the real estate market, Michael Hatcher & Associates in Memphis, TN, had far outgrown its current facility. Just finding enough room for employees to park was becoming a real nightmare. So Michael Hatcher bought a 22-acre plot of land where he could construct a new facility with plenty of room to accommodate the company's future growth.
Then the recession happened. Hatcher decided to put the move on hold.
"Things started to turn in 2010 and we haven't looked back since," Hatcher says with a hint of both relief and enthusiasm. "We had set some financial objectives coming out of the recession, which we were able to meet. So we decided to move forward with the new facility this year."
Michael Hatcher & Associates has been steadily growing and is back to the size it was in 2007. "We're a $10 million company again, but now we have a new vision, a new passion, and a new kind of energy," Hatcher relates.
"New" is the operative word, because a lot has changed since 2007—including Hatcher's vision for his new facility which he refers to as a Landscape Center. "In 2008 things like sustainability and urban agriculture had not yet come to fruition," Hatcher tells. "The industry was still mostly about things like outdoor kitchens and patios. Don't get me wrong, we still do a lot of that work. Our tagline has been 'Pools, Plants & Patios ... Plus a Whole Lot More.' But things are shifting a bit.
"Now eight years later, the younger generation is looking to be more involved and to have sustainable food," Hatcher continues. "I'm not saying they want to plow up their entire backyard. But we are seeing a lot of interest in raised planters and containers where they can grow some fresh herbs and vegetables. Then they can use those home-grown ingredients in their outdoor kitchens when entertaining friends and family. It all ties together."
Education feeds the vision
This growing interest in urban agriculture is where the innovative 22-acre Landscape Center comes into play. Roughly two of those acres are dedicated to urban gardening. Overall, the Landscape Center offers a glimpse into the future as well as a historic look at Memphis-area landscaping dating back to the 1960s when urban sprawl first started to take root.
"The Landscape Center is not a retail operation," Hatcher points out. "It is a vision I have for the industry and for our company. I refer to it as a display library. The objective is to attract kids to come out, such as on school field trips, to walk through the gardens and raised planters to learn about vegetable production. We're also putting in a small orchard."
While school-age children are the primary audience for the Landscape Center, Hatcher says older folks will enjoy it too. No, they might not spend an entire day out there tilling, weeding, planting and harvesting. But they may enjoy a stroll through the gardens. "It would be really great if assisted living centers would bring their residents out to spend some time in the gardens, enjoying nature and learning a bit about what we do," Hatcher says.
Regardless of who exactly comes out to visit the new Landscape Center, there is going to be some time and expense in operating it. To Hatcher, it's an easily justifiable investment. "It's all about positioning our company as a leader in the industry," Hatcher says. "The intent is not to generate revenue. It is to set us apart in our market—and to educate."
Staying on the topic of education, Michael Hatcher & Associates has adopted an area high school. They've helped get a greenhouse up and running to teach even more kids about plant life and urban agriculture.
Additionally, Michael Hatcher & Associates recently hosted the 2015-2016 Come Alive Outside Design Challenge, bringing top college landscape architecture and landscape management students to Memphis to collaborate with high school students and landscape professionals in the design-build of an engaging outdoor learning environment.
"We are building 100 school gardens in the metro-Memphis area in conjunction with The Kitchen Community," Hatcher says. The Kitchen Community is a non-profit that impacts nearly 100,000 children a day with nearly 300 learning gardens in schools and community organizations across the country.
Aside from what The Kitchen Community is doing, Hatcher says community gardens are popping up elsewhere—courtesy of local churches and also larger organizations such as The Salvation Army. "I am trying to connect our Landscape Center and our industry to this movement—just like we did eight or 10 years ago with outdoor kitchens," Hatcher says.
Classes, church and composting
Michael Hatcher & Associates' new 22-acre Landscape Center also houses the company's new 10,000-square-foot headquarters, which is also quite impressive. The front part of the building is set up for administration. Workspace for production personnel is designated to the center part of the building. That way production staff could come in on a Saturday, for example, but not gain access to the administrative offices.
The new headquarters also contains a 144-seat conference room that will primarily be used for company meetings and employee training. Hatcher sees other valuable uses.
"We have many clients, particularly property managers and real estate agents, who need to earn CEUs (continuing education units) in order to maintain their licenses and certifications," Hatcher explains. "We can offer up our conference room to hold classes. For example, I was talking to my insurance agent about putting a seminar together on slip-and-fall accidents in snow and ice removal. The point is that we want to play a role in helping educate our customers. That's what I'm thinking about as we search for unique ways to position ourselves in the market."
Always searching for the unique, Hatcher has come up with one more community-engaging use for the conference room. "We have many employees who just don't feel comfortable going to a conventional church," Hatcher says. "I have a friend who is a preacher, so we'll open up our space for church services for these employees and anybody else who wants to come, perhaps a couple of Sundays a month."
Moving beyond the 10,000-square-foot corporate office and conference room, Michael Hatcher & Associates' new 22-acre site will also include a five-acre composting operation where the green waste from landscape projects will be brought and processed.
In devising plans for the new site, Hatcher also kept efficiency in mind. Even with the two-acre urban gardening area and five-acre composting operation, there is plenty of room to organize and maintain a good flow. Hatcher set things up in a circular fashion so trucks never have to back up again.
Employee-owned and 100-strong
Michael Hatcher & Associates was founded in 1984 with a pickup truck and a couple of employees. Now the company employs more than 100 during peak season and 85 all year long.
As CEO, Hatcher says his primary responsibility is to be the visionary leader of the company. Still, he makes it a point to get out in the field a couple of times a month. "I might be the owner and CEO, but I don't just sit in an office all of the time," Hatcher relates. "That said, I don't get out into the field because I have to. I do it because I want to. I enjoy the physical part of this. It helps me stay in touch with reality."
Doing so boosts not only his own morale, but also his employees'. When employees see Hatcher in the yard at 6 a.m. with everyone else, they view him as more than just the owner of the company. "Some even joke, 'Oh boy, who's the unfortunate crew that has to work with Michael today?'" Hatcher says with a chuckle.
Truth be told, Hatcher isn't the only "owner" of his company anymore. That's because Michael Hatcher & Associates has had an employee stock ownership plan (ESOP) since 2009. An ESOP can go a long way in helping to foster good employee morale—as well as attract and retain top-notch talent in the first place. Fortunately for Hatcher, finding good talent hasn't been as big a challenge as it has been for most landscape companies. That's not by coincidence.
"We are constantly recruiting," Hatcher says. "I'm not talking about hiring people away from other companies. We are just constantly recruiting in the sense that we carry ourselves professionally with clean trucks, our shirts tucked in and our hats on straight. I make sure we're paying a good wage for our area—not just for landscaping, but relative to other occupations as well. For example, I know my foremen are making as much as an HVAC tech. You have to reward the people who work for you."
You also have to make sure the people working for you are a good fit for your organization. Hatcher says he worked closely with his insurance company several years ago and identified that most safety accidents were happening within the first 60 days of employment. So he and his management team developed a more stringent safety policy. "We track it and offer incentives for adhering to it," Hatcher points out.
Michael Hatcher & Associates has also established itself as a drug-free workplace, and they've been using E-verify since 2008. "If an individual gets through the E-verify process and passes a drug test, but doesn't want to work hard and follow our strict safety guidelines, they aren't going to stick around," Hatcher says. "For those who do, there is opportunity. People want to play on a winning team. You have to create that impression that you are the winning team."
A new television ad is helping to create that impression. The ad promotes the services Michael Hatcher & Associates provides, but also highlights the fact that they are always looking to add new, talented people to their team.
With respect to younger potential recruits, Hatcher says social media has become incredibly important. "This is where they are, so you have to be there too in order to have a conversation with them," Hatcher says. "You need to show them that there is a real career path by joining your company. You need to nurture them and show them opportunity."
Talk about showing opportunity. Hatcher religiously works with several colleges in the region as well as local high schools. He invites horticulture students to come and tour his facility and learn about his company. He even hosted a student contingent from BYU-Idaho that participated in the National Collegiate Landscape Competition held at Mississippi State earlier this spring. The instructor at BYU-Idaho had reached out to Hatcher because he knew of the company's impeccable reputation as a landscaping leader.
An industry-leading company led by a true visionary with unrivaled passion. That is Michael Hatcher & Associates—and has been for the past 32 years. What about the next 30?
"My wife says I'm crazy, but I have committed myself to 25 more years in this business," says Hatcher. "My dad is 84, so hopefully I have the genetics to live a full, long life. This is my passion and I want to keep doing what I'm doing. And it's not just about planting a holly. It's about the people you're working with."