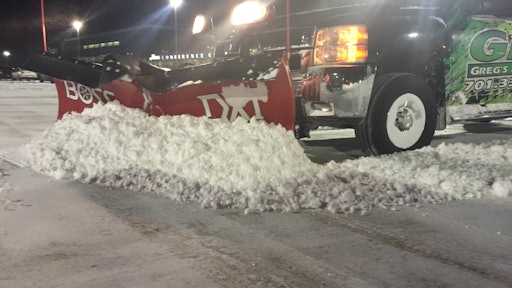 Greg's Lawn Care in Grand Forks, ND
Congratulations, you've survived another hectic spring and summer landscaping season. Well-deserving of a little breather as we transition to fall, your attention is likely turning to chicken wings and football. In actuality, you should probably be thinking about plow wings and slip-and-fall.
Steven Cohen of GreenMark Consulting Group is a landscaping and snow removal veteran. He says many landscape/snow contractors could do a lot better in the seasonal planning department. If they did, their operations would run a lot smoother and they'd make more money.
"Your crews may still be collecting leaves, pruning and maybe even mowing, but company ownership and leadership must start thinking about snow," Cohen says. "The number one killer of client relationships is frustrated employees and an overall lack of planning."
Collaboration is critical in today's landscape-snow business. Collaboration helps engage employees, improves retention, and potentially increases innovation. "The core goal of your organization should be to build a collaborative organization to help employees thrive in an ever-changing and diverse workplace environment," Cohen says. "There is a direct correlation between good planning and your customer service delivery."
In the end, planning is a team effort, not just the work of a few selected individuals.
Planning timetable
As a general rule, Cohen says snow contractors should follow a planning timetable that starts in early August and continues through to November when everything needs to be in order should the snow start falling. These meetings shall be well-planned and organized. Cohen suggests creating some basic steps for your strategic planning sessions. This would include a simple checklist of before-meeting planning, during-meeting planning and after-meeting tasks.
Early August Mindset Shift – Equipment fleet evaluation looks at what needs to be replaced vs. repaired, along with new equipment needs based on new accounts you've already secured. In addition to your leadership team and fleet manager(s), you should also consider involving key vendors in these discussions.
Also in early August, you should be conducting a thorough sales review with your leadership team. This looks at existing/renewed accounts, new accounts, as well as other opportunities that should be immediately pursued. Based on this sales projection, you can also start to map out personnel needs.
Part of this process should also include determining your materials needs for the winter such as bulk salt, bagged materials and equipment. At this time you can prepare RFP's (Request for Pricing) for your materials.
Second half of August – First official pre-season meeting should take place where you and your key team members hammer out a plan to get the equipment fleet ready to go, refine to a more realistic sales expectation, and start to look at routing.
Early September – Second pre-season meeting takes place to further review your equipment fleet updates and routing, in addition to specific personnel needs now that your book of business is starting to take shape.
Mid-September – Third pre-season meeting continues the route-planning process, offers another update on equipment fleet modifications, revisits personnel needs and the ongoing action plan to fulfill those needs, and starts to examine production and operations.
Early October – Fourth and final pre-season planning meeting takes place. The key areas of sales, equipment, routing and personnel should all be hammered out now. You're also ready to discuss site staging (i.e. which sites can we park equipment) and other production/operations specifics. Involve all key stakeholders in your operation including team leaders, route managers, site managers, fleet managers and sales staff. It is now time to make sure everybody is on the same page.
Mid-October – Now that everything is in place, you can pull together a company-wide meeting and snow training day.
Review your company mission statement and goals. Introduce team members to one another and go over roles. Review all standard operating procedures with respect to pre-, during- and post-storm operations, as well as billing and HR items. Review routes and individual site maps.
"All of this planning should be translated into both communicative and visual management tools," Cohen points out. "This means developing written 'standard operating procedures' for all of your operational tasks, site maps designating how services will be performed at each site, and record-keeping procedures for collection of time and materials used for payroll and billing."
Cohen also suggests that you create a binder—perhaps by route—that contains all of this information for key managers. In this day and age, the information could even be saved electronically. The point is that all relevant information is all in one place, easy to locate and reference.
Finally, you're ready to head outside and provide hands-on training for all equipment—especially the new equipment you've recently added to the fleet. This also allows you to observe your fleet in action to ensure that everything is working properly.
6 key areas of pre-season emphasis
Following through with a three-month pre-season timetable of action plans and updates can help ensure a smooth seasonal transition. Cohen offers some additional insights into six key areas that landscapers should focus on as they begin transitioning to snow removal season.
1. Client needs. For each client/property you have, determine who the key contacts are and how to reach them. Identify their likes and dislikes and expectations. You need to understand what it's going to take to "wow" each individual client—and three months out is the time to do it.
Here are some basic tips to start you off:
Schedule pre-season meetings with your clients. Discuss goals and objectives, past problems and resolutions.
Complete "Client Information Sheets" with all contact information and pertinent notes from your client meeting.
Start preparing site maps based on your site inspections and snow removal plan.
2. Material needs. This is where snow contractors often fall short, Cohen says. It is important to forecast your minimum needs for salt and bagged materials, and then reasonably forecast worst-case scenarios. Cohen suggests the following steps.
Determine how many square feet of pavement and sidewalks you have. Calculate the materials based on your estimating formula. Take the quantities estimated and multiply it by your average amount of snow events. This will give you approximate total quantities. Then forecast your worst-case scenario, which could be as low as adding 10% and as high as 30% or even a bit higher. You can use weather history and long-term weather forecast projections to help this process.
Once you have some basic quantities, it is suggested that you bid out your material needs to at least three vendors. "When choosing a vendor for winter products, it's just not about price," Cohen says. "You must consider a vendor's ability to deliver not only at the beginning of the season but also during the heat of it."
3. Equipment needs. A thorough pre-season inspection of your entire fleet must take place at least a couple of months before the anticipated season start. Hopefully you've kept good records and have been financially planning to replace those items that are now in need of replacement. Also, if you've landed new accounts that require additional and/or different types of equipment, those needs must also be identified now so you can secure said equipment.
"Remember, one of the biggest challenges snow contractors have is over-selling and under-delivering," Cohen says. "The biggest problems usually relate to not having good, reliable equipment—and enough of it."
Determine your equipment hours per site based on your inch increments. Then add 20% for a cushion. Determine if you have any hours that can be used for backup support on other sites in case of breakdowns or storm conditions. Cohen suggests that for every 8-10 plow trucks in operation, there should be at least one available floater or spare truck to help in case of problems. The same formula can be done for your plows, spreaders and other equipment.
"Line up backup equipment using other contractors or friends," Cohen adds. "Sometimes having a contractor or two on call that you can count on can potentially save a relationship in case of equipment problems."
4. People needs. Another big problem Cohen identifies is labor, which becomes an even bigger challenge in the winter due to the uncertainty of hours, varying weather conditions, and employee or seasonal help attitudes themselves.
To combat this problem, Cohen says to over-hire and use incentives. Most importantly, program your labor based on site needs and weather conditions. The majority of winter labor problems come from either lack of work or over-fatigue due to weather conditions. Cohen offers some insight on how to combat these challenges.
"Recruit, recruit, recruit … and do it sooner than later," Cohen says. Once you determine your staffing needs, you should start recruiting winter labor as soon as August rolls around. Start internally by posting seasonal labor recruitment flyers in your company and offer an incentive for each person an employee recruits.
Next you can hit the streets and post flyers in your local churches, food markets, laundromats and places landscape workers congregate. "It's not uncommon that unhappy workers will jump ship at the end of the season," Cohen points out. "A great way to start them off is with a winter opportunity. This is not a one-hit wonder, though. Recruiting must be done every few weeks continually until your labor needs are met, and even thereafter."
Another option is using a labor broker. "There is a big misconception that this is expensive or even cost-prohibitive," Cohen says. However, the cost for what you pay your labor including your overhead and responsible taxes will often be the same as what brokers charge. "While not always the best solution, if you 'partner' with a reliable labor broker early, the chances of receiving good winter help is increased greatly," Cohen adds.
One word of caution with winter labor: Do not put all your eggs in one basket. "The best winter labor plans utilize your employees first with a well-blended mix of some of the suggestions aforementioned," Cohen states.
5. Operating systems. You must develop key operating metrics for each facet of your snow & ice control business model. Cohen suggests that you roadmap each facet of the operation into the following categories.
Pre-Season Planning
Pre-Season Plan Documentation
Pre-Season Plan Readiness
Monitoring Snow/Ice Events
Planning for Snow/Ice Events
Storm Strategies, Equipment, Labor, Materials
Storm Readiness, Level of Service/Priorities
Storm Operations, Execution of plans
Post-Storm Operations - Data collection, billing, repairs, replenishment of materials
Post-Storm Review
6. Financial systems. Cohen says one of the biggest post-storm challenges is collection of key data for billing such as labor and equipment timesheets and material usage. While some companies might employ technology for this process, many contractors do not.
Cohen suggests to KISS (keep it simple stupid). Many companies complicate this process with too much paper and no processes. This process must be simple and streamlined because getting out timely billing is critical for revenue collection. Cohen believes that a paper process can work if you have it documented with well-defined standard operating procedures. Cohen recommends the following:
A good site visitation report/timesheet for recording when you are on site and one that allows you to record all labor, materials and equipment
A simple cost analysis sheet that allows you to job-cost your estimated hours against your actual hours
A billing sheet for preparing the bill for your accounting department
Standard operating procedures for each process so you can eliminate bottlenecks due to people not knowing the process and for holding team members accountable.
The bottom line in snow removal, Cohen reiterates, is that attitude has everything to do with your success. Snow contractors who treat the snow business as a profit center generally report gross profit margins in the 55-65%. Deicing profit margins often top 70% amongst those who view this as a profit center.
"These contractors are convinced that they can make a profit at snow work, and they do," Cohen says. "Those who are convinced that they cannot make a profit usually don't—and it's reflected in their lack of preparation on all fronts we've discussed."