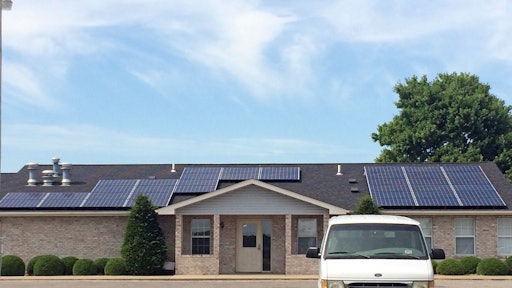 Home Nursery, a Midwest wholesale grower of landscape plants, proudly announces the installation of a total of 556 kilowatts (KW) of solar photovoltaic electric systems, the largest aggregate system in the region, at its production farm in Albers, IL.
"Home Nursery is installing the new solar power system as one way to help reduce its carbon footprint and be a good corporate citizen," says Ann Tosovsky, president of Home Nursery, Inc. "It is important to do what we can when we can to help the environment as well as future generations," she said.
In total there will be 10 systems installed over the next few months with a planned formal dedication in October 2016. Seven systems will be roof-mounted solar panels on various buildings and three systems will be ground mounts, primarily operating water pumping stations. The solar arrays will range from the smallest system of 6.3 KW (similar to a typical residential installation) to the largest system at approximately 305 KW. 
The energy output of the system is expected to exceed 740,000 KWh annually and will prevent the production of over 570 tons of CO2 each year. This is approximately equivalent to the annual energy consumption of 60 typical American homes. Each solar panel throughout the system carries a 25-year performance warranty. The estimated electricity cost savings of the project in just the first year is over $57,000.
The system is also expected to generate more than $450,000 in revenue from the in-state sale of Solar Renewable Energy Credits (SRECs) to the Illinois Power Agency (IPA) over the next 5 years. The IPA is purchasing SRECs from eligible solar energy system owners to quantify the environmental value of renewable energy produced in Illinois and to help bring the state into compliance with its Renewable Portfolio Standard (RPS) of 25% renewable energy generation by the year 2025.
The Home Nursery Solar Project also applied for funding from the U.S. Department of Agriculture Rural Energy for America (REAP) Program. The REAP program is a commercial incentive that provides eligible rural small businesses and agricultural producers with grants and guaranteed loans toward qualifying energy efficiency and renewable energy system upgrades. REAP grants are competitively awarded twice per year and can cover up to 25% of the cost of applicable energy systems.
"We're excited to see a major Midwestern business such as Home Nursery make the choice to go solar. It seems to have been a natural fit for them," notes Shannon Fulton, President of the Illinois Solar Energy Association and Director of Business Development at StraightUp Solar.  "As environmental stewards, they are creating health benefits for their community; and as a long-standing family-owned business, they are securing a cost-effective on-site renewable energy supply for years to come. Home Nursery is on the leading edge and we applaud them for recognizing the benefits of solar energy for their business."
Home Nursery is a family-owned and operated, innovative leader in producing and distributing field and container grown nursery stock to garden centers and landscaping companies. Founded in 1921, the company's 700-acre farm is located in Albers, IL, just 35 miles outside of St. Louis, MO. This central location allows the Nursery to deliver products anywhere in its 13-state territory within a week or less. Home Nursery also maintains two full-service distribution centers – one in Albers, IL, and the other in O'Fallon, MO, to meet local customers' needs.
StraightUp Solar, a turnkey solar energy integration company, designs and installs photovoltaic solar power systems for homes, businesses, & nonprofits throughout much of Missouri and Illinois. With offices in St. Louis, Swansea and Bloomington, Illinois, StraightUp Solar has been a solar industry leader since 2006. StraightUp Solar has worked with more than 550 residents & businesses and non-profits, and is a fully-licensed and insured electrical contractor. A Better Business Bureau A+, B Corp Certified business, StraightUp Solar is committed to bettering our community and ensuring everyone's  cleaner, safer, and more secure energy future – one solar panel at a time.