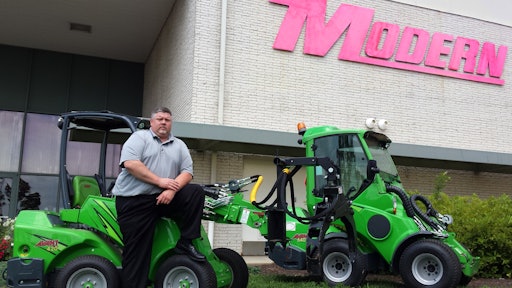 With seven locations in Pennsylvania and New Jersey, Modern Group Ltd. is a different kind of equipment dealer. Like most, it understands that to the professional contractor, time is money. What's pretty rare is how the dealership goes about addressing that universal truth.
"We're a very service-oriented company," says Rick Nelson, vice president and general manager of Modern Equipment & Supply, a division of Modern Group Ltd. "We understand that the sale of a piece of equipment is only the beginning. We have an obligation to be there for the customer. We are a service company first and foremost and have invested in talent, tools and equipment which stands us apart from many other dealers in this industry. This can really be seen with the capability we have for road service, not having a customer have to come drop off a machine and hoping they get their machine back at some point. We fix it right there at their facility or jobsite. Our computerized dispatching system is something that can't be matched: We arrive quicker, with all the parts needed and armed with a complete service history of the customer's machine.  There are very few lengths we won't go to in order to get the customer back up and running. After all, that is what they are trusting us to do every time they call."
This approach stems from Modern Group's origins in the material-handling and industrial equipment markets. "When these types of customers have a problem with a forklift or generator, they expect you to come out and fix it—so that's what we structured our operation to do," Nelson explains. That same approach has been applied to other markets the dealership has expanded into.
"This has become fairly common in heavy construction where customers are working with huge excavators and cranes," Nelson points out. "But it's not too common in landscape and tree care. There doesn't seem to be that same willingness among most dealers to go out in the field with properly trained and equipped technicians. Even though it isn't common, it is certainly valued by the contractor. Contractors bid tight and don't have room for downtime. What we offer has really opened some eyes as to what is possible."
Right equipment, right solution
Modern Group Ltd. traces its beginnings to 1946 when Modern Handling Equipment Company was formed, which helped pioneer a novel new product known as the lift truck. The company steadily grew and began acquiring other dealerships to expand both its footprint and industries served. A holding company, Modern Group Ltd., was formed in 1979.
The company operates three distinct divisions today:
Modern Material Handling is the cornerstone business that specializes in lift trucks and material handling products.
Modern Power Systems is a master distributor and service provider for Generac industrial generators.
Modern Equipment & Supply is the business that Nelson runs. It consists of two segments: heavy equipment and arborist/landscape. "The arborist/landscape side is focused on compact dirt-moving equipment, chippers and grinders, arborist equipment and related landscaping supplies," Nelson points out, adding that they are perennially one of the top two Bandit dealers in the world. Other represented brands include Mustang and Gehl, Terex, Toro, Hyundai, Manitex, Midsota Trailers, Husqvarna, Stihl and Avant Tecno, among many others. Visit ModernGroup.com to learn more about the product offering.
"We are building a strong 'construction' presence throughout our operation," Nelson says. "Our goal is to have construction representation in all seven of our locations within the next year or two. We're constantly investing in our capabilities and assets on the construction side of our business."
The Hyundai loader line is a perfect example, which Modern Group added to its offering just a year ago. Three years ago, the dealership added the Avant Tecno lineup of loaders and attachments. Doing so has helped broaden its appeal to the landscape and tree care markets.
"We've been in the compact construction equipment world for a long time," Nelson says. "We saw compact skid steers come to market, followed by tracked machines and then stand-up machines. There has long been a clear need for a machine that can still perform at a high level, but also lessen surface impact while still being able to tackle tough terrain. This is especially true for landscape and tree care contractors."
Nelson knew of a Finnish company called Avant Tecno that made a nimble, lightweight, yet powerful articulating wheel loader. He knew Avant because of their partnership with Gehl in the past, which Modern Group already carried. After that arrangement expired, Avant made it known that it wanted to establish its own North American dealer network to carry its full lineup of loaders and attachments. Nelson jumped at the opportunity.
"We knew this was a product that could address that need of high performance but minimal surface impact," Nelson says. "It's really amazing; many if not all models can lift their own operating weight depending on their options. Its unique design, which provides an excellent articulation range but no oscillation, allows the loader to maintain lifting capacity with superior terrainability and without tearing up the ground. And the attachments are just excellent; very effective and easy to use. There isn't much a landscaper or tree care contractor can't do with this machine."
Nelson is one of a handful of U.S. dealers who have visited the Avant factory in Finland. He went in October 2015. "I've been on more factory tours than I can remember," Nelson relates. "I was very impressed. It's a great family-owned company. I saw amazing technology being used in their engineering and manufacturing processes. I also saw this sense of pride and craftsmanship from every single worker. It's quite a combination."
An age-old, modernized approach
Nelson says that once a contractor demos an Avant loader, it basically sells itself. "I don't want to take anything away from our sales reps, because they are just excellent," Nelson is quick to point out. "But really, the Avant does sell itself because there is just no machine on the market which does so many things so well."
Great products aside, a top-flight sales force is a big part of what makes Modern Group unique. "Our sales reps remain engaged with the customer long after a piece of equipment is sold," Nelson says. "Many of our reps are experienced veterans. Our up-and-comers fit our mold. They understand that it's not just about selling a piece of machinery. They are trained to establish a relationship and partnership with the professional customer. There's a reason we've been around for 70 years, and this is it."
Field service has a little something to do with it too. Nelson says a field technician will typically be on-site within a couple of hours. "We have a high first-pass completion rating, especially if the piece of equipment is a brand we carry because it's very likely that we'll have the parts in stock," Nelson points out.
Every road service vehicle is equipped with a mounted, internet-accessible laptop so the technician can communicate with the parts department. That laptop also has MobileFrame dispatch and billing software which gives the technician his list of repair orders, locations of upcoming service calls, and allows for accurate service history tracking for all customer equipment, which relieves a huge burden for them.
"In addition to technicians, we also have product support people in the field who are there to assist customers with any equipment issues they are having," Nelson adds.
Employees own it
Offering such a high level of service requires a company to expect a lot of its employees. Modern Group does, and gets what it is looking for. "Our employees think and act like company owners—because they are," Nelson says.
In 1984, Modern Group employees began purchasing shares in the business after it was converted into an ESOP (employee stock ownership plan). By the mid-90s, 100% of shares were now owned by employees.
"When the company wins, the employee wins," Nelson relates. "We like to think that this comes through in our employees' performance, from the way a person answers a phone to how a technician addresses a service issue to how salespeople approach an opportunity to sell a piece of equipment. Having a stake in the company inspires a unique approach to serving the customer."
Aside from the ESOP, Modern Group also maintains an open-book and open-door policy. "In order to be a great place to work, everybody has to feel like they have a voice," Nelson says. "Anybody can walk into my office, or the office of the CEO or CFO for that matter, and share their ideas or concerns. Anybody has the right to ask a question, and the right to be given a good answer. We're very proud of that."
Nelson is also proud of the way Modern Group has taken a leadership role in helping to address the industry's growing shortage of technicians. Modern Group is one of roughly 16 New Jersey dealerships that are working with community colleges and elected officials to ensure that adequate heavy equipment technical programs exist. The efforts are being coordinated by the Associated Equipment Distributors (AED).
Trained technicians are obviously pivotal to Modern Group's continued success—especially as it looks to continue growing. Currently, Modern Group has two New Jersey locations (Edison and Hasbrouck Heights) and five Pennsylvania locations (Allentown, Bristol, Reading, Wilkes-Barre and York).
"We want controlled growth that doesn't make it harder—if not impossible—for us to properly service our customers to the level we both insist on," Nelson says. "We're looking to expand both our footprint and product offerings. But we must be able to support our brands and customers. If we can continue doing that, the growth will come."
Modern continues to add partnerships and capabilities to serve its customers including the recent agreement with Cummins, Inc. to be an authorized repair dealer throughout its territory. "What this agreement means is that our technicians are going through training to be fully accredited to perform repairs and maintenance work on most Cummins engines found in construction equipment, arborist equipment and forklifts," Nelson says. "We have full access to Cummins replacement parts and are stocking them at our seven branch locations. Plus we have next-day shipment availability from the factory."
"Our goal is to be the one stop shop for all of our customer's needs," adds Greg Plefka, director of marketing for Modern Group Ltd. "A landscaper or tree contractor can count on us not only to provide their chipper or loader equipment, but the standby generator for their shop or a forklift they have in their yard. We are one company providing many solutions for the benefit of all of our customers."