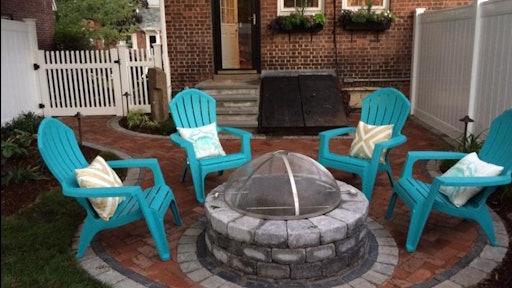 Giving back to the communities they serve is a hallmark of all good small businesses. There are countless examples of this happening right here in the Green Industry. Landscape companies, equipment dealers and other suppliers often donate time, expertise, labor and materials to help complete projects for various groups and causes they support. Monetary donations to various charities is another way the industry is giving back.
The National Association of Landscape Professionals (NALP) works hard to showcase the efforts of individual companies across the country through its Landscape Professionals Advance America initiative. "We recently launched this initiative so NALP members can showcase their projects to celebrate their community partnerships and help raise the visibility of the impact that the landscape industry has on our nation," says Lisa Schaumann, NALP director of communications.
One recently featured project on NALP's Landscape Professionals Advance America web page was coordinated by the Wisconsin Landscape Contractors Association's Milwaukee chapter. Volunteers helped renovate a courtyard at Carmen School of Science and Technology, which serves a diverse enrollment of low-income students in Milwaukee (see sidebar).
"Over the years, industry companies have done more than 1,000 volunteer projects through NALP's Day of Service," Schaumann adds. "They have done everything from park cleanups, to building healing gardens in hospital settings, to community gardens. They have also installed new landscaping at churches, war memorials, shelters, playgrounds and community centers. The projects that have the biggest impact are the ones that are personal and meaningful to the landscape or lawn care company, and those that come from an important need in the community. When the whole company gets involved, it is a great team building experience that reminds employees of the impact their work has."
Taking care of military heroes
Few causes have as much impact as those catering to military families. Speaking of which, Project Evergreen manages a couple of fantastic programs. GreenCare and SnowCare for Troops provide complimentary lawn and landscape services, and snow and ice removal services for the families of currently deployed military personnel, and post-9/11 disabled veterans with a service-connected disability. The Toro Company helps present the GreenCare program, while Boss Snowplow helps on the SnowCare front. To learn how you can get involved and offer your services, visit projectevergreen.org.
Some individual companies have taken this kind of initiative all on their own. Landworx of NY is a brilliant example. Based in Goshen, NY, and serving Orange County, the company rocked out a complete backyard makeover in 12 months this past summer.
Pete Nilsestuen founded Landworx of NY in 2010. His fiancé's sister's husband is currently deployed to Iraq. The couple has a one-year-old son. "She has her hands full, to say the least," Nilsestuen says. "Her backyard was a mess and she was really helpless trying to figure out what to do with it. She'd asked if I could help her put down some artificial turf. I said, 'You know what, I'm not letting you put fake turf in your backyard.' She lives up in New Hampshire, about a four-hour drive for me. I told her I was kicking her out of the house for a day so I could fix up her yard."
Back in mid-July, Nilsestuen and three of his employees loaded up a truck and headed to New Hampshire. They drove up on a Friday night and immediately got to work first thing Saturday morning. "We started at 7 a.m. and had everything done by 7 p.m.," Nilsestuen says. "We installed a patio and fire pit, redid the steps up to the back door, installed a new irrigation system and landscape lighting, and put in some new plantings and sod. It was a pretty substantial amount of work to pull off in 12 hours."
It was a fairly small backyard, Nilsestuen points out, so he and his guys were able to do everything with the hand tools they'd brought with them. "We'd also brought some bluestone to redo the steps, but were able to use her existing brick for the patio," Nilsestuen explains. "I did bring some extra pavers along for the soldier course. I also brought some plants. I found a sod company up near the place in New Hampshire, and drove my truck over to pick up a pallet of sod. One of my best friends from college lives up there, and his brother owns a landscaping business. He used his truck to get me some stone base for the patio."
Nilsestuen's future sister-in-law came back to the house that evening to see what had been done. "It was perfect timing," Nilsestuen recalls. "It was just getting to be dusk so the lighting turned on. She even got her husband on FaceTime the next day to show him. She laid down in the grass—and they hadn't had nice grass for years—and then stood up and panned around. He was shocked."
Another New York landscape company, Above All Masonry Design in Islandia on Long Island, has also stepped up to help a military family in need. Stephen and Lis Bono started the company in 2005 "with a little ad in the local paper," as Lis points out. "It has just kept expanding and expanding," she adds. "We've been very blessed. We wanted to do something to show how grateful we are for the success we've had."
Lis' brother-in-law is a Marine. She thought to contact a couple of veterans associations to see how Above All Masonry Design could go about donating their services to a military hero. It was tough at first because many organizations only accept monetary donations. Finally, Hope for the Warriors gave Lis a list of area vets who could really benefit from landscaping services.
"We found someone who had been deployed several times," Lis tells. "He had multiple head injuries and had lost his hearing. He couldn't believe why we'd do this for him. Well, he had been fighting for us for the past eight or nine years, so it was the least we could do. His house had taken a lot of damage from Hurricane Sandy. We talked to some suppliers who were more than eager to help with plants and materials. We brought our young daughter along because we wanted her to be a part of this. We redid the entire backyard, complete with a patio and fire pit and new plants."
Others in need
The following year, Lis and Stephen decided to get the community involved a little more. "We wanted the community to nominate people whom they felt were deserving," Lis says. "Then we had the community vote. They chose a family whose home was devastated by Hurricane Sandy."
Last year marked the third annual Welcome Home Project in which Above All Masonry Design awarded a deserving family with a completely free landscape makeover. The community nominated 15 different people. A gentleman named Mark Pirollo got the most votes, 473. He is on permanent disability due to a progressive form of muscular dystrophy. He had been an active, well-respected volunteer in the community.
"For safety, we've added a handicapped-accessible backyard space with railings from Victorian Fence, a Long Island fencing company," Lis tells. "Mark's current deck was rotting away so that whole area had to be replaced, making room for a patio with Unilock concrete pavers and material from Astro Masonry & Supply. This was the third straight year Unilock and Astro Masonry sponsored our project, so that's really neat."
Additionally, the Above All team installed a beautiful outdoor kitchen complete with a DCS grill (new sponsor last year) as well as a granite countertop from repeat sponsor MGO Stone. Finally, Kichler Lighting supplied outdoor fixtures while Sonance provided its Sonarray outdoor speakers.
"We were able to install everything but the plants late last fall," Lis says. "When spring returns, we'll go back and finish off the project with beautiful plants from Bissett Nursery. Then we're looking to have a big reveal later this spring."