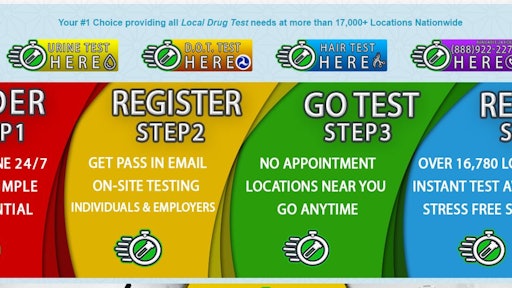 Many of you have been there. You hire a new employee, or perhaps it's even a longer-term employee, and something just doesn't seem right. Their attendance, attitude and overall performance is noticeably lagging. Soon their presence is having an adverse effect on the rest of your staff.
Sometimes you can chalk it up to extra work stress, or perhaps stress in their personal life. But other times, unfortunately, you can trace the issue back to a substance abuse problem.
Many companies—small green industry businesses included—have strict drug testing policies. Many do not. If you've thought about instituting a policy in your company, the experts from Drug Test Today offer some advice.
1. Establish a policy
The first thing you need to do is establish a formal drug/alcohol policy within your company that all employees must sign onto. This helps to keep things above board and legal.
To get started, ask yourself three questions:
Why is the company establishing such a policy?
What precisely is expected of employees?
What are the consequences for policy violations?
"A drug testing company can help develop a policy that typically costs between $100 and $300 depending on how complicated and specific the policy needs to be," says Jeremy Evans of Drug Test Today. "An effective company substance-abuse prevention policy, especially for smaller companies, can be as simple as five sentences."
Those five sentences are:
[Company] is committed to protecting the safety, health, and well-being of its employees and all people who come into contact with its workplace(s) and property, and/or use its products and services.
Recognizing that drug and alcohol abuse pose a direct and significant threat to this goal, [Company] is committed to ensuring a substance-free working environment for all of its employees.
[Company] therefore strictly prohibits the illicit use, possession, sale, conveyance, distribution, or manufacture of illegal drugs, intoxicants, or controlled substances in any amount or in any manner.
In addition, [Company] strictly prohibits the abuse of alcohol or prescription drugs.
Any violation of this policy will result in adverse employment action up to and including dismissal and referral for criminal prosecution.
2. Frequency
Decide on a schedule to test employees. Depending on the size and workings of the company, some do any or multiple of the following: pre-employment, post-accident, and random.
3. Testing location
For small companies, it may be cheaper to send employees to a local testing center whereas a larger company could utilize testing done at its facility. There is a discount on the cost per test for onsite, but they typically carry a minimum charge of a few hundred dollars to send lab technicians onsite.
4. Testing type
Decide what testing panel and type to use. By far the most common test is a five-panel urine test that will screen for today's most abused drugs (cocaine, marijuana, morphine, heroin and PCP).
The most accurate testing would be a five-panel hair test plus expanded opiates. Most drugs are passed through the system in less than 30 days when urine testing is the method. However, hair testing has a 90-day lookback. Additionally, it's impossible to try and fake or tamper with a hair test.
5. Membership
Businesses can join a drug testing membership program. For companies wishing to track results and order drug and alcohol tests, some drug test companies will offer a user sign-in for the customer. This is great when it is important to not have any delay between the lab test results and the employee that took the test.
Drug Test Today offers individuals as well as employers all types of drug and alcohol testing at over 17,000 locations nationwide. There's a 10% discount for all members and you can order online 24/7. While Drug Test Today is not a physical laboratory, it sends all of its specimens to contracted partner labs. Visit drugtest.today for more information.