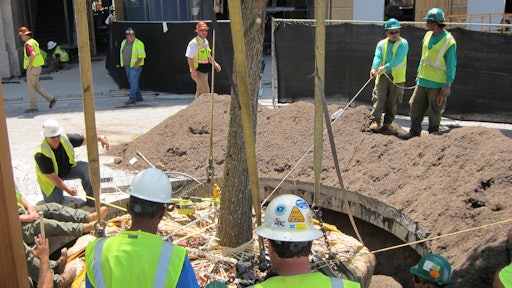 A lot of managers come to me with complaints about their team members not being able to figure out solutions for themselves. They feel like they're always being pestered with questions. So I ask them, "Who trained the employees not to think? Who is giving them the answers?" That person is probably the one looking back in the mirror at you.
Establishing new habits will take time, and you have to be willing to accept that people are going to make mistakes as they begin to take the initiative. But you can build a stronger team that can lead to a more successful business. I advise managers to focus on three areas.
Internal Meetings
Meetings should be about 30 to 60 minutes long to maintain focus and productivity.
The most important internal meetings are weekly or bi-weekly, one-on-one meetings with direct reports. These meetings can eliminate the discomfort of sharing in front of a group and build a rapport to gain insight into an employee's reality. This plan-and-review meeting should mostly be a listening exercise for the leader, although it also is an opportunity to ask questions and lay out action plans for overcoming challenges. Be sure to highlight successes, too.
Department meetings are for a specific operational unit, such as maintenance, project, administration and new sales. The goal is to limit the audience to make the discussions relevant to those who are attending, so you need to dial in the messages and topics covered. You shouldn't have meetings just to have meetings.
Quarterly and annual meetings are an opportunity to engage with your entire team, and should be held just after the quarter has closed or prior to year's end. Take a look at where you are and where you are going. Provide an evaluation of success, such as reviewing how sales performance compared to plan, and offer recognition. Finally, outline upcoming plans.
Managing with Data
Managing with data rather than managing with emotion is important to the success of your business. You shouldn't be making decisions based on a feeling alone.
There are many tools for managing data. A customer relationship management system (CRM) can be used for sales management, operations management, customer engagement and even for pricing. You should understand what your system provides and what you are monitoring. If your problem is understanding costs, then don't buy one that just measures sales.
But to effectively evaluate your business and its performance, you should be looking at all components of sales, including leads, calls and agreements. You need to pay attention specifically to why proposals were lost. Price isn't the answer.
Also, so much data can make you crazy if you try to respond to every instance. The key is to use these tools to represent trends, or averages, and manage to the trends that you see.
Coaching
The most complicated part of managing your team is coaching. Coaching, which is focusing on the performance of an individual on a one-to-one basis, is more of an art than a science.
For a select few, it's an innate ability. For most of us, we have to learn how to do it through practice and observing others practicing it. In a good coaching relationship, true mutual understanding is sought between both parties, mutual agreements on goals are set, performance is encouraged, and feedback is provided.
As part of good business practices, you should define the roles in your organization. Then you have to determine if people are in roles that suit them. A behavioral assessment tool can help you determine who is wired to do that job from a personality standpoint.
For example, someone who likes routine would not make a good project person, which requires creativity. However, they would make an excellent candidate for maintenance work, which is structured and repetitive.
Here is what you should keep in mind in your role as a coach:
• Credibility
• Communication
• Confidence
• Cooperation
• Commitment
• Consistency
• Caring
But the foundation for good coaching is trustworthiness. To lead others effectively, managers must be able to do their jobs well and show strong character. Businessman and author Stephen Covey uses the metaphor of an emotional bank account, with interactions between people being deposits that build and repair relationships, and withdrawals that lessen trust.
Coaching requires you to see things from another person's perspective. Rather than imposing your understanding and beliefs on them, you have to use their understanding and beliefs to encourage them to take a particular action. And consistency is key. You are looking for incremental change over a period of time. It takes a person doing something 21 times for it to become a habit. We have the tendency to want to see change in a short time period.
Focusing on meetings, data and coaching as a manager will help you mold your team into a group that can ask themselves the questions and determine solutions that will propel your business forward.
Companies in this article