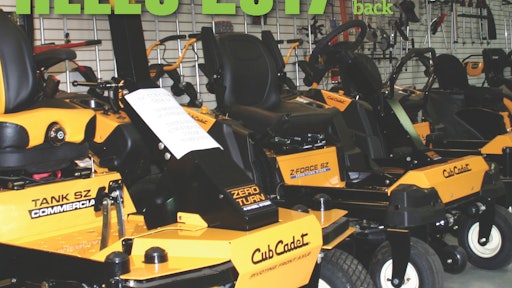 Articles include:
Laying Down the Law – Two new state laws in the Northeast are designed to level the playing field between manufacturers and dealers. But are they providing one with an unfair advantage? That largely depends on whom you ask.
Realistic, Real-Time Flat Rate Pricing – United Equipment Dealers Association readies its new online, interactive flat rate pricing guide for commercialization after months of development.
A Dealer and His Daughter – Dave Groen and daughter Kristy Vander Ziel are all it takes to keep the small engines hummin' at their popular repair shop in rural southwestern Minnesota.
How To Capture a 360° View of Customers – Three ways OEMs and dealers can work together to gain a better understanding of their target market.
Growing Opportunity, Narrowing Window – Many consumers are gravitating toward higher-quality products and better service, but they're shopping differently and making decisions much faster.