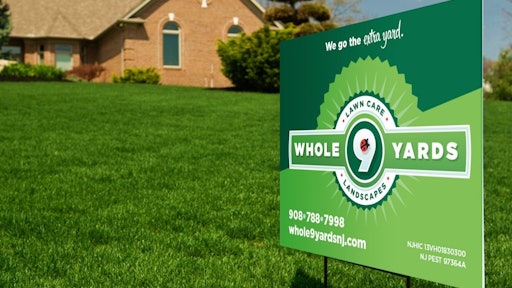 A lot of contractors offer more than one landscaping service, even the smaller companies with just a couple of crews. In many instances, it's an existing customer who pulls the contractor into additional services, i.e. a longtime mowing client who wants some trees trimmed or a paver patio installed.
What if the contractor sees something happening in their market that encourages them to more aggressively pursue a certain service niche? What if, for example, Mike's Lawn Care wants to grow its hardscaping business? Is Mike's top of mind when it comes to hardscaping? Does the market even realize Mike's offers hardscaping?
A landscaping company's name and brand can sometimes hold it back—especially in a saturated, competitive market. A good name and brand, on the other hand, will help you stand out while also effectively conveying your brand promise.
"If you accept my premise that 95% of small businesses have a poor brand, what would happen if your brand was in the top 5%?," asks branding expert Dan Antonelli of Graphic D-Signs in Washington, NJ. "We always ask the question: What would a consumer who knew nothing about your business assume about you based on your brand? Nearly every business has a neutral or negative brand promise which is assumed by the consumer."
Don't tell an incomplete story
So how do you change that? Antonelli says you have to do something that separates you from the pack. You also have to do something that helps to tell your story and convey your brand promise.
"Sometimes a brand name can pigeonhole you into something you don't necessarily want to be, such as just a 'lawn care' company or just a 'landscape design' company," Antonelli says. "Mike from Mike's Lawn Care might be well-known and well-liked in the community, and he might be great at cutting and treating my grass," Antonelli says. "But maybe he's not the guy we want installing our $25,000 patio project. The brand just doesn't sound like the right company for that kind of activity."
Another problem Antonelli often sees is using last names in a brand name, which are somewhat impersonal and hard to latch onto from a marketing perspective. "It's also very difficult to gain traction with initials-based brand names," he adds. "There is very little from a marketing perspective to latch onto with initials like A&M or whatever. It's hard to help people connect the dots with a brand name like that."
Using a first name, as in the case of Mike's Lawn Care, makes it a little bit easier because you can build off of Mike's persona. However, there are some downsides here, too. First of all, it's all about Mike. But what about his great employees and their training, experience and credentials? Additionally, building a business around a single individual makes it much more difficult to sell the business down the road because the individual is the business.
On the other hand, you can come up with a name that better tells your story while providing something to latch onto from a branding and marketing perspective. One of Antonelli's more well-known clients in this industry is Oasis Turf & Tree in Ohio. "With that brand name, a specific image is already conjured up in the consumer's mind," Antonelli explains. "Then you can attach an image to the name and it becomes very easy for consumers to remember. That's a brand that can gain traction."
How to fix it
If renaming your company is something you're thinking about, don't get overwhelmed. "People can get really hung up on how traumatic renaming a company can be," Antonelli shares. "We're actually in the process of renaming our agency, Graphic D-Signs, after 20-some years. That's not what we are. We don't do signs or graphic design. We're a branding and advertising agency. Our existing name doesn't capture that, nor does it capture our energy and innovation."
In the case of Mike's Lawn Care, is the entire business based on Mike and Mike alone? Are other employees going out to meet Mrs. Smith? "It probably makes sense to think of a name that isn't so tied to Mike, while also giving off the impression of a larger entity and saying something dramatic to a potential client who knows nothing about the company," Antonelli says.
The other thing to think about is if the name has a graphic that can tie into it. When a name and a graphic come together, that's when you can create a memorable brand.
"We also try to be very disruptive," Antonelli adds. "We like to think about names that aren't so common in a particular industry. For instance, we recently renamed an HVAC company Honeybee Heating & Air. We named it Honeybee because a honeybee is a unique insect that uses its wings to cool itself. We thought that was a unique spin, as opposed to going with blue and red arrows like everybody else does. We have an image of a huge honeybee holding a wrench. Are you going to forget that when you see a Honeybee truck driving down the highway? Probably not. It's memorable."
In the case of landscaping, a lot of companies use flowers, trees and blades of grass. That's OK if done in a clever fashion to make you stand out. But maybe you want to be really different. In the case of Oasis Turf & Tree, a big toucan bird is the graphic. That imagery stemmed from the new branding tagline, "Wild about your lawn."
Speaking of a tagline, it's an important element of the branding process. It works in concert with the company name and graphic, allowing you to take a bit of a risk to stand out—but still clearly convey your brand promise to consumers.
Thinking your company might need a brand update like this? It's fine if you want to try tackling it on your own, but companies like Antonelli's can help. "We not only come up with potential new names, but also think about imagery and a total branding package," Antonelli says. For a busy contractor who's already wearing many hats, it might make sense to hire this out. Your brand—especially if it's holding you back in growing market—is well worth the investment.