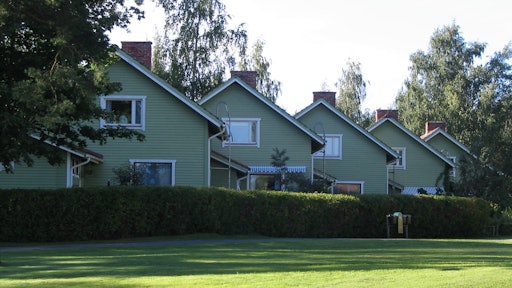 Landscape contractors can look forward to a busy summer and fall season, according to recent economic indicators. Consumer confidence, single family housing starts, and non-residential construction all point in the right direction even though a labor shortage and cost of certain raw materials could be among issues to dampen optimism.
Consumer Confidence
"Consumer confidence increased sharply in March to its highest level since December 2000 (Index, 128.6)," says Lynn Franco, Director of Economic Indicators at The Conference Board. "Consumers' assessment of current business and labor market conditions improved considerably. Consumers also expressed much greater optimism regarding the short-term outlook for business, jobs and personal income prospects. Thus, consumers feel current economic conditions have improved over the recent period, and their renewed optimism suggests the possibility of some upside to the prospects for economic growth in the coming months."
Single Family Housing Starts
In February, single-family housing starts reached their highest level since late 2007, according to data released by the U.S. Department of Housing and Urban Development and the Commerce Department.
Nationwide housing starts rose 3 percent in February from an upwardly revised January reading to a seasonally adjusted annual rate of 1.288 million units. Single-family production increased 6.5 percent to 872,000 units — its highest reading in nearly a decade — while multifamily starts fell 3.7 percent to 416,000 units.
"This month's gain in single-family starts is consistent with rising builder confidence in the housing market," says Granger MacDonald, chairman of the National Association of Home Builders (NAHB) and a home builder and developer from Kerrville, TX. "We should see single-family production continue to grow throughout the year, tempered somewhat by supply-side constraints such as access to lots and labor."
"The growth in the single-family arena is very encouraging, but may be partly attributable to unusually warm weather conditions throughout most of the country," says NAHB Chief Economist Robert Dietz. "The modest drop in multifamily starts is in line with our forecast, which calls for this sector to continue to stabilize in 2017."
Existing home sales mirrored this growth according to data released in April by the National Association of Realtors. Sales of existing homes, including single-family homes, townhomes, condominiums, and co-ops took off to their highest pace in over 10 years. The sales total ascended 4.4 percent to a seasonally adjusted annual rate of 5.71 million in March from a downwardly revised 5.47 million in February. March's sales pace is 5.9 percent above a year ago and surpasses January as the strongest month of sales since February 2007 (5.79 million).
Nonresidential Construction
Nonresidential construction started out on a high note in 2017, according to analysis of U.S. Bureau of labor Statics as reported by the Association Builders and Contractors (ABC). The nonresidential construction sector added 14,900 net new jobs for January, while its residential counterpart added 20,300 net new jobs. The construction industry added 170,000 net new jobs on a yearly basis, an increase of 2.6 percent.
"The employment report indicated growing strength in construction along a variety of dimensions," ABC chief economist Anirban Basu says. "First of all, there was job growth in both residential and nonresidential categories. Over the past year, nonresidential construction has accounted for roughly a quarter of total construction job creation. However, in January, nonresidential activities accounted for more than 40 percent of net new jobs, indicating relatively faster performance improvement in that part of the nation's construction sector. Secondly, the industry's unemployment rate surged in January to 9.4 percent. While one would be tempted to suggest that this was due to a loss of seasonal construction employment, that cannot be a primary explanation since the total number of construction jobs expanded meaningfully in January. The better explanation is that more people have begun to look for work in the construction industry, perhaps in part because of indications from the new administration in Washington D.C. that an infrastructure-led stimulus package is now in the works."
Potential Roadblocks
As Basu pointed out, finding labor could be problematic especially for the nonresidential construction market. "The rapid pace of hiring is consistent with ABC's backlog survey, which indicates that the typical nonresidential construction firm can look forward to many more months of activity," Basu says. "With continued aggressive investment in commercial properties and still-low interest rates, backlog will continue to expand among many contractors. Indeed, the architecture billing index, a key industry leading indicator, surge late last year in part because of growing confidence in the U.S. economy.
"For contractors, this is likely to mean even more difficulty in finding suitable workers to complete projects."
The other potential roadblock to continued growth is the price of lumber. According to NAHB, thirty three percent of the lumber used in the U.S. last year was imported, and more than 95 percent of that came from Canada. An ongoing lumber trade dispute with our neighbor to the north resulted in a lumber price hike that added nearly $3,600 to the price of a new single family home in the first quarter. Stay tuned.
Despite lumber costs and a potential labor shortage this summer, early optimism prevails for the continued growth of the construction market and new work for landscape contractors.