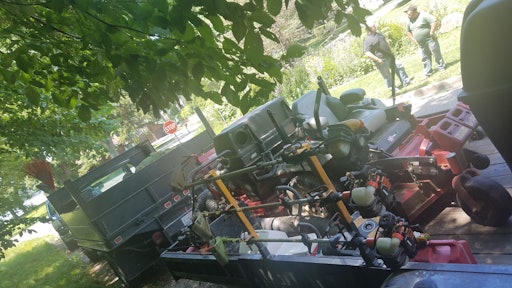 Company Name: Kessler Lawn Maintenance
Owner: Ken Kessler
Location: Powers Lake, Wisconsin
Years in Business: 18 years
Geographical Coverage: Powers Lake to Burlington to Lake Geneva to Union Grove to Twin Lakes to Salem, Wisconsin
Type of Clients: Commercial and residential
Services Rendered: Lawn maintenance, landscape design, irrigation, landscape construction and snow removal
In an area of Wisconsin that's dotted with many lake houses, Kessler Lawn Maintenance must accommodate many homeowners that may not be present year-round, while also fully providing for its year-long customers and properties. Communication, in both cases, can be key to lasting customer relationships. So can the ability to be everything to everyone—as in providing one point of contact for many landscaping options.
Kessler Lawn Maintenance dabbles in many services, including lawn maintenance, and hardscaping and landscape construction, while also installing automated irrigation systems in the fall the last couple of years. One of the things Ken Kessler, owner of Kessler Lawn Maintenance, likes best about the business is keeping busy by trying new things and accommodating each of his customers' demands.
Kessler consistently stocks his trailer with Ferris walk-behind mowers for the rolling Wisconsin hills. While the crew may only use it one day a week, it is ideal for those hills the riding mowers can't efficiently scale. "It's amazing the hills that thing goes on," Kessler remarks. "The tires on the Ferris have a wide stance, so it does a good job on hills."
Then, for virtually everything else, the company uses Exmark Manufacturing riders.
"I bought my first Exmark probably 15 years ago. I used to just use the walk-behind, back when I was young and in shape," laments Kessler. "And then we started with the Exmark riders. I use them because the bagging systems are awesome. You can drive them through a puddle of water and they don't clog nearly as easy as other machines. They work better than anything else. Exmark's got a patent that nobody else can touch."
When it comes to his other must-have equipment, Kessler says he's always run everything ECHO, including blowers and trimmers. He says, not only is ECHO reliable, but he likes "to have everything interchangeable, so if you use something for 10 years, now you have parts to use on the new stuff."
Kessler Lawn Maintenance also uses Husqvarna chainsaws and ECHO PB-770 backpack blowers, about which he says, "They have a lot of power when it comes to blowing wet leaves out of bushes in the fall. Everything's gas. With batteries, in industrial and commercial applications like this, you're not going to get enough power out of an electric trimmer or blower."