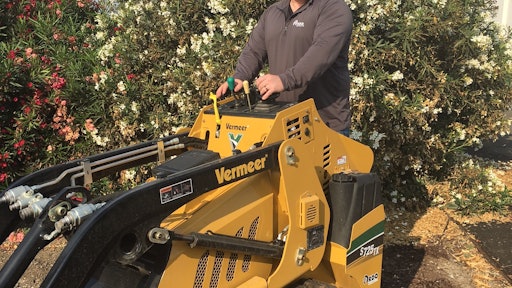 Aristotle coined the phrase, "The whole is greater than the sum of its parts." In this case, the whole is RDO Equipment Co. with headquarters in Fargo, North Dakota. The sum of its parts are 77 Vermeer, John Deere, Topcon and RDO Integrated Controls dealerships in 10 states, and a presence in Russia, Ukraine, Australia, Africa and Mexico. The greater happens to be a company operating philosophy—core values—shared by all the parts.
One such part is in northern California where Brandon Kyse manages three RDO Vermeer locations. "I started working for RDO Equipment Co. in 2013 and it didn't take me long to find out what makes it unique," says Kyse. "Yes, it's a very large company. But I soon discovered that it truly believes in its five core values and encourages employees to live them: partner with employees, build customers for life, create opportunities, do what we say and play to win."
Partnering with Employees
Kyse manages a store in Hayward and two others, one in Sacramento and another in Fowler. In addition to being a Vermeer dealer, they also sell and service solutions from the company's RDO Integrated Controls division, including surveying equipment, and unmanned aerial vehicles (UAVs) or drones. Customers range anywhere from landscape, utility and general contractors to homebuilders. Collectively, they employ 60 people.
As Kyse emphasizes, any dealer's success begins and ends with retaining its front-line people. "Employee retention for us begins with the hiring process. We tell candidates vetting is going to be slow, oftentimes putting them through multiple interviews. We take a lot of pride in our employees and want to make sure they fit with our culture."
Once on board, associates attend training sessions at different store locations and travel to Pella, Iowa, for Vermeer factory training and Fargo for company updates. They also receive a full benefits package, including some type of profit-sharing program, what Kyse refers to as "sharing in the company's success."
RDO Equipment Co. also created an Access Your Future Program designed primarily for students attending trade schools. Those entering the program obtain valuable hands-on experience and reimbursement for their tuition. Currently, Kyse's stores have at least two interns participating in the program.
Life-Long Customers
Selling and servicing outdoor power equipment is not transactional by nature. If you're not partnering with your customers and developing a relationship with them, that initial sale could be your last one to them.
"We work side by side with our customers to ensure they have the right solution, the right piece of equipment for the job," says Kyse. Each sale comes with the RDO Promise, a contract that guarantees dealers have parts available, loaners available for downed equipment and a guaranteed response time for service work on new equipment. A separate Parts and Service Promise comes with an extended warranty. "If we install the part, we guarantee the work for two years," he adds.
The equipment promise goes beyond the original sale to include operator and daily maintenance training, free of charge for the life of the equipment. "We train customers to operate and maintain everything from specialized drilling equipment to more traditional landscaping equipment," notes the general manager. "At any future time, if customers need a primer on that training, all they have to do is give us a call."
Creating Opportunities … and More
One stop on RDO Equipment Co.'s roadmap to success could be labeled being proactive, creating opportunities for its employees, customers and stores.
Career advancement is an important component to retain employees. Training programs and incentives encourage and help employees to move up within their jobs, may it be in service, parts or sales, and some employees even look to other locations to further their careers. "We've had employees approach us about working for stores in other parts of the country," notes Kyse. "For them, staying with RDO Equipment Co. becomes an important part of their relocation plan."
He continues, "By helping customers overcome challenges, or finding a different and more efficient way to solve an issue creates opportunities for them and for the company to continue meeting their needs down the road."
New technologies like those associated with RDO Integrated Controls gives customers the ability to perform aerial surveys and develop complete topographic maps without having the costs associated with sending out a survey crew. "Construction technology is changing rapidly," adds Kyse. "What is especially valuable today for highway construction projects and agriculture are going to find its ways into other fields and applications tomorrow."
Locations also take advantage of rental opportunities, all the time being aware of not competing with their rental yard customers. Specialized equipment can be rented whereas customers who may want a mini skid-steer loader are going to be directed to a nearby rental yard.
The final two core values, we do what we say and play to win, are self-explanatory. Trust builds loyalty and helping customers win is a winning strategy for any company.
"Leadership created this vision, but they also empower individual locations to make decisions based on their local markets, and what's best for their customers and employees," Kyse emphasizes. "This gives us the ability to make adjustments without going through any lengthy channels to get approval."
He notes that getting involved in the local community, giving back, is ingrained within the company's DNA. "All employees get eight hours of paid volunteer time and $200 to donate to any charity of their choice. RDO Equipment Co. also participates in an annual Bay Area beach cleanup day and, last year, donated 200 Thanksgiving turkeys for families in need," according to Kyse.
Like other companies, RDO Equipment Co. takes advantage of social media to promote its products and services. The stores have a presence on Facebook, Twitter, LinkedIn and Instagram where it can highlight new products and service offerings, and regional activities like trade shows. But for Kyse, when it comes to communicating with customers, nothing takes the place of personal contact. "Our employees who come face to face with customers everyday are our strongest sales tool, there's no questions about it," he says.
Large dealers like RDO Equipment Co. can do things smaller dealers cannot do. Among them is wield buying power. Large dealers can also create more advancement opportunities for employees, and multiple locations give them a presence in several different markets and opportunities within.
All of the above can and does impart certain competitive advantages, but size is a measure of success, not a formula for being successful. Every size company, large and small alike, can find value and be successful by having the right set of core values, and believing and living them.
Rod Dickens is the founding editor of what is now Green Industry Pros and has been covering the landscaping industry for nearly 30 years.
Companies in this article