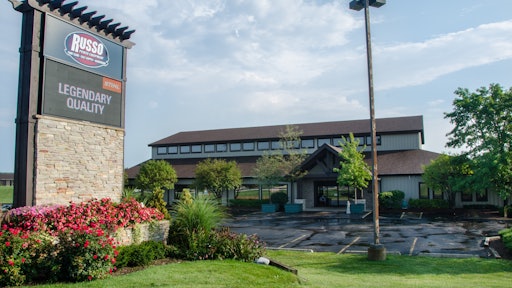 Nestled in the Heartland in Illinois, Russo Power Equipment established its roots as a hardware store on the northwest side of Chicago in 1970. Now approaching almost 50 years in business, the equipment dealership counts six full-service locations as its network, including four locations that just opened in the last decade: Chicago (1970), Schiller Park (2005), Naperville (2008), Hainesville (2011), Frankfort (2014) and Elgin (2016).
Evolving from its hardware heritage over the years, Russo Power Equipment now specializes in landscaping power equipment and related supplies, and boasts of a clientele that consists primarily of municipal and commercial contractors, with a small percentage of residential consumers. Many of these customers are loyal, longtime customers.
According to Eric Adams, president of Russo Power Equipment, "Our business footprint has expanded along with the products and services we offer. We enjoy sharing memories with many of our long-term customers, staff and suppliers alike. Currently, we're excited about approaching and building on those memories for the next 50 years."
A Personal Touch
Adams emphasizes that personal and commercial relationships are what enabled Russo Power Equipment to grow, thrive and expand in the last 48 years. He says, "We partner with our employees, clients and vendors in order to understand each other better, and support those ups and downs that generally occur in business. It's not just a transaction—we shine best when we're able to fully engage and work as a partner."
By partnering with clients, Adams means really communicating with and listening to them, then offering the equipment and services they are hunting for to help build their business. That's how the equipment dealership developed the idea to form dedicated delivery routes for its surrounding market area. The delivery service permits Russo's customers to truly concentrate on their business, while the dealership becomes a hero by transporting much-needed equipment and products to their door, decreasing their downtime and saving them the hassle.
Another such service that the equipment dealer initiated is fleet assessment. Russo Power Equipment employees evaluate customers' equipment annually and share their insights, going as far as pinpointing potential downtime to see if they can capture efficiencies, or otherwise improve performance and productivity. "Our industry knows we need to be efficient when it comes to employee productivity, especially these days. Investing in equipment has proven to accomplish more with fewer people, while increasing employee morale and offering a safer work place," Adams affirms.
He continues, "This is what we always teach within our organization. Understanding that the products we sell are used from sun up to sun down to create revenue for our customers is vital to our success, and we achieve this understanding through customer service at all levels. Our clientele's needs are always changing and they can purchase from competitors. It's what we do before, during and after the transaction that keeps our brand in their minds. Cultivating the relationship over one or two touches is how we build and strengthen our customer reach."
Russo Power Equipment values vendor relationships as well. As the equipment dealership eyes its next 50 years in business, Adams plans on strategically expanding and further capitalizing on them. One way he aims to do this is by developing more Russo-specific plans with supplier partners—deviating from standard equipment offerings and services—which allows the company to differentiate itself from its less forward-thinking competitors.
Putting Stock in Inventory
Depth and availability of inventory is another courtesy Russo Power Equipment extends to its clients and excels at. In fact, Adams attributes much of Russo Power Equipment's success to "our wide product selection and volume of inventory, which allows us to support our client's needs in a timely manner." Being an equipment dealer that services a lot of contractors, it makes sense to stock landscaping equipment with breadth and depth, all while ensuring parts availability and supplier support. After all, contractors' businesses run on their access to quality, reliable equipment.
The equipment dealership takes care to carry inventory that fulfills five primary objectives: good price, brand, part availability, quality and vendor support. With those priorities in mind, according to Adams, Toro Dingo, Kubota, Scag Power Equipment, Avant Tecno, Wright Manufacturing, Bobcat, STIHL and ECHO are all household names at Russo Power Equipment.
When it comes to specific types of equipment, Adams can't discount what the commercial lawn mower does for the business, although compact utility loaders are especially popular now. He says, "The commercial lawn mower opens the door to a vast number of services and is definitely a must-have for our customer base. Lawn maintenance, particularly mowing, ties together all the services the landscape professional offers their clients. Meanwhile, compact utility loaders are one of the hottest trends right now. They are extremely versatile, and have a large selection of attachments available from brands such as Avant Tecno and Toro Dingo."
The last two or three decades have turned the industry's attention toward several new challenges, but there are equipment innovations addressing those challenges—milking as much productivity as possible out of equipment and a dwindling employee pool to satisfy landscaping demand, and addressing the environmental and regulatory concerns of an increasingly eco-conscious public. As a result, "Labor-saving equipment will continue to impact our industry as the labor force shrinks and multi-season offerings are becoming popular. We also expect to see advances in equipment technology, particularly when it comes to tracking efficiencies and maintenance schedules," says Adams. "In addition, commercial battery (electric) equipment is entering the landscape industry."
Training and Retaining the Right People the Right Way
The green industry isn't the only one struggling to hire good workers. It's a problem that is becoming more pervasive for many markets. That's why, when Russo Power Equipment discovers a star employee, it makes a case for not only training, but also retaining him or her. But that wasn't always the case, according to Adams. "For years, our training program consisted of a 30-minute onboarding/orientation period followed by a ball and chain being strapped to the candidate's leg, and a swift kick to the deep end of the pool. Those days are long since gone."
Today, the company onboards and trains new employees during a 90-day review period that consists of assessing their performance through metrics, character assessments and competency evaluations. The equipment dealership additionally offers a comprehensive online learning tool that highlights best practices for management staff, plus specialized vendor training programs, onsite workshops and certifications to a variety of personnel.
Due to its intensive training and onboarding programs, and opportunities to learn and advance, Russo Power Equipment is becoming more and more adept at retaining star employees. Adams says some of the tools he uses to improve employee retention include "culture building, developing career-driven roles, and grooming leadership to be more personable, think more strategically and provide their staff with a larger vision for growth. Understanding what drives your workforce and what they value is key. Russo promotes meritocracy, not hierarchy. This thought process allows staff to be included in their team environments and ultimately provides them a larger sense of purpose in their role. We aid this by providing feedback as well as receiving it. We embrace the entrepreneurial spirit and the ensuing results contribute to our team's success."
Adams attributes the equipment dealership's success to its culture of relationship-building, and ability to hone in on customers' and employees' needs. He stresses that relationships and communication are essential. He also mentions that it's crucial to enjoy what you do and surround yourself with great people. With all of these requirements already met at Russo Power Equipment, it's no doubt that the company is about to embark on another 50 successful years.