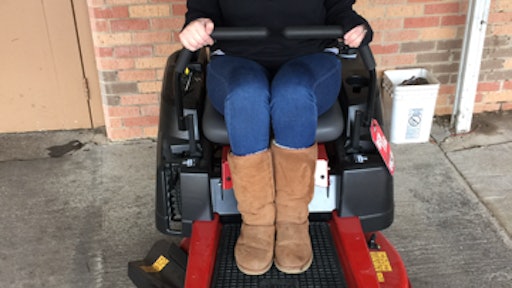 Lacey Gassett, general manager and future owner of Gassett's Lawn Products of Dallas, Texas, will be the third-generation owner of the business after her father, Johnny Gassett, and his father, Hollis Gassett, who started it in 1959. Johnny Gassett is known not necessarily for selling you what you want, but he always sells you what you need. Lacey, his daughter who has been working in the dealership since she was 15, now operates under the same standard. That's how Gassett's has been telling it like it is for almost 60 years. 
Lacey says, "My dad is very to the point. It comes from a lot of knowledge and history in this business." Although her father may be a straight shooter by nature, the practice of being honest builds trust, which in turn, creates repeat customers. As a matter of fact, Lacey claims her father recently turned down a sale on a mower after hearing the problems with a potential customer's current mower. Instead of scoring a full mower sale, Johnny diagnosed the problem, and winded up only selling a spark plug and an air filter. The customer, however, shook his hand and thanked him for not upselling him as he saved at least $500.
With this kind of on-the-job experience for more than 15 years, Lacey is working her way up from summer job to future owner. She says, "I eventually decided I was going to stick with it. My husband and I both work here now. In the next two to three years, my dad will retire and we will take over the business to continue on with the family legacy." That is, telling customers the truth, which is not always what they want to hear.
Knowledge, Honesty and True Concern for Customers' Needs
Gassett's Lawn Products values customer service. Nothing aggravates Lacey more than going to a big-box store, and witnessing customers' confusion and frustration. In contrast, she suggests: "The second they come in the front door, greet them with a smiling face. Make sure they know you're here for them because that's all people want nowadays. If they didn't care, they'd just be buying online and you would never see that person. But everybody nowadays is going back to customer service and they really want the full person-to-person experience."
The big-box store business model really bothers Lacey because she doesn't think customers should ever have to struggle to determine whether they're purchasing the right outdoor power equipment. In fact, she even stops to help big-box customers if it's obvious they're having a hard time in the lawn and garden area. She says, "Our job is to guide you to the right machine for your needs," whether that's in her dealership or a big-box version of it.
According to her, even if you're a landscape contractor, "You might not need the biggest, baddest thing, but maybe you want the biggest, baddest thing. It's all up to us to get that information—to find out what you're going to do, how you're going to do it and how often you're going to do it. Do you have a bad back or shoulder? Is it hard for you to start things? We find out all those necessities so we can point you in the right direction. That way, you're happy with your machine because there's nothing worse than buying something and regretting it. That's the last thing we want."
Lacey feels like this honesty allows her customers to trust the dealership, so customers can lean on the business' reputation and integrity without second-guessing it. She says, "I know most of our customers by name, what they drive, what their phone number is and what equipment they have." She says that, with all of that tribal knowledge, customers can come in and get down to the nitty gritty of what they really need without wasting time.
Lacey's customers recognize her from when she was a little girl. "When I was little, there was, within walking distance of our shop, six or seven other dealerships. They're no longer in business, but we're still here. Our honesty is kind of a legacy now. People watched me grow up here. They know my whole family, so they feel more comfortable, which really helps us grow. We all grow together."
Keys to the Social Media and Marketing Kingdom
Lacey prides herself on being as responsive and accessible as life allows. You can communicate with her via email, the website, Facebook, Instragram and more. If she's awake, she responds immediately. Many other dealerships only operate during their regular business hours; Lacey goes above and beyond.
In Lacey's eyes, though, the future "is all about social media. Everybody is on it. We saw an increase in sales from the get-go" of starting Gassett's Lawn Product social media accounts. While she uses billboards and direct mail for some marketing, she is much more interested in what social media can do. Her father was skeptical at first; he is from a different generation, she points out, a generation that advertises in the Yellow Book and newspaper.
When she first established an Instagram account, her dad thought it was a waste of time. He told her to not sink too much time in social media because they had more important things to do. However, when a customer contacted her through Instagram at midnight one evening, she responded by 5 a.m. the next morning, letting him know the dealership had the mower he was looking for in stock. That customer ended up driving two-and-a-half hours to buy that mower because he was so impressed with her fast response, friendly demeanor and social media access.
Now her dad sees the value in social media. Gassett's customers also reinforce her social media and marketing efforts by letting her know they came in because of a billboard or Facebook promotion.
Lacey herself is an advertisement in her own right when she's driving. She says, "My car is actually fully wrapped in Scag and tiger-striped. You cannot miss me." People stop her to ask questions and confirm the dealership's location in Dallas. A police officer even pulled her over once to gab outdoor power equipment. He asked if Scag mowers were the best. Gassett remembers pulling her phone out to show him pictures of different offerings. Then she noted that he lived pretty far from the dealership, so she gave him a recommendation for a friend's dealership. He bought a Scag. She says, "If I can't help you, let's find somebody who can." Either way, Lacey says, "Come see us."
Scag Nation Fit for a King
Gassett's Lawn Products carries the following brands: Scag Power Equipment, The Toro Company, Snapper, Gravely, ECHO, STIHL, RedMax, Bear Cat, Honda, Kawasaki, Briggs & Stratton, Kohler, Giant-Vac, Shindaiwa and BlueBird. But if you ask the Scag Queen as they call her, Lacey's favorite piece of equipment is Scag mowers. It wasn't until seven or eight years ago that Gassett's Lawn Products started to sell Scag Power Equipment. The dealership didn't have the confidence in the brand to sell it until Scag started to educate the Gassetts. Lacey says, "Scag University gave us so many tools on the ins and outs of all the mowers. It boosted my confidence and, last year, we sold more than 80 of them. This year, we already sold 50."
Because Gassett's knows the ins and outs of the Scag mowers, so does its customers. Competitors can't compete with that knowledge. Gassett gushes, "Scag Nation is such a fun group to be a part of, and it's on the cusp of being the newest and best, and it's really the future of zero-turn mowers. That's why they're my favorite. They're better built. They're built in America. They're stronger. They're faster. They're beefier. Most Scag mowers, depending on how the customer takes care of them, can last 15 to 20 years."
Giving Employees the Royal Education Treatment
Since Gassett's has been telling it like it is for almost 60 years, Gassett boasts, "We have the knowledge that a lot of dealers don't have nowadays. Me, my father and a couple other employees grew up in this business. I could tell you the part numbers from when we had two-cycle lawnmowers off the top of my head. "
However, when Gassett's Lawn Products can't bank on the experience of its regular employees, Gassett looks for two different attributes: "You want either someone you can train to be good, or you want someone who is so seasoned that you can say, 'Here's your area. Go to work.'
When dealing with the unseasoned employees, though, Gassett's leverages online classes from ECHO, Scag, Toro and the like. Employees are required to read product data on all of the outdoor power equipment before they can start talking to customers. They must undergo at least five to 10 different lessons on different manufacturers to familiarize themselves with the inventory. Lacey says, "We want to make sure they have a little bit of knowledge, then really start training them. We want all of our employees, especially anybody dealing with customers, to make sure they don't instruct them incorrectly. Let's tell them how to do it right and take all the safety precautions, then go forward."
More than Scag Power Behind the Throne
According to Lacey Gassett, general manager and future owner of Gassett's Lawn Products, in addition to Scag Power Equipment, the dealership carries:
The Toro Company. "We've carried Toro for over 50 years. It is really the backbone of what made us whom we are today. We've carried it since the beginning and the company continues to make great products, so that's why we keep it going. There's an [equipment] area for every single person no matter what you're going to do," says Gasset. The dealership sells its large and small zero-turn mowers, and more.
Gravely. "We wanted another solid company that could outlast big-box brands, but in an affordable price range. Gravely does an excellent job."
STIHL. "We took on STIHL about 10 to 12 years ago and it helped us grow business. We sell a ton of STIHL."
ECHO and Shindaiwa. "We carried Echo and Shindaiwa for years. You can't go wrong with these brands."