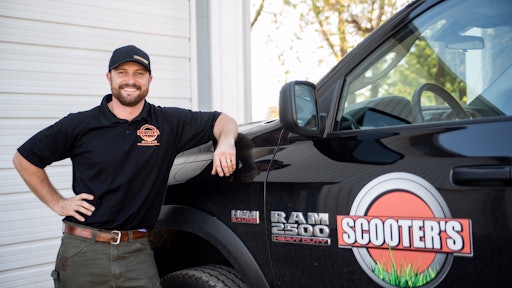 Jacob Godar, owner and CEO of Scooter's Lawn Care Inc., was destined for entrepreneurship. He just didn't know it yet. Right out of high school, he began working as a landscaping foreman, but within a few years, he found himself in the auto body industry. After a little self-reflection, however, he realized that automotive wasn't what he wanted to ultimately do. He decided to return to landscaping in 2014 with a big splash—he launched Scooter's Lawn Care, a premier lawn care and landscaping company in Springfield, Illinois, to serve both residential and commercial clients in Springfield, Chatham, Sherman, Riverton, Rochester and Jacksonville, Illinois.
Over the next four years, Godar learned a lot about owning a small business. He says, "When Scooter's Lawn Care first started, I was taking care of everything—from marketing and management to the actual lawn care service. Scooter's was a one-man band. During this time, I was always on the lookout for opportunities that could make the business more efficient. Scooter's now sustains a small team, most recently adding an operations manager and part-time designer. Having a team of support allows me to focus my time on making even more business improvements."
One example of Godar improving his business is when he identified that the company's heavy reliance on rental equipment and/or manual labor to complete landscaping work was dragging it down. To save on labor time and long-term costs, and compete with the larger local operations, Scooter's Lawn Care invested in some of its own landscaping equipment, restructuring its priority from equipment rental to ownership, to ease the drag.
The Ever-Important Equipment Purchase
Being a small business, Scooter's Lawn Care focuses on flexibility when purchasing equipment. It's better to invest in one machine with many uses than specialty equipment that only comes in handy every once in a while. Godar suggests attending green industry expositions and events to get a good handle on new equipment and trending features—even putting them to the test when possible.
"Business is about constantly learning. I am continually educating myself, particularly about the industry. When you broaden your knowledge, it helps you feel prepared when responding to a new opportunity. As a best practice for selecting new equipment, landscapers [should] make use of industry events and trade shows. When looking to purchase our own equipment, we demo various units from different manufacturers to make sure the investment is suited for our daily work."
When in the market for a mini skid steer, for instance, Godar acknowledges, "We knew the machine needed to be compact enough to easily fit through a standard yard gate and be extremely versatile since the company works on a range of landscaping jobs. The Ditch Witch SK752 mini skid steer was a perfect fit since it accepts a wide range of attachments to tackle multiple jobs and is more versatile than equipment with similar power. We saved significant time and labor since investing in the mini skid steer. A job that would take a week in the past now takes only two to three days to complete."
Godar warns that, while it's essential to establish a piece of equipment is going to accomplish the work that's required of it, the return on investment on its bells and whistles also needs to be present to make the purchase worth its while. "To run a successful business, it's important to make sure that you don't overinvest," he says.
"We depended on rental equipment and manual labor for a few years, but after seeing the projects coming in, our first big purchase was the mini skid steer," Godar recalls. "It took on all the larger yard-grading and landscaping tasks, and our teams consistently make good use of it. The machine helps our business tenfold. Scooter's now aggressively targets larger landscaping projects, and we know the work gets accomplished on time and on budget."
Godar says that, in addition to the Ditch Witch SK752 mini skid steer, Scooter's Lawn Care invests in other business-boosting technology, such as tablets, and streamlined scheduling and billing software, to improve the productivity of its field teams. "New technology provides efficiencies from the job to the office. In the field, we provide our teams with tablets that are used to clock in and out, add job notes that are visible in the office, price a job and any number of other tasks. Ultimately, all these efficiencies make it easier for our customers. They know what's going on with their job and that it's getting done right."
From One-Man Band Lawn Care to a Full Orchestra
Much of Scooter's growth over the years came specifically from its lawn care savvy, especially after its services expanded to include fertilization and weed control. "We were dedicated to the work, earning a reputation for being a premier lawn care company. It's still our most consistent market," according to Godar. Surely, part of the company's lawn care success is also a direct result of what it calls its Six-Round Fertilization + Weed Control Program, which "is guaranteed to improve the health of our customers' lawns."
He elaborates, "It starts off in the spring with pre-emergent herbicide that stops the growth of grassy weeds. In the second round, we add nitrogen-rich fertilizer to green up the lawns and help them build a healthy root system. The third round takes place in early June, right before it gets hot. It involves a light application of fertilizer and grub control treatment. The Scooter's team is also on the lookout for weeds. Since some grassy weeds always grow during the summer, the fourth round involves touching up the spots that need weeding. The fifth round, which begins in the fall, involves another application of nitrogen-rich fertilizer to help lawns recover from the summer heat. We also check for broadleaf weeds. Finally, during the sixth round, we apply winterized fertilizer that is guaranteed to improve root growth and create an early spring green."
Although specializing in lawn care and starting out as a one-man band just four years ago, Scooter's Lawn Care now offers a full orchestra of a team and a full portfolio of landscaping services that includes:
Landscape design and installation.
Lawn maintenance.
Lawn care, fertilization and weed control.
Core aeration and over-seeding.
Gutter cleaning.
Pressure washing.
Holiday light installation and removal.
Snow plowing and ice melting.
While Scooter's Lawn Care takes care to serve its longtime customers just as diligently as it would its newcomers, brand-new landscaping jobs are becoming a critical component of the business. That's why, as the company continues to grow, productivity and efficiency are increasingly becoming the order of the day. Godar says, "In 2017, at least two workers were out on large new landscaping projects every day. That's why a dependable machine like the Ditch Witch SK752 is so important—it provides efficiencies on the job that let us take on more projects. And since we can depend on its efficiency, we're starting to aggressively look for even larger projects."
Another way that Scooter's Lawn Care takes advantage of efficiencies is by strictly offering weekly lawn care on a pre-scheduled service route. The company believes it is necessary to maintain the best-looking lawns for its customers, while staying fair to its other customers who expect consistent, timely and proactive service. "Weekly lawn care works best for our customers," confirms Godar. "If it gets really dry in the summer, crew leaders might choose to skip a week. But if you don't offer a weekly service in the spring, the grass grows very fast. We would then have to spend additional time to make sure our customers' lawns are in prime condition."
To balance the number of accounts and services Scooter's Lawn Care provides with the quality its customers now expect, the ranks of this landscaping orchestra are rising. At the peak of last season, Scooter's counted eight people in the field each day. That number is expected to balloon to between 11 and 15 this season. The company plans to onboard the new recruits—the ones without any landscaping experience—by initially putting them on a mowing or lawn maintenance crew to learn the ropes.
"It's the best way to provide training, letting them start with supporting tasks and then working their way up to full landscaping projects when ready. Recruitment is a significant task each season and we try many ways to find the right people. To date, we had the best results using Facebook ads, which led to some great hires. In relation to hiring sites or conventional ads, I've seen the best recruitment results using social media."
Getting New Business to Pay Off
If Scooter's Lawn Care continues its rhythm of sales from new business into this season, it may be partially due to the company's focus on marketing, which takes many forms, such as AdWords, Facebook, direct marketing and newspaper ads. According to Godar, "This year, we're looking to expand into radio. What's important is that the marketing has a return on investment. We really focus on how various marketing efforts perform by constantly keeping an eye on the number of calls coming in and their closing rate."
Godar continues, "Scooter's has grown as a business because we're committed to delivering what our customers want. If we see a segment of our company growing, customers must be happy with the work. There has been a steady increase of landscaping jobs, for instance, so Scooter's will continue to work those projects while looking for opportunities on larger jobs. But we're also looking at new opportunities like landscape maintenance, which recently experienced some growth."
At the start of last year, Scooter's Lawn Care was operating five full-time crews focused on an array of landscaping services. The number of employees is projected to swell again this year. Considering the business started as a one-man band just four years ago, this now full orchestra is proving itself as more than a mow-and-go crew. It's a symphony of efficiency and productivity.
Companies in this article