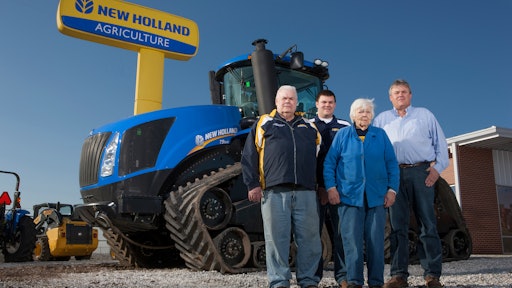 Zach Carlson, the fourth generation of Carlson men involved in the family business, offers a few time-tested and new tips for staying successful.
Zach, operations manager at Quincy Tractor LLC, recounted a brief history of the family involvement, starting in 1962. "My great-grandfather was a mechanic, my grandpa Roger was the salesman, my uncle JR was a parts person, and my great-grandma was the bookkeeper," he says. In 2008, Zach's father, Lance Carlson bought out his father and rebranded the dealership as Quincy Tractor. Soon after, Lance acquired additional dealerships in nearby locations and continued to expand.
According to a 2017 Bobcat press release, "Lance's vision of expansion and growth led him to purchase and rename additional dealerships in Missouri and Illinois, establishing Bowling Green Tractor in 2010, Hannibal Tractor in 2011 and Brookfield Tractor in 2016. Lance also opened a new dealership, Midwest Tractor Sales Jerseyville, in 2012 in partnership with Midwest Tractor Sales." This rapid growth has allowed Quincy Tractor to expand its services to include landscape and turf markets.
Keep It in the Communities
Zach also credits the importance of locality. "We take a different approach to things," he says. "A lot of these dealerships have taken on a corporate mindset, and we still try to maintain that local feel." And who better could the local community trust than owners who use the equipment they sell? "My father and I have a farm in Missouri that we grow crops on. We farm out 300 acres of row crops, so we sell what we use on our farm," Zach says.
Another way that Quincy Tractor has shown its commitment to local communities has been through its naming and branding of the dealerships they have purchased over the years. Instead of lumping each of their locations under the title of Quincy Tractor, Lance made the decision to name each dealership for the city or town in which they were located. "We keep things locally branded after the towns and those communities to maintain that persona of we're that community store," Zach notes. "We've tried to keep every employee on staff that was already there, and we hire local people to run the store, work as our parts people and to be our mechanics."
Follow the Golden Rule of Customer Service
"We treat others the way we want to be treated, Zach says. "We pride ourselves in that. That's what we've built our business on." To fulfill this promise, Quincy Tractor provides in-field and shop service, as well as several inspections. "We will do a full inspection on that equipment and provide a list of recommendations to get ready for that season's work," Zach stated. Additionally, they've implemented parts drop-box locations for customers. For example, they may post a drop box up to 50 miles away, so customers can drop a part off instead of driving all the way to the dealership. "We do anything possible to keep our customers going and keep them happy."
Provide and Service Equipment Customers Need
In its early years, Quincy Tractor's market was in cash crop agriculture corn and soybean farmers, dairy livestock, but has now expanded to serving the municipality and landscaping markets by adding the Bobcat skid steer and lawn and garden line at their Brookfield location. "We brought on Bobcat as one of our brands to offer," Zach notes. "It's a great name; it's a nationally recognized brand and has been really good for us."
Quincy Tractor locations also offer rentals of zero turn lawnmowers, skid loaders, compact track loaders. "If a contractor has one big job to do, he can rent a machine for the weekend or week, so he can do the job and he doesn't have to own the machine he would only use once or three times a year," Zach offers. Expanding their offering of landscaping equipment has allowed Quincy Tractor to reach a group of customers they hadn't expected. "We've developed different markets we've never thought we'd be huge players in, so including brands like Bush Hog and Rhino have helped
As a full-service dealership, Quincy Tractor doesn't just sell equipment, they also provide warranties and service for the brands and parts they offer. "We have certified trained service technicians at every location," Zach states. "All of my mechanics and parts people go through certification online classes and onsite classes to ensure they're knowledgeable about products we sell."
Bring in the Next Generation of Employees
A final tip Zach Carlson offers is to make connections with local students who will soon be joining the work force. This not only establishes Quincy Tractor's commitment to their communities, but also to the next generation.
For example, Quincy Tractor gives area students the opportunity to learn and work in their dealerships throughout Illinois and Missouri. "The local schools have professional day when they bring in local business to talk to the kids," Zach says.
Additionally, Quincy Tractor has a sponsorship program with area trade schools. "We partner with Parkland University in Champagne, Ill. to utilize students who are actually working on our branded equipment while at our store," Zach says. "When they graduate from Parkland University they have their degree and a position at our dealership
Since finding experienced personnel is a challenge Quincy Tractor LLC faces a dealership, the partnership with area trade schools serves an important role for both the students and the dealerships. To date, there have been four successful hires through the sponsorship program.
Every dealership has a recipe for success, and the Carlson family is no exception. They started with one family devoted to their business, added local communities and employees, mixed in a commitment to customer service and quality equipment, and finished by valuing and teaching the next generation to carry on their legacy.
Angie Mellor teaches communications and writing classes at Western Technical College in La Crosse, Wisconsin, while freelance writing and editing.