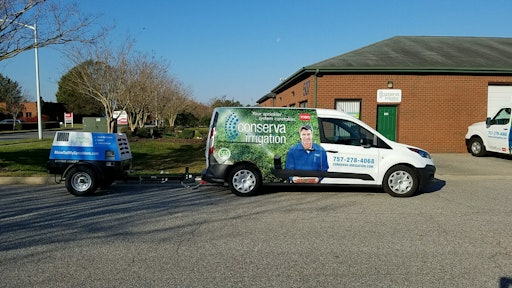 At first glance, it may seem strange that a company whose bread and butter comes from installing and fixing irrigation systems would be so active in the field of water conservation—after all, irrigation installers rely on commercial and residential clients to use their systems and water. But Russ Jundt and Tom Olson, co-founders of Conserva Irrigation, have made a point through the past ten years to put their neighbors and communities ahead of their profits.
Serving neighbors and their hometown team is a lesson Jundt recalls from spending his childhood summers painting houses with his father. "He taught me things about business and lessons which stick with me, and we've built our company on treating your neighbor right, pricing yourself accordingly, and being accountable for what you're doing for them," Jundt states. "[My dad said] You'll see them at the local grocery store, or on the golf course, or at church, and you don't want to be embarrassed by that relationship, you want to flourish in the relationship."
Humble Beginnings
Those first years in the business started local for Jundt and Olson. "My business partner and I met in the 5th grade; we've been friends forever and business partners the past twenty years," Jundt notes. The duo started working together in underground utility construction, but were so frequently asked about sprinkler system installation that they decided to start offering that service to clients.
Jundt recalls that their first foray into the irrigation space was short lived. "I didn't like how wasteful the entire industry was or seemingly was. There wasn't a lot of thought put into design or efficient irrigation." Soon after, the pair purchased the first Mosquito Squad franchise outside of the beta testing shop in Charlotte, N. C. "We brought it to Minnesota and I fell in love with the franchising model, where you share successes and you're building off of each other's learning curves and it was all about education and being in business," Jundt shares.
Jundt kept thinking about the need for a franchise model in the irrigation industry. This led him to The Irrigation Association National Show in 2010, where he began his journey toward co-founding Conserva Irrigation. "I walked in there [the national show] and it was like a kid in a candy store, and everything was all about the advent of these brand new smart controls," Jundt recalls.
From there Jundt and Olson began to research, study and build their business from the ground up.
But it wasn't an easy start. Jundt remembers starting the fall 2011 season with zero clients and zero revenue, and employing "guerilla marketing tactics," to drum up business. "We put yard signs out that advertised inexpensive winterization or sprinkler system blow outs. We knocked on doors, and we introduced ourselves as local guys, saying 'here's what we're doing, and here's what we're offering,'" Jundt notes.
Additionally, that first season also helped Jundt and Olson to discover an important diagnostic tool. When winterizing the systems, Jundt would walk around the yard, and say 'look at that, there's a broken head, there's a line leak over here.' "I could see these things easily, since water leaks down and those problems go unnoticed many times in the summer months. As we were winterizing, we'd see air bubble up with the water and realized we could use air as a diagnostic tool as a proven strategy," he remembers.
The Origins of the Franchise
Since then, Conserva Irrigation has completed six full seasons and boasts over 2500 active clients in one territory alone. From 2012 to 2016, Jundt and Olson's business model was tested in local and regional markets with success before they joined a partnership with Outdoor Living in June of 2017.
"Once we gathered enough data points and had proof of concept that it would work in a short season here in Minnesota, where we say all four days of summer are awesome," Jundt jokes, "we expanded to year—round irrigation territories and started building traction. This last year we officially franchised the model through our partners Outdoor Living brands who have been in business with Mosquito Squad for 13 years," he states.
Jundt says successful franchisees can come from several backgrounds. "It may be someone who already works in the Green Industry, such as irrigators, landscapers, lighting specialists, or anyone who wants to expand their service offerings." Additionally, it also works well for someone who has experience in the green industry and wants to own his or her own business.
Conserva Irrigation not only gives franchisees the opportunity to own and operate a business, but also provides a wealth of education. At Conserva, within the first year of employment, technicians become certified, then become Certified Landscape Irrigation Auditors. Additionally, Conserva creates e-learning opportunities for franchise owners to keep updated not only in irrigation systems, but also in conservation. "We study all the trade magazines, the EPA reports, the Irrigation Association findings, the UN World Water Development Report of 2018," Jundt states.
Jundt believes Conserva's emphasis on sustainability and conservation is a large part of what draws in employees and franchisees. "They feel great in being part of something. We all yearn to be part of something bigger than ourselves, and this is a social movement with direct and relatable products and end results," he notes.
Jundt estimates with over 44 Conserva Irrigation franchises across the country, billions of gallons of water will be saved in one year.
Toro Partnership
"We settled on a strategic partnership with the Toro Company mostly because they were aligned with our same goals, which are really changing the industry and bringing sophistication to it and focusing on spending time, money, and energy into high efficient product lines and practices," Jundt says.
The Toro Company has demonstrated their commitment to conservation by being the only manufacturer to win the EPA Water Sense Partner of The Year Award in addition to producing quality equipment.
"We want to change the way we water the world and do what's right for the communities in which we live. For a large company to get to that grassroots level is impressive, and that's what separates Toro from all other manufacturers in my opinion, by far," he concludes.
Hometown Team Partnership with Target
Jundt and Olson didn't rest on their laurels after securing a partnership with the Toro Company. "We approached Target two-and-a-half years ago with what we call the "hometown team." I wanted to take the next step in our offerings for Conserva with our partners at Toro," Jundt says.
Target gave Conserva Irrigation nine stores in Florida to test a pilot system, which eventually turned into 332 stores nationwide. "They'll be in place in more than 300 of our stores by the end of 2018. We anticipate the water savings will be approaching 150 million gallons this year. Think how much water that is; it's phenomenal," Jundt exclaims.
Conservation Starts at Home
Furthermore, Conserva Irrigation supports the Wyland Foundation and participates in the its annual National Mayor's Challenge for Water Conservation. "We partnered with the Wyland Foundation and in the last two years we've donated as franchisees over $30,000, and in 2018, we'll donate another $30,000," Jundt says.
Jundt encourages homeowners to become more aware of their watering practices. He summarized that irrigation systems account for in excess of 59% of water usage per residential home. "Watering one yard one time uses 2500 gallons of water," Jundt says. "Yet what do we do as humans, as irrigators? We water during the day, during rainstorms, after rainstorms, in high sunlight when it's evaporating or transpiring quickly."
Jundt and Conserva Irrigation believe that awareness and removing barriers that make it difficult to comply with water conservation practices are key to changing the irrigation word. "We're making that easier through this franchise model and the great products at Toro, like smart irrigation systems that adjust themselves," he states. "We'll create the world's largest, first ever irrigation franchise and effect change ourselves. We'll recreate the industry, we'll turn it upside down, and we'll education the masses, and through that we can effect change."
Angie Mellor teaches communications and writing classes at Western Technical College in La Crosse, Wisconsin, while freelance writing and editing. To find out more about the Conserva Irrigation Franchise and its commitment to water conservation, please visit www.conservairrigation.com.