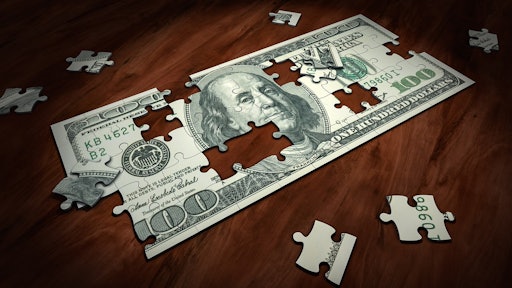 Editor's note: This is the fifth in a 10-part series that focuses on financing for landscaping business owners of all sizes. Part 4 covered putting together an effective budget. This article starts at the level of receiving payment from customers relating to payment processing, factoring and simple borrowing.
One of the biggest complaints I hear from clients and read about on online landscape forums is getting paid on time. This creates serious problems that negatively affect:
Meeting payroll.
Hiring new employees and not add pressure to existing staff.
Cash or credit to service sales - purchasing materials and supplies.
Funding marketing and gaining new customers.
Processing
There are steps you can take to help clients pay promptly. One is making it easy to pay by enrolling in an online payment service. It is nothing more than an internet payment system that processes transactions that expands your reach and ability to make sales. Direct customers to their site or set it up on your website they manage.
For example, landscapers that use QuickBooks for accounting can collect payments using its merchant account. The service allows you to get paid online via credit card from any invoice you generate, whether it is mailed, emailed, faxed, or printed. Your customers can also access their own 24/7 online Customer Account Center, which is a personalized and password-protected web page where they view billing history and pay invoices. Other major online suppliers provide options like PayPal, Apple Pay and Google Pay
Factoring
Another frequent thread on landscape forums is the difficulty of securing a loan. Most banks and credit unions are hesitant to lend money to businesses short on income and assets.; small businesses have fewer cash generating options. One available, but often overlooked, is invoice factoring. It is an excellent way to get quick cash without adding debt. While debt is sometimes necessary, most businesses would prefer to raise cash without borrowing.
More often than not, when a company is in a cash crunch, they have little time to figure things out. Their employees have to be compensated, there are supplies to buy, and rent to be paid, etc. These things often can't wait and factoring allows them to act quickly. The company's first transaction may require a 4-7 day waiting period. However, from then on it can be as quick as 24 hours.
For example, a company sells invoices to a factoring firm at 90% of its value. A $100,000 invoice generates $90,000. It is up to the factoring firm to collect on the invoices and all the original terms apply. After they have collected the money, it is returned to you minus the factorer's fee (between 2 and 8%). It's as simple as that. Remember one thing and this is critical. Those invoices require enforceable contracts. If your customers are not signing service contracts, start now and not when you need money.
Borrowing
Lastly borrowing can come from an array of sources. The first and best choice is friends and family. It is not uncommon for small landscape business owners to borrow money from friends, family and sometimes even good clients for short term cash flow problems. While the terms are often more 'loose-ended' than traditional borrowing, your integrity is still at stake.
Other options. Using a credit card is not the optimal method because of restrictive terms and high-interest rates. Before using it for funding your business, make sure all your payments are on time and try to negotiate the lowest interest rate with your credit card company before running it up. Other options include non-bank lenders like Kabbage, Fundbox and Snapcap to name a few.
Regardless of what options you choose for cash flow improvement or business funding, the one thing that remains critical is repayment of the money within the terms and conditions plus using prudent financial controls within your business.