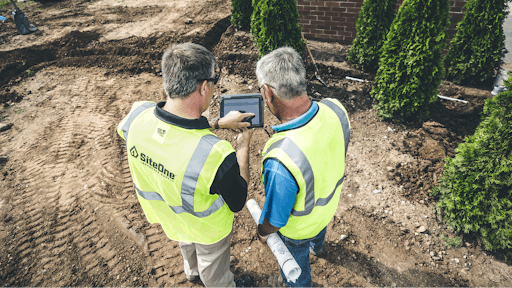 SiteOne
An integration of systems between LMN and SiteOne Landscape Supply is opening the world of e-commerce and direct landscape supply sales to landscape contractors.
"Landscape contractors need a comprehensive tool to operate their business as efficiently as possible," says Adam Morka, marketing manager at LMN. "They also need adaptability and the ability to make changes quickly as customer needs change and seek new revenue streams or diversify their company's services."
Morka says LMN has been working to integrate with SiteOne for three years.
"We wanted to provide landscape contractors with the ability to order materials directly through our estimating software to create even more business efficiencies and shorten the contractors' sales cycle," he says. "Through this partnership, we have achieved it."
The suggestion for the integration came directly from contractors using one or both systems.
"We regularly engage with our customers seeking feedback to better understand their needs and pain points," says Sean Kramer, chief information officer at SiteOne Landscape Supply.
The desire from contractors to work with SiteOne through multiple channels, including integration with business management software spurred the interest in a partnership.
"We're seeing more and more contractors leveraging business management software for better operations management and to boost their productivity," Kramer says. "When we got to know the leadership team at LMN, it was clear they had a similar focus to ours."
Both companies share the same ambition of making it easier for their respective customers to build an estimate and doing so while staying within a single platform.
"Our team viewed the integration with LMN as a logical next step to enable contractors to efficiently build a bid for materials on a prospective job," Kramer says. "Creating a fast and accurate proposal increases the probability that our contractors win the business."
Contractors are encouraged by the new options.
Caleb Auman, operating manager for Auman Landscape in Lancaster, Ohio has been using SiteOne for a long time and started using LMN two years ago.
"LMN definitely streamlines are estimating and especially time tracking for our team members in the field," Auman says. "We rely on SiteOne for our nursery and drainage products. SiteOne has what we need when we need it."
He believes the integration of LMN and SiteOne will benefit purchase orders and more expedient pick-up and/or delivery of necessary materials for projects.
Consideration of the purchase process was among the priorities of making the integration happen.
"We know that it's a lengthy and relatively inefficient process when a contractor receives a call from a potential customer to close a sale and order supply and take delivery to the job site," Morka says.
Annually, there are over a million estimates created through LMN from its customers.
"If we can make that process even slightly more efficient for them, they can be more profitable and increase their ability to get more work done annually," he says.
The focus of the partnership is on the business benefit of the two brands shared customers, increasing accessibility to SiteOne product information.
"This provides easy access to the SiteOne product catalog through one view within LMN," Kramer says. "Our intention is to continue to build the partnership with LMN and look for other opportunities to further integrate."
Materials uploaded from SiteOne to the LMN dashboard will be readily available for contractors to adjust the description, shipping, warranty factors, and markups to determine the price to charge customers and keep estimates profitable.
"It will undoubtedly help landscape companies improve their bottom and top lines while professionalizing the industry and helping free up staff bandwidth to get more work done in a day with fewer errors when ordering landscape supplies and creating estimates," Morka says.
Kramer echoes that feeling, and suggests the integration tied with the specific customer profile will have a significant impact on the industry.
"Historically, if a customer wanted to add data into a new platform, they would need to carve out time out of the busy workday or take time during off hours to upload it manually," he says. "Then any little change to that data would result in more time spent uploading it, resulting in less time with customers or on the job site. We're breaking down these barriers with improving data accessibility and this is just the start. There are many exciting possibilities we could continue to explore to further enhance data integration for our customers."
Companies in this article