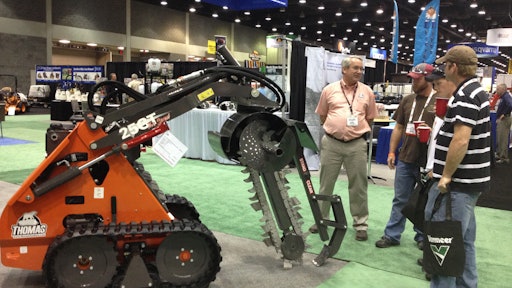 My first trip to Louisville for what is now known as GIE+EXPO was in 1997. Just think, back then Bill Clinton was president, our current president was a rookie state senator in Illinois, and Seinfeld and E.R. were the top shows on TV. Those two shows are now long gone (except in syndication), and so are many of the things I saw at my first Green Industry trade show. For example, the Great Dane brand of commercial mowers made a huge splash in 1997; they were going to flip the industry on its head. But the brand died off a few years ago.
At the same time, many things are still the same in this industry, and at GIE+EXPO. That's not a bad thing. Consistency speaks to the health of an industry and the "staying power" of many of its participants. That said, you might find some popular 1997 brands under a different roof today—i.e. Dixon and RedMax under Husqvarna, or Shindaiwa under Echo—but those brands are still around. Consolidation does happen in all industries as they mature, after all.
Another thing that's still around is Polly Moter. She has been doing PR for the show from the beginning. Many dealers and contractors probably don't know who she is. But for media folks like myself, we know Polly very well. You will not meet a sweeter, harder-working person in your life. I always look forward to seeing Polly when I get to the expo center. Additionally, I look forward to connecting with other friends in the industry, many of whom I have been working with for many, many years. Of course, there are also people I don't look forward to seeing—and vice versa. But it's not hard to avoid these scenarios amidst the sea of 15,000 to 20,000 attendees.
This year specifically, there are three things I'm really looking forward to seeing at GIE+EXPO. They speak to both "new" and "old" … but there's never a dull moment either way.
1. Really, another mower? We've been writing for years about how there are too darn many brands of commercial zero-turn riding mowers out there. A few, like Great Dane, Bunton and Yazoo/Kees, have died off in recent years. But now there's someone else wanting to take a crack at this overly saturated, highly competitive product category. So I look forward to seeing how a manufacturer of wood-burning furnaces plans to put a dent in a market dominated by the same four or five brands for the past 20 years. Unless the machine mows by itself, helping landscape maintenance contractors cut labor costs by 75%, I'm not sure what it could be.
2. Firecracker time. GIE+EXPO could also be referred to as Press Conference Mania. Many companies—the same ones year after year—hold press conferences to announce new products, etc. Some are press conference-worthy, others are not. For those perennial press conference holders who typically have little to share and/or are less than enthusiastic in sharing it, I'll be stopping at one of the many firecracker warehouse stores we pass by on our drive from Wisconsin. If your press conference fails to impress, I can help help liven things up (JK of course).
3. The next 10 years. Some of the big buzzwords you hear tossed around a lot are only starting to become actual trends in the Green Industry. Over the next 10 years, though, I believe you will really start to see these things take shape. I'm talking about more fuel-efficient engines, alternative-fueled equipment and even gas-less. I'm talking about the use of mobile technology to help both contractors and dealers better manage their businesses. I'll be on the lookout for exhibitors that fall into these categories.
There's plenty to do at GIE+EXPO, that's for sure. It's always good to also touch base with the industry's major players to see what they have going on in the way of product development. Sometimes it's not a completely mind-blowing product innovation that matters most to a dealer or contractor. Sometimes it's just those subtle improvements that help dealers and contractors get a little bit better themselves. That's what GIE+EXPO is all about. Well, that and the catfish sandwiches in the food court.