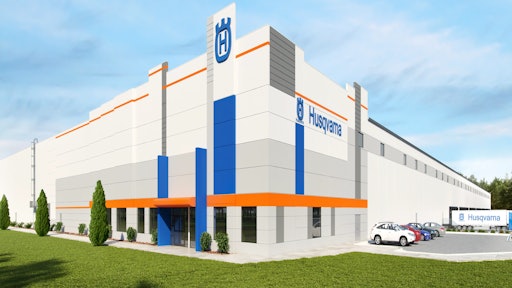 Husqvarna Group, a global manufacturer of outdoor power equipment, is expanding its operations in Nashville, Arkansas, with the construction of a new 350,300-square-foot distribution center and materials warehouse facility. Groundbreaking for the new facility occurred November 8 and it is projected to be fully operational by the end of 2018.
The facility will serve primarily as warehouse, staging and storage, and will be located adjacent to the current manufacturing facilities in Nashville where chainsaws, trimmers, blowers, pole saws and hedge trimmers are made for the Husqvarna, Poulan Pro, Jonsered, McCulloch and Weed Eater brands.
The addition of the new distribution center to existing Nashville manufacturing operations will impact operational efficiencies—primarily by localizing distribution operations and automating the transfer of finished product from the assembly line to the warehouse. The investment includes an adjacent 4-acre site to be used as a trailer court. Once the new facility is operational, the company's manufacturing, warehousing and distribution footprint in Nashville will exceed 874,000 square feet.
"We're always looking for ways to better serve our customers in an increasingly competitive market, and this new state-of-the-art facility will help us improve our product/cost value position by optimizing warehousing and distribution," said Jim Moore, vice president and general manager of sourcing, operations and supply chain for Husqvarna Group's Consumer Brands Division.
The project would not be possible without exceptional partners, including Beacon Partners, project consultants; The Conlan Company, a general contractor; Alliance Consulting Engineers, civil engineering; and Merriman Schmitt Architects Inc.
The ground-breaking event was attended by Billy Ray Jones, Mayor of Nashville, Arkansas; Larry Teague, Senator of Arkansas District 10; and various members of the Husqvarna Group senior leadership team. The ground-breaking event for the new facility coincided with the flip-the-switch event for the company's new solar power generating facility at its injection molding plant nearby.