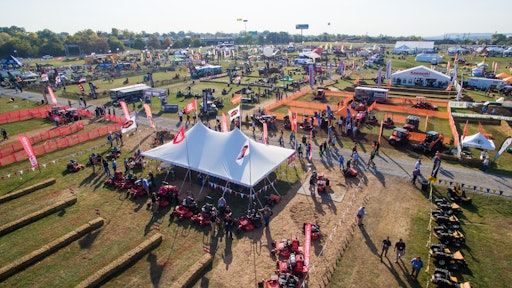 Dealer registration for GIE+EXPO includes admission to ten High-Performance Dealer Workshops.
Dealers looking to pick up real-world tips on timely topics can attend workshops led by Bob Clements International, as well as experts from the Equipment Dealers Association and United Equipment Dealers Association, during the annual trade show, set for Oct. 21-23 at the Kentucky Exposition Center.
As of March, the way people do business changed. It brought to light many of the strengths of the green industry while at the same time showing areas that need to be safeguarded heading into the future.
Bob Clements and Sara Hey will lead a roundtable discussion with other green industry businesses about how dealers can bulletproof their businesses in a post-COVID-19 world.
"There are always going to be things that happen in your business that are unexpected. One of the things many dealership owners have going for them is that they are entrepreneurs at heart and can think outside the box when they are thrown a curveball," said Sara Hey. "Adaptability is key when you are dealing with the unexpected, and regardless of how good your plan is there will always be unexpected things. COVID-19 has continued to reinforce the importance of keeping dealerships in 'balance'. Our goal is that at the end of the day, two of the three departments in your dealership can sustain your dealership at any given time. This doesn't happen by accident, but through a number of small, deliberate changes over time."
The team from Bob Clements International will also host four one-hour dealer software discussions on Thursday afternoon.
Dealers who are considering implementing software in their dealership or making a change but don't know where to start can take an in-depth look at software options, such as Lizzy and Ormandy Software. Led by Clements and Hey, the software providers will walk dealers through a series of questions to help them find the right software to take their dealerships to the next level. Dealers are invited to sit in on one or all four sessions.
 "There is no one-size-fits-all approach to finding the right business management software,"  Clements said. "Each software has different strengths and finding the one that matches up with what you need for your business can be an intimidating prospect. In many dealerships, your business management system will quickly become your most used tool. It's important to ask the right questions during this decision. This can include: What is the support like? How do my people and I get trained? Will it support all of the departments in my dealership? And does the investment for this software make sense with my current financial situation?"
 In addition to the education opportunities, dealers will again have access to the indoor show floor earlier than the rest of the industry.
The Dealer Preview, exclusively for dealers, retailers and the media, begins at 11 a.m. on Wednesday, Oct. 21. Then, beginning at 3 p.m. the exhibit floor opens and the welcome reception is at 7 p.m.
The Dealer Resource Center will be open 9 a.m. to 7 p.m. Wednesday, 9 a.m. to 5 p.m. Thursday and 9 a.m. to 2 p.m. Friday.
High-Performance Dealer Workshop Schedule
Wednesday, Oct. 21
8-8:50 a.m.: How to Close More Sales and Make More Money, Bob Clements
9-9:50 a.m.: Six Revenue-Generating and Time-Saving Benefits of Using Two-Way Texting from Kenect
10-10:50 a.m.: Habits of a Profitable Dealership: 7 Habits that Will Transform the Way You do Business, Sara Hey
12-12:50 p.m.: Roundtable: Trailer Dealers and Dealers thinking about Selling Trailers, led by Bob Clements and Sara Hey
Thursday, Oct. 22
8-8:50 a.m.: Fine-Tuning Your Cash Flow Strategy, Bob Clements
9-9:50 a.m.:  3 Law Changes Every Dealer Needs to Know About in 2020
10-10:50 a.m.: Maximizing Employee Effectiveness, Sara Hey
12-12:50 p.m.: Roundtable: Maximizing Rental Income in Your Dealership, led by Bob Clements and Sara Hey
1-5 p.m.: Hourly Dealer Software Discussions, led by Bob Clements and Sara Hey
 Friday, Oct. 23
8-9 a.m.: Roundtable: Bulletproofing Your Business in a Post-COVID-19 World, led by Bob Clements and Sara Hey
 For more information and online registration: www.gie-expo.com. Other contact points: Facebook, info@GIE-EXPO.com, Twitter @GIE_EXPO, Instagram @GIE_EXPO and 800-558-8767/812-949-9200.