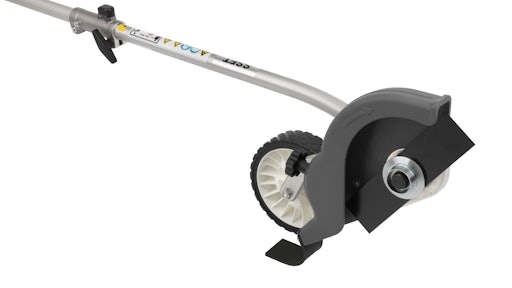 Honda Power Equipment has entered the split-shaft trimmer market with the introduction of an all-new product offering, the Honda VersAttach Multi-Purpose System. The announcement was made at GIE+EXPO 2015.
Featuring two powerhead options and six different attachments, Honda says the VersAttach System combines the power and reliability of its 4-stroke engines with a robust lineup of tools to fit a wide range of lawn and garden needs.
Powerhead options: UMC425 powered by a Honda GX25 and the UMC435 powered by a GX35
Six interchangeable attachment options: edger, line trimmer, blower, hedgetrimmer, pruner and cultivator
Easy attachment changing. Honda says configuration is easy thanks to its SureLoc joint locking system. This two-position joint mechanism operates with a click and a twist, allowing the user to easily connect and disconnect attachments with no tools required. The SureLoc feature, incorporating a durable high-modulus resin key, is wear-resistant, and offers intuitive assembly and instant, secure engagement of attachments. In addition, the anti-vibration system includes two rubber-mount shaft inserts between the shaft and clutch and the handle assembly, providing comfortable use, especially for long periods of operation.
Request More Information
Fill out the form below to request more information about
Honda VersAttach System