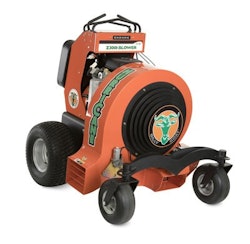 Billy Goat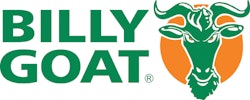 Billy Goat unveiled the upgraded the Hurricane Z3001 and Hurricane X3001 Zero Turn Stand-On Blowers, which now feature a new side fill gas tank with fuel gauge, designed to improve efficiency and simplify fueling operations.
"Introducing the new Side Fill Gas Tank with Fuel Gauge is a testament to Billy Goat's dedication to continuous improvement and customer satisfaction," said Brandon King, product manager at Billy Goat. "We understand the challenges faced by professionals in the field, and these upgrades aim to provide them with enhanced efficiency and convenience during their cleanup tasks."
The easy side fill fuel tank significantly reduces spillage onto the unit, minimizing the opportunity for debris to enter the tank during refueling.
Equipped with seamless operating controls, tridirectional blowing options, and zero-turn maneuverability, the Hurricane Z3001 ensures fatigue-free operation for busy operators. With its 8500 CFM and a blower housing design that draws air from both sides, the Z3001 offers increased air velocity, allowing leaves and debris to be pushed farther and providing a faster finish.
The Hurricane X3001 is designed for medium-sized maintenance contractors, landscapers and other professionals and features seamless operating controls, directional blowing options, robust blowing power and zero-turn maneuverability.
Request More Information
Fill out the form below to request more information about
Billy Goat Upgrades Hurricane Z3001 and Hurricane X3001 Zero Turn Stand-On Blowers