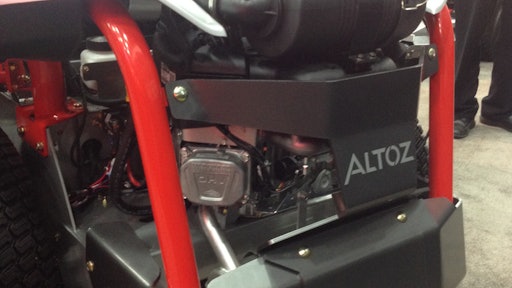 Briggs & Stratton showcased their new Vanguard 810cc commercial engine along with new consumer engine models at the 2013 GIE+EXPO. Additional outdoor power equipment and service accessories were also on display in their booth.  
Vanguard 810cc commercial engine
The engine manufacturer first introduced their Vangaurd 810cc engine at a media event this past September. It wasn't until GIE+EXPO that news of which mower models will be powered by the engine was shared. Snapper, Ferris and the new Altoz Precision Mowers will all feature the Vanguard 810cc engine.
Briggs says that with 810cc of displacement, the engine offers more power while occupying the same space as a typical engine found on a zero-turn mower. Additional features include a dynamically balanced crankshaft and flywheel for lower vibration, and a high-flow blower housing and chopping fan for reduced debris buildup and cooler engine temperatures.
Consumer engines
Two new addition to the E-Series of consumer engines was also on display in the Briggs Booth. The manufacturer says the 625ex (150cc) and 450e (125cc) engines offer easy starting options and a range of power levels.
The 625ex features the Briggs & Stratton ReadyStart starting system which requires no priming or choking, only a pull for power. The 450e is designed to offer quick, consistent starts with the Prime N' Pull E-Z starting system.
Also new for 2014 are the 1650 (420cc), 1450 (306cc) and 950 (208cc) Series general purpose small engines. The general purpose engines are specifically engineered for applications needed in a wide range of everyday jobs, such as generators, pressure washers, pumps and more.
Now standard on all Briggs & Stratton general purpose engines is the Dura-Bore Cast Iron Cylinder Sleeve designed to help withstand wear and tear while improving oil control. Dual-ball bearings, forged cranks, centralized controls and cast iron camshafts add to engine durability.