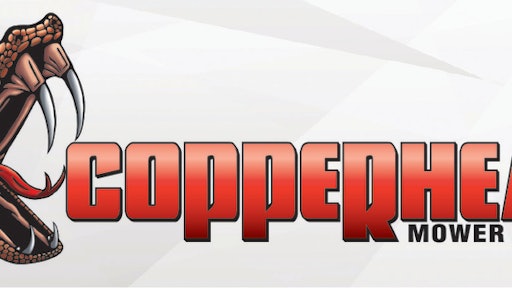 Rotary Corporation has announced the launch of a new logo and brand identity for its extensive line of mower blades manufactured at its facility in Glennville, GA. The company says the logo, anchored by an iconic image of a copperhead snake, conveys the power and force of Rotary blades which are ISO certified for quality, durability and superior craftsmanship and tested for maximum performance under extreme operating conditions. Under the brand name of Copperhead Mower Blades, the logo will be featured on packaging, dealer signage and advertising plus the company's website and social media platforms.
"We started working on the research and branding project in 2013, through an in-depth analysis of the features and benefits of our mower blades as well as the new technologies we now employ in the manufacturing process," explained Chris Roessler, vice president and director of marketing and advertising. "To bring the brand to life visually was our goal from the outset. It began by creating the iconic logo of the copperhead snake which is indigenous to the region where our world headquarters is located. Our new brand identity will enable us to clarify and leverage the unique selling features of our extensive line of blades."
Rotary says with the brand refresh, strategic positioning and a new logo, the Copperhead Mower Blades are crafted with the vision of the organization: a strong, well-positioned company that has earned an outstanding reputation for quality, value and service in the outdoor power equipment industry. One hundred percent of all Rotary blades are manufactured in the USA, including commercial-strength and heavy-duty blades, commercial mulching blades, flat blades, high- and low-lift blades, edger blades and dethatcher blades.