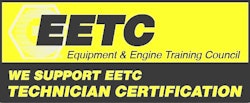 The Equipment & Engine Training Council (EETC) is now offering online practice tests to provide technicians and students with an excellent way to gauge their EETC certification test readiness.
The EETC Practice Tests, delivered exclusively online at www.eetc.org, will help technicians and students prepare for their next EETC certification exam by trying out questions of similar content and format to those used on the real EETC exams.
These online practice tests give outdoor power equipment professionals and students the chance to try out EETC-style tests without the stress and high stakes of the real thing. The practice tests are timed and provide feedback in the form of a performance report.
The EETC Practice Test pricing is as follows:
$15 per practice test for members (Manufacturer, Distributor, Dealer, Association, Associate, and Premium Individual member accounts)
$10 per practice test for Full-time Students (To receive the "Full-time Student" discount, the school must have an active high school or college membership with a sub-account set up for the student.)
$25 per practice test for Individual Free member accounts.
Important facts to know before purchasing an EETC Practice Test:
Practice tests are not the EETC certification exams.
Practice tests are available for one year from the date of purchase.
Upon completing a practice test, there is a two-week waiting period to purchase an additional practice test of the same type.
An individual may only purchase two practice exams of the same type annually.
Practice tests are timed at 50 minutes each, with 60 multiple-choice questions.
All practice tests are non-returnable, non-exchangeable and non-refundable.