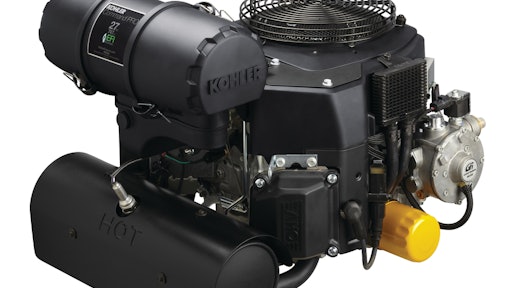 Mower maker Walker Manufacturing first adopted Kohler's electronic fuel-injection technology in 1998. The average gas price then was around $1.05 a gallon, or roughly $1.50 when adjusted for inflation. Over the last few years, with gas prices fluctuating somewhere in the $2.50 to $4-per-gallon range, six additional commercial mower manufacturers have jumped on the EFI bandwagon.
That's because the primary benefit of an EFI engine is fuel savings. Kohler says field data supports the notion that you'll use 25% less fuel when running a Kohler closed-loop EFI engine, as compared to a comparably sized Kohler carbureted engine.
Walker's data corroborates this claim. With more than 20,000 Kohler EFI-powered Walker mowers in the field, the company's data shows:
30% fuel savings on its MBK non-catching mowers (23-hp EFI compared to 18-hp carbureted)
17% fuel savings on its MBS non-catching mowers (29-hp EFI compared to 27-hp carbureted)
27% fuel savings on its MT grass-catching mowers (26- and 31-hp EFI compared to 23-hp carbureted)
How it adds up
Burning less fuel will obviously lead to some cost savings. For example, with a gas price of $3.33 per gallon, a 25% reduction in fuel usage would equate to a savings of $1 per hour of operating time. Then, as the price of gas climbs, so does your hourly savings:
$3.75 – save $1.13 per hour
$4.00 – save $1.20 per hour
$4.25 – save $1.28 per hour
$4.50 – save $1.35 per hour
Then you can think about how much you'll be saving over the course of a year. For instance, if you put 600 hours on a machine, you'd save $600 with gas at $3.33 per gallon. Coincidentally, with an average price premium of $600 for an EFI engine, most full-time lawn maintenance contractors will find that an EFI engine will easily pay for itself in one year. Then, if you put more than 600 hours on a machine and/or gas prices are higher than $3.33 per gallon, you'll save even more money and make your money back even faster.
Other reasons EFI is becoming so popular
Frank Fletcher—a longtime Walker, Toro and Exmark dealer in Pennsylvania—says the Kohler EFI has been quite popular among his customer base. In addition to the fuel savings, he says the Kohler EFI runs smoothly and trouble-free. Plus, Kohler has recently increased the warranty to three years.
Other benefits of an EFI engine include:
Reduced exhaust emissions
No choking or priming necessary
No carburetor means no carburetor maintenance or replacement costs
Easier starting in cold temperatures and after periods of prolonged storage
Onboard diagnostics which provide for easier troubleshooting and reduced downtime
Quick throttle response for powerful acceleration
Optimum power output since the engine adjusts for load, altitude and air temperature
William Schnell, a product manager for Kohler Engines, helps clarify that last point. "It is important to note that Kohler's closed-loop EFI engine will continually adjust to the current operating conditions; it doesn't matter if the engine has run for 10 or 1,500 hours, Kohler's closed-loop EFI system will optimize performance and fuel usage of the engine. Carbureted engines are generally calibrated to be optimized for running at 'break in' conditions which typically occur at around 50 or 100 hours of use; any time before or after this point a carbureted engine will run at sub-optimal conditions."
Mower manufacturers currently offering EFI-powered models
Hustler (Excel Industries)
Exmark
Scag
Toro
Walker
Kohler anticipates that approximately 12 more mower brands will soon be offering Kohler EFI-powered models. Keep an eye on greenindustrypros.com for news as it develops throughout the year.
Companies in this article