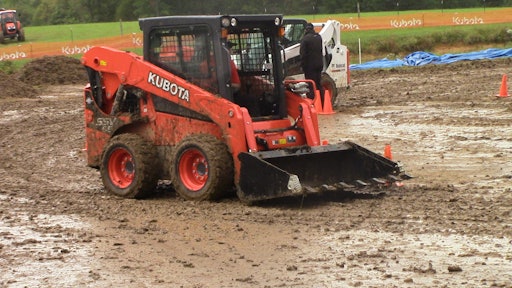 Kubota's 2014 National Dealer Meeting, held October 13-16 in Nashville, TN, was dubbed "A New Era." A new era indeed. Kubota announced that it would be helping its dealers break into two new markets: big agriculture tractors and skid-steer loaders (watch this video to see the machines in action). The company also unveiled its strategic plan to accelerate sales growth over the next four years, which includes significant investments in advertising, technology, dealer support personnel and training.
"This 'New Era' is not just about new products, it's also about process improvements and customer service," said Todd Stucke, Kubota's agriculture and turf division vice president. Stucke also emphasized the fact that, even though Kubota is now pushing into new markets and product categories, the company is also reaffirming its commitment to its core business: company utility tractors.
Additionally, Kubota reaffirmed its commitment to its more than 1,000 U.S. and Canadian dealers—nearly all of which sent personnel to the Nashville meeting. Attendees were especially eager to hear about the unprecedented 92 new product model introductions.
Record-setting number of new products
First-ever skid loader. Kubota is taking its first crack at the skid-steer loader business with the introduction of two new models: the SSV65 and SSV75. The models feature standard two-speed travel with optional high-flow hydraulics, along with an overhead front door. Lift capacities are 1,950 and 2,690 pounds. Additional details will be forthcoming.
John Ryan, Kubota's construction equipment business development manager, did point out that these two initial models represent a "dipping of the toe into the water" for Kubota. The plan is to begin rolling out additional skid-steer loader models as soon as one year from now. Kubota also introduced two new wheel loaders, the R530 and R630, for the 60- to 80-hp segment of the market.
Commercial zero-turns with Kawasaki engines. Kubota introduced three new models of commercial zero-turn riding mowers—the Z724X-48, Z724X-54, Z726X-60—each powered by a Kawasaki FX Series engine. This move was in direct response to dealer and landscape contractor demands for Kawasaki-powered mowers. These models, designed for "unmatched" ergonomics and superior steering and stability, complement existing models powered by Kohler engines.
A new consumer-grade zero-turn rider, the Z122R Kommander, was also unveiled. This machine is designed and priced for the lucrative under-$4,000 segment of the prosumer market.
In other Kubota Turf news, Stucke reported that Kubota's alliance with Echo/Shindaiwa/Echo Bear Cat has worked very well in its first year, and that the allied companies are ready to move forward in a more aggressive way with joint promotions and other initiatives.
"Helping our dealers better cater to landscape contractors is really a sales organizational thing," Stucke explained. "We must continue to help our dealers so they are able to provide full market coverage (in reference to the numerous products landscape contractors use, including mowers, skid steers, excavators, tractors and handheld equipment). Our dealers want to grow, and the turf segment presents a real opportunity."
It was also announced that Kubota intends to broaden its turf product lineup to include walk-behind mowers and stand-on mowers. More specific details, such as timing, were not divulged.
Rajesh Joshi, director of product marketing for turf and utility vehicles, also sees a tremendous opportunity in the turf segment. Joshi joined Kubota this past summer after a long stint with Cub Cadet.
"There are many manufacturers in the zero-turn business, so it's a very competitive business," Joshi pointed out. "But we also feel like it gives us an opportunity to take a leadership role. We have great dealers, so we already have the national distribution. We've been the leader in diesel-powered zero-turn mowers, and our Kommander consumer zero-turns have performed very well thus far. So as we expand both our commercial and consumer lineups, we are in a really good position to grow."
Big ag tractors. Known for its prowess in the compact utility tractor business, Kubota announced that it is getting into the "big ag" game with the M7-Series of mid-range tractors. Three new models, in addition to new hay equipment and other implements, will help Kubota dealers tap into the hay production, commercial livestock and row crop production markets. Key features of the M7-Series tractors include:
Kubota V6108 diesel engine is Tier 4 Final, meeting all current emissions regulations
24-speed Powershift transmission; KVT transmission offered on the premium model for an infinite number of speeds; optional creeper for operating at slow speeds; option for 31-mph top speed as opposed to standard 25 mph
Lift capacity at lift end: 11,023 pounds
21- or 29-gpm hydraulic flow
Building business, developing dealers
As Stucke pointed out earlier, this "New Era" for Kubota and its dealers goes far beyond new products. Kubota wants to ensure that its dealers are able to capitalize on every opportunity that comes their way, be it with new products in new categories, or improved products in tried and true categories. But what it really comes down to is how Kubota provides support to its dealers.
So far the company has been doing a good job. For the second year in a row, Kubota was given the Dealer's Choice Award from the North American Equipment Dealers Association (NAEDA). That award recognizes manufacturers that are good to do business with, according to NAEDA dealer members. Other winners of the 2014 award were Vermeer and Scag.
Greg Embury, Kubota's longtime senior vice president of marketing and dealer development, announced his retirement in Nashville—but not before making several announcements regarding Kubota's dealer development programs for 2015.
Dealer certification. Kubota is reaffirming its commitment to certifying its dealers. To become a Premiere Kubota Dealer, seven of the recommended 17 business best practices must be adopted. "Data shows that our certified dealers are far more profitable," Embury pointed out, suggesting that taking the necessary steps to become certified makes good business sense. Dealers can work with their regional sales managers to have an assessment conducted.
Sales/service agreement update. A new sales and service agreement was rolled out. Among the changes, sales performance will be based on a dealer's assigned territory only. Incentives could also be negatively impacted when selling outside of a designated territory. "We are by no means giving dealers protected markets, but we sure are trying to make it harder for another Kubota dealer to sell into your market," Embury said. Changes to the sales/service agreement were made after consulting both Kubota's Dealer Advisory Board and NAEDA.
Parts support. As Kubota expands into new product categories, Stucke said it is critical that service and parts support be rock solid. A new, central parts center is being established in the Kansas City area. This will help dealers better manage inventories and confidently place orders on a daily, as opposed to weekly, basis. Parts from the Kansas City center supplement existing warehouses in California, Ohio, Texas and Georgia.
Brand advertising. Buck Trawick, Kubota's director of marketing, talked about ramped-up advertising campaigns to help drive customers to Kubota dealerships. Separate branding campaigns are being introduced for:
Construction and ag customers – taking more of a serious, business-minded approach
Turf – taking more of an emotional, personal slant under the "We Are Kubota" theme
Kubota will also be sponsoring the 2015 Alan Jackson Tour. The announcement was made when the legendary country music star performed at the Grand Ole Opry on the final night of the Dealer Meeting.
Embury said Kubota has also taken steps to improve its co-op advertising efforts. Dealer co-op claims had been taking up to five weeks to process. "Now the goal is five days," Embury said.
Technology and training. Kubota has established a collaborative alliance with several BMS providers, including c-Systems, Charter Software and Basic Software, to ensure a reliable interface with Kubota. The goals include better search functionality and a reduction in data entry duplication for dealers.
Kubota University, an online training curriculum, has also been expanded. Additionally, the Service Knowledge Center has been improved, and is now better capable of providing dealers with "the right answers at the right time."
New products and new markets are helping usher in a "New Era" for Kubota dealers. "We started as a compact utility tractor company, and we don't want to lose sight of that," Stucke reminded. "But we also must focus on growth opportunities."
For Kubota, perhaps the biggest opportunity of all is investing in its dealers to help capitalize on those other market opportunities. As one dealer in attendance said, "Kubota is really easy to work with ... I sure hope it stays that way." Judging by the dealer development investments made for 2015, it appears as though it will.