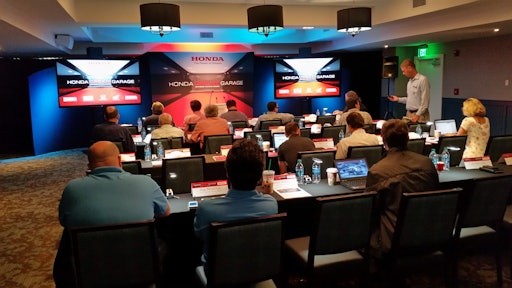 Honda is calling 2015 "The Year of Honda", and the company's "Honda Dream Garage" concept was on full display at a media event held the last week of July in San Marcos, CA.
Although the event was highlighted by the impressive reveal of the new Accord and Pilot vehicles, a new lineup of snowthrowers, two new off-road vehicles, and a robotic mower called Miimo also received a little stage time.
"A lot of people think of Honda as an auto company, but really it's an engine company," said Robyn Eagles, manager of Honda public relations. As a matter of fact, Honda says it's the largest engine manufacturer in the world—with 28 million Honda engines sold globally in its 2015 fiscal year. These include engines used to power automobiles, motorcycles, off-road vehicles, lawnmowers, string trimmers, tillers, generators and pumps, snowthrowers, marine products, and even jets.
Proud of its diversity
Jeff Conrad, senior vice president and general manager, reminded event attendees that one of Honda's competitors in the automobile industry once poked fun of the fact that Honda produced a lawnmower. Truth be told, that is something Honda is very proud of.
According to Honda data, since 1959 more than 40 million pieces of Honda-branded power equipment have been sold in the U.S., more than 32 million automobiles and more than 18.5 million powersports products. Additionally, Conrad pointed out that 97% of Honda power equipment buyers own a vehicle, and 64% of those vehicles are Hondas. That's an impressive statistic, but also indicates the opportunity to cross-sell even more Honda-branded products; hence the "Honda Dream Garage" marketing concept.
New snowthrowers. One of those Honda-branded products fit for garages across the Snowbelt is a snowthrower. Will Walton, senior manager for Honda's power equipment division, said the company has focused on three key areas throughout the product development process in creating its new three-model HSS Series: ease of use, superior performance and quality design.
Although differing in size, engine power and performance specs such as throwing distance, the three models each contain the same quality design elements such as a hydrostatic transmission (as opposed to disk drive), single joystick electric chute control (as opposed to a crank), articulated chute deflector, and a chamfered scraper to hit snow/ice more flush for better performance.
Click here for a closer look at the new HSS Snow Blowers from Honda.
New off-road vehicles. Honda has also expanded its lineup of multi-passenger off-road vehicles with two new "Side x Side" models. The Pioneer 1000 and 1000-5 feature an all-new 999cc inline twin engine, fully automatic six-speed dual clutch transmission (DCT), all-new chassis, three or five seats, and a full line of accessories including plows and winches. "Data shows that dealers sell $2,000 to $3,000 worth of accessories with every Side x Side sale," said Lee Edmunds, powersports marketing communications manager.
The Pioneer 1000 and 1000-5 are expected to available for purchase in late September.
Robotic mower on display. Honda's robotic mower, Miimo, was also on display at the event. Already marketed successfully in Europe, a Honda official said the company is continuing to evaluate the U.S. market, and if necessary, refine the product design before a U.S. launch of Miimo takes place.