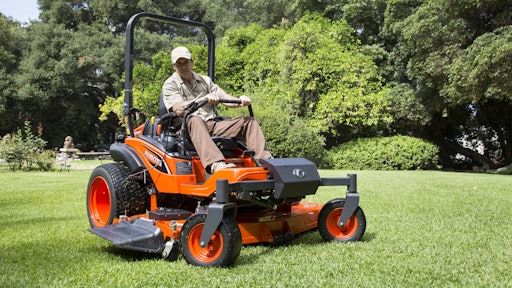 It's a good time to be in the lawnmowing business. Not only is consumer demand for lawnmowing services strong, but the availability of new zero-turn riders that are more efficient, reliable and comfortable to operate is at its most robust level in recent memory.
According to Kris Kiser, president and CEO of the Outdoor Power Equipment Institute (OPEI), shipments of commercial zero-turn riding mowers were up roughly 5% last year, and are forecasted to be up roughly 6% this year and another 5% in 2017. "We're looking at solid growth in commercial riding mowers for the next couple of years," Kiser says. OPEI is an international trade association representing 100 small engine, utility vehicle and outdoor power equipment manufacturers and suppliers.
As that solid growth persists and landscape contractors shop for zero-turns to add to their fleets, manufacturers are making sure plenty of new options are available. Nearly two-dozen new models from several leading manufacturers are being introduced for the 2016 mowing season. Key focal points include:
Improved deck design, cut quality and discharge capability
Rear discharging
Suspension systems and improved operator comfort
EFI engines for improved fuel economy
Bigger decks on entry-level mowers
Increased power and performance for high-production mowing
That's a pretty mower
While the typical landscape contractor will always favor durability and performance features over cosmetic enhancements, most contractors do like a machine that looks good. That's why, for example, Dixie Chopper is now painting its decks black instead of the traditional grey. Additionally—on all Silver Eagle, Classic and XCaliber models—cutouts (as opposed to stick-on decals) on the front pan and engine guard are designed to create a more industrial look, while the front pan cutout also allows for airflow to the hydraulics.
Gravely has redesigned its Pro-Turn 200 and 400 Series mowers. "We've thought about everything with this new lineup, from the belt system and X-Factor II deck to the new seats to the overall appearance," says Bill Engler, Gravely brand director.
The Pro-Turn 200 and 400 were designed following Gravely's new visual brand language (VBL), displaying visual cues that are stout, solid, structural, chiseled and energetic. "We knew that it was not only critical to bring the right feature set to market, but to bring the right look and feel of the product that resonated with the end customer—not just because we wanted it to look cool, but because this is what these guys do for a living. They're professionals, and they deserve a product that reflects their professional expertise and the work that they do," says John Adams, manager of industrial design for Ariens Company. Gravely is an Ariens Company brand.
Gravely is entering its 100th year in business this year. At the opposite end of the historical spectrum, a newcomer to the commercial mower category is Spartan Mower, though its creator has been designing and manufacturing lawnmowers for many years. Robert Foster, owner of the Intimidator Group in Batesville, AR, says the inspiration for the Spartan Mower design came from the muscle car era of the 1960s and 70s. "When dealers and contractors look at this mower, they say, 'It's a beast, but it's still sexy,'" Foster relates.
Cranking up the comfort
Let's face it, a happy operator is typically a more productive operator—and a more comfortable operator is typically a happier one. This is exactly why Toro and Exmark continue to expand their offerings of suspension-equipped zero-turn mowers.
Toro's MyRide suspension system is now available on six models in its Z Master line. MyRide was initially introduced in mid-2015 on four models. "The response from those who have tested this product in the field has been overwhelmingly positive," says Chris Hannan, marketing manager for The Toro Company.
Exmark is also expanding its suspension availability. The 52-inch Lazer Z E-Series and 72-inch Lazer Z X-Series join the existing 60-inch options in both models. "We initially launched the suspended operator platform on 60-inch versions, as that's our most popular cutting deck size," says Daryn Walters, Exmark's director of marketing. "Almost immediately we began to receive calls, emails and social media messages inquiring about the platform's availability with other cutting deck widths." Additionally, suspended operator platform-equipped Lazer Z models now feature a new seat design that further enhances operator comfort.
Big on performance, lower on price
Ferris has been touting its patented IS (independent suspension) system for many years. Most of today's Ferris models, including the new IS 3200Z "commercial workhorse" and new IS 2600Z diesel-powered unit, do feature the patented IS system. However, the new three-model Fleet Series of fixed-frame mowers does not. Ferris says these mowers are designed for the professional who doesn't want to sacrifice core mower performance, but wants a little more value.
Grasshopper has also taken steps to offer contractors additional performance at a lower price point. Previously offered in 41-, 48- and 52-inch cut widths, select Grasshopper 100V zero-turn mowers will also be equipped with larger 61-inch decks this year. Grasshopper says this makes the V-Series an attractive entry point for contractors looking to step up from walk-behind or stand-on mowers.
Dixie Chopper's Silver Eagle Series, another good entry-level unit for contractors, is now being offered with a 72-inch deck, in addition to the 52 and 60 already offered.
Similarly, Exmark has beefed up its Lazer Z E-Series with a 72-inch deck. "The E-Series is a great choice for professional landscape contractors who keep a keen eye on the bottom line, but understand the value of the innovative engineering and commercial-grade quality of a Lazer Z," Walters says. The 72-inch E-Series mower can come in either side- or rear-discharge.
Decks and durability that cut the mustard
Speaking of rear-discharge, Exmark is also beginning to offer it on its top of the line Lazer Z X-Series. It will be available in 60- or 72-inch widths. "Our UltraCut Rear Discharge cutting deck solves many of the challenges our customers face every day," Walters says. "From the reduction in noise to the increase in clipping control and ease of trimming, rear-discharge is a great way to maximize productivity and versatility without sacrificing cut quality."
Walker Mfg. has also expanded its rear-discharge offering. This season, as part of four key product introductions that broaden and add versatility to Walker's lineup of high-production mowers, the new DR64 rear-discharge deck with mulching capability has been developed on the heels of a successful 52-inch version. The DR64 is being offered on both the new H38i 38-hp EFI mower and the new H24d diesel-powered mower with advanced-injection system.
Speaking of diesel, Kubota is rolling out its all-new diesel-powered ZD Series, which includes the ZD1000 and ZD1200. Both models feature Kubota's Aerodynamic Cutting System (ACS), which the company says increases cutting performance and allows for a more efficient use of power and fuel.
Cut quality and fuel efficiency are very important factors to a landscape contractor. Durability trumps everything, though, and Cub Cadet has been taking steps to "toughen up" its commercial riders. In fact, the company says it worked alongside professional contractors to engineer its new line of commercial equipment to blend heavy-duty design, power, efficiency and comfort. Cub's new Pro Z 100 Series debuted at GIE+EXPO this past October.
"Landscape professionals need equipment that shows up ready to work hard—all day, every day with no exceptions," says Emily Sword, Cub Cadet's director of brand marketing. "To deliver on that, we built added strength into every aspect of the Pro Z 100 Series and surrounded that strength with the best overall package of features and specs in the industry. Then we tested it, putting it in the hands of landscapers for six months to ensure that it is trusted to work efficiently in tough conditions, while keeping the operator comfortable."
As the 2016 mowing season draws near, we'll soon find out if the new Cub Cadet Pro Z 100 Series—along with all of the other new mowers referenced in this story—are up to the rigorous landscape contractor test. It is indeed a good time to be in the lawnmowing business, but it's still a competitive time with little margin for error.
Check out our online product guide for more of the latest in commercial riding mowers.