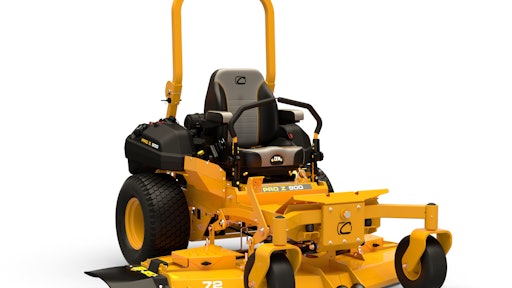 Led by the completely redesigned Pro Z Series of commercial zero-turn mowers, Cub Cadet says it is renewing its commitment to the professional market.
Pros can get their first look at the Pro Z Series when Cub Cadet publicly unveils the new lineup at the GIE+EXPO in Louisville, KY, October 20 and 21. Attendees are encouraged to stop by and test drive the mowers, talk to engineers, and hear from landscapers who were part of the testing process. Cub Cadet will be in booth 5116 and also in the outdoor demo area.
A year in the making
In developing the Pro Z Series, Cub Cadet says it went back to the drawing board. This meant questioning everything from the front-end construction to the placement of user controls to the cutting deck. It was a year-long process.
"In the spring of 2015, contractor demo events were held at dealerships to get feedback on our current professional mower line," tells Allen Baird, senior product marketing manager for Cub Cadet. "In the fall of 2015, more demo events were hosted at dealerships to validate the features of the new Pro Z Series prototypes. This spring, 100 Pro Z units were distributed for single landscaper extended demos—used for feature validation before final production."
The 100 landscapers who put the mowers through rigorous real-world testing this spring were recommended by 28 Cub Cadet dealers from across the country. "They used the mowers on actual properties they maintain for 16 weeks," Baird points out. "Their feedback was incorporated into the final product design. Every element of the Pro Z Series had to earn its place by showcasing the strength and functionality needed for daily use by professionals."
The consistent themes from professionals who tested the new product line were the positive impressions about power, comfort, quality of cut and maneuverability—especially on slopes, Baird assures. Not only did the Pro Z provide an easy ride, it helped prevent "scalping" of the lawn on uneven terrain.
"This is not the Cub Cadet your father owned," says Mark Jumps of Jumps Lawn Service in Florence, KY. "This machine has been built to stand the rigors of everyday mowing. You will not find a better seat on the market as far as comfort goes. The machine stripes out as well as any mower you have used and is more durable than anything on the market."
"In our 16 weeks of testing, it has done everything we expected, never missed a beat, was only in our shop for normal maintenance, and held its own day in and day out," says Daniel Cervantes of H&H Lawn Service in Elgin, IL. "Our operator speaks highly of this machine. It is always his first choice of machine."
Highlights of the new mowers
The Pro Z Series lineup consists of the Pro Z 100, Pro Z 500, Pro Z 700 and Pro Z 900. Cub Cadet says these four models are designed to meet the specific needs of different-sized landscape crews. Here's a look at some of the key features.
Strength. From frame to front yoke, the Pro Z Series is designed to stand up to the demands of everyday professional use. The industry's only Triple 7-gauge deck features three layers of 7-gauge steel, plus a 1/4-inch leading edge and 5/16-inch side reinforcements.
"From our field research, landscape contractors want to mow faster on rough terrain," Baird explains. "We built this deck around those expectations. Since the machine is able to take more day-to-day abuse, it promises minimal downtime."
Additionally, the full-length, laser-cut steel frame, 5/16-inch steel rear bumper, and the cutting deck are protected with e-coating—a precise, multi-stage process that provides automotive-grade corrosion defense.
"The e-coat process is seen today in the golf and sports turf industries," Baird says. "For our Pro Z line, we go above and beyond the industry standard by e-coating and external powder coating our components. This combination is exclusive in the pro space."
Performance. High-torque commercial transmissions are paired with high-horsepower, commercial-grade Kawasaki engines to provide optimal and consistent blade tip speed. Transmission options include:
Pro Z 100 – Hydro-Gear 12cc
Pro Z 500 – Parker HTJ, 12cc/260cc wheel motor
Pro Z 700 – Parker HTG, 14cc/280cc wheel motor
Pro Z 900 – Parker HTG, 16cc/310cc wheel motor
Cub Cadet assures that its new Pro Z Series can power through the thickest grass in one pass at maximum speeds.
Pro Z 100 – 9.5 mph; 48-, 54- or 60-inch deck
Pro Z 500 – 10 mph; 54- or 60-inch deck
Pro Z 700 – 12 mph; 60- or 72-inch deck
Pro Z 900 – 14 mph; 60- or 72-inch deck
Additional productivity-enhancing features are designed to optimize rear weight distribution, including pre-drilled mounting points for attachments and smart fuel pod placement. The steering wheel zero-turn option with four-wheel control increases hillside stability and overall efficiency.
Comfort. High-back suspension seats with lumbar support and padded armrests come standard.
The Pro Z 700 and 900 Series absorb impact on rough terrain with a pivoting front-axle dampening system, a vibration-isolating foot pan and four seat isolators.
The Pro Z 900's exclusive air-ride seat has customizable seat firmness and additional controls for the perfect fit. "Other manufacturers also offer air-ride seats with features such as iso-mounts, EVC cushion, angle high-back seat and adjustable armrests," Baird says. "Cub Cadet now has a loaded air-ride seat model with the maximum features. We have additional adjustable lumbar support."