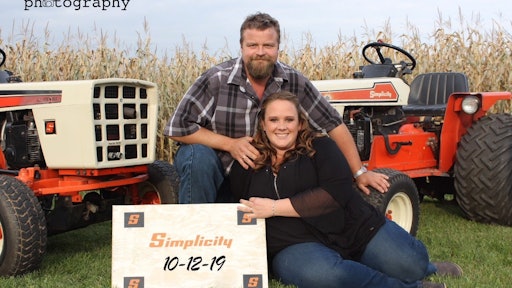 Briggs & Stratton Corporation and its family of brands have more than 800 years of combined history. A lot of pride and brand loyalty comes with that much legacy; and oftentimes generations of family members use the same brand for their outdoor power equipment needs - as is the case with Jeriod and Brittni, loyal Simplicity customers and die-hard fans of the iconic brand which was acquired by Briggs & Stratton Corporation in 2004.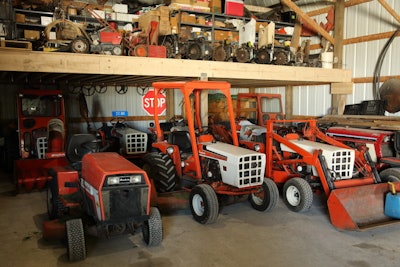 The couple, who lives in Cedar Grove, WI, currently own 16 Simplicity tractors along with countless parts and paraphernalia outfitting their home and barn. Their passion for the brand inspired their upcoming wedding, and on October 12, 2019, Jeriod and Brittni will celebrate their love for each other - and their love of Simplicity mowers - during a Simplicity-themed wedding.
Briggs & Stratton Corporation caught wind of this wedding via social media and invited the couple to its Wauwatosa, WI corporate headquarters and manufacturing facility on September 25. The couple received a private tour of the company's museum, its Research and Development facility and had the opportunity to walk through the plant; specifically the lines producing Simplicity products.
At the conclusion of the afternoon, Jeriod and Brittni were presented with a number of Simplicity-branded gifts from the Briggs & Stratton team, including swag bags for their 25-person wedding party.
Little did the couple know, their day was about to get even better. As Jeriod and Brittni exited the building, they were met by dozens of Briggs & Stratton employees showering them with congratulations and confetti. As the group of employees moved aside, a final gift was unveiled, bringing the couple, and even some employees, to tears: a brand new, limited edition Simplicity Broadmoor tractor.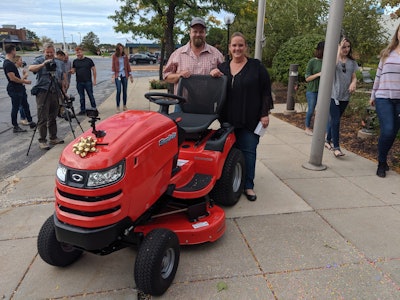 The tractor was delivered to Jeriod and Brittni's home where representatives from Briggs & Stratton had the opportunity to see the couple's impressive collection of Simplicity products. They also got a glimpse at the special spot where the new Broadmoor will be displayed in the living room!
Companies in this article