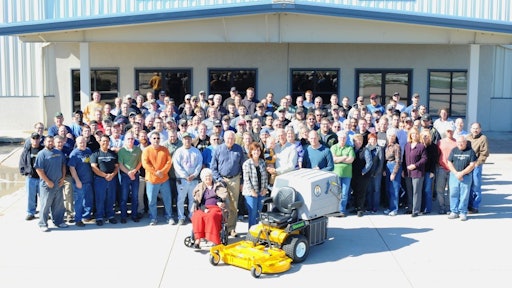 Walker Manufacturing produced its 125,000th Walker Mower on October 18. The machine rolled off the line in the morning and was celebrated with lunch and a company photo of Walker's 155 employees.
"This represents the work of our people at the factory along with hundreds of people in our sales channel and thousands of customers who have made Walker Mowers a part of their livelihoods," shared Bob Walker, president of Walker Manufacturing. "We have not done this alone, and we are thankful for the relationships that continue to be established and nurtured as we build the mower."
The company has celebrated milestones throughout its history including two Walker Mowers Family Reunions; one in 2000 for number 50,000 and again in 2008 for number 100,000. Thousands of customers, suppliers and dealers converged on the Walker factory in Fort Collins, CO, for these two-day celebrations. 
"We are a company that likes to celebrate accomplishments," Walker said. "And recognizing the people who make company progress is part of our company DNA."