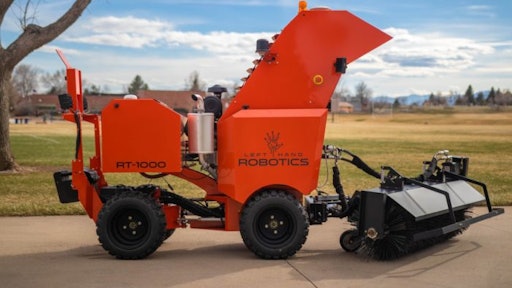 Left Hand Robotics
Left Hand Robotics announced today it raised $3.6M, led by Catapult Ventures, to build out its team and expand distribution of the world's first state-of-the-art, fully autonomous outdoor robot designed as a scalable platform that lets customers complete multiple tedious outdoor tasks. The robot transforms from a large-scale field mowing robot to a snow clearing robot by simply switching out attachments.
Left Hand Robotics has been shipping their commercial robot for several months now, allowing customers to autonomously mow baseball fields and open spaces in cities like Longmont, CO, and on university campuses.
"Michigan State University has had a mowing robot on campus this summer. We place it at its starting point and select that location's path program from the smartphone app, and then it takes off on its own," said Jeremiah Saier, a GIS analyst at Michigan State. "In the future, we can imagine multiple robots serving double duty for us by both mowing and clearing snow."   
As a smart mowing robot, Left Hand said it excels at large scale mowing at sports complexes, parks, campuses and open spaces. Today a sod farm customer has a robot mowing hundreds of acres a week completely unattended. As a snow clearing 'Snowbot', it clears a sidewalk in a single pass. The robot does the work of industrial mowers and snow blowers, yet it's agile and compact – about the size of an ATV.