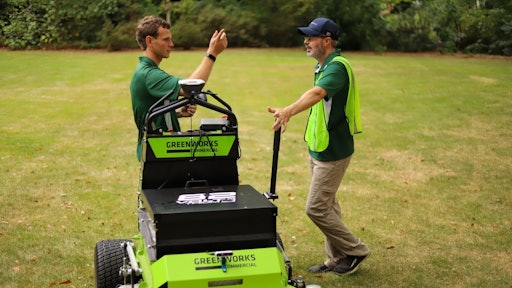 Greenzie is building software to reduce the cost of labor for lawn maintenance with robotics.
It was recently announced the company secured a $750,000 investment. Atlanta Ventures (David Cummings) led the round with additional investors including Matt Lowe (Swiftstraw), TechSquare Labs, Glenn R. Beyerl (KPM), Reliance Advisors (Dan Campbell), Carswell Distributing Company (Will Parsley), Tom Noonan, Kyle Porter, Allen Graber, and Raul Velarde.
The latest round of investment funds includes new strategic investors as well as multiple follow-on investors.
This investment funds delivery of Greenzie's Green Glove Service -- a robotic mowing program powered by Greenzie robotic technicians equipped with robotic enabled, auto-striping mowers.
These crews will mow lawns for the #1 and #2 largest landscaping companies in the United States and several of the largest in the metro-Atlanta area. Funds will also be used for enhancing and improving the software powering the technology and expansion.
"Our customers need help: the time is now to use software and robotics to do the repetitive parts of lawn maintenance," Charles Brian Quinn, CEO and Co-Founder said. "Our big mission to free humans from repetitive outdoor labor just got some serious firepower behind it. Our customers, who are smart business owners, employers, and hard-working pioneers, will be rewarded. And the landscapers on our waiting list will be happy to hear we're expanding and growing."
Greenzie's customer list includes HighGrove Partners, Russell Landscape and BrightView.
"Labor is our number one issue right now," Jim McCutcheon of HighGrove Partners said. "The thing is, we don't want to reduce our overall headcount, we want to enhance the number of people that we can employ—the problem is trying to find those folks. With access to the Greenzie software, it takes away the mundane tasks of mowing and lets us focus on finding those folks."
Greenzie is the first company to launch from the Atlanta Ventures Studio.
"I've worked alongside the Greenzie team since inception and it's incredible to see the combination of authentic customer demand and the powerful robotic software helping eliminate repetitive labor," said David Cummings. "Greenzie is going to define the outdoor robotics industry in Atlanta and the greater region."