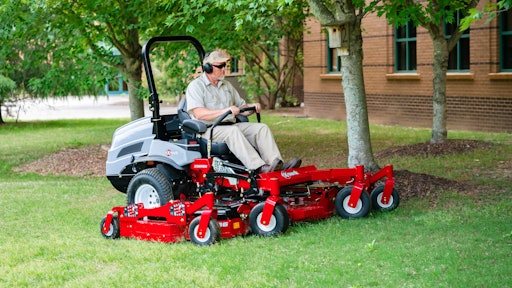 Exmark Manufacturing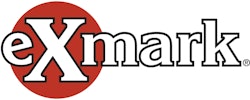 Exmark is celebrating the 25th anniversary of its Lazer Z commercial zero-turn riding mower.
What started as one series in 1995 has grown to include four series, and numerous models for 2021, each available in a range of cut widths, fuel options and configurations. Exmark offers both gasoline- and diesel-powered Lazer Z models, with decks capable of cutting up to 96-inches per pass.
Exmark continues to innovate based on customer feedback. Some of these innovations for 2021 include the updated 96-inch Lazer Z Diesel and the exclusive Exmark Tractus airless drive tires.
On the turf care side, the Z Turf Equipment lineup expands considerably for 2021, with new stand-on aerator and slicer seeder models.
The mid-size Z-Aerate 30 (30-inch aeration width) and compact Z-Aerate 24 (24-inch aeration width) models join the Z Turf Equipment line for 2021. Both new Z-Aerate models feature an innovative free-floating center tine design that enables aeration around trees and flowerbeds. Up to 1,200 pounds of adjustable down pressure enables the machines to pull plugs up to five inches deep. Intuitive controls are similar to a zero-turn mower, making the Z-Aerate machines easy to operate. The dual-drive design powers both wheels for zero-turn maneuverability and unmatched traction on any turf. An available seeder attachment empowers one operator to simultaneously aerate and overseed properties for maximum productivity and profitability.
The Z-Seed slicer seeder is a durable, easy to use machine that performs three jobs with every pass – verticutting, dethatching and overseeding. Hydrostatic drive and powered reverse make the machine incredibly easy to operate.
The large-diameter mixer regulates seed flow based on ground speed for efficient, consistent seed delivery at any speed. Durable high-carbon steel blades effectively dethatch existing turf, delivering maximum seed-to-soil contact for superior seed germination. A large 40-pound hopper handles large jobs with fewer refills.