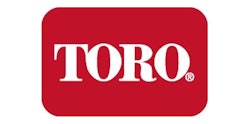 The new king of bulls is here. 
The new Toro Z Master 4000 zero-turn mower is a force to be reckoned with. It offers go-all-day comfort with Toro's patented MyRIDE suspension system and its grass-kicking Turbo Force deck built with 7-gauge high-strength steel.
The Secret to More Productive Mowing
With Toro's patented Turbo Force deck system, the Z Master 4000 is designed for efficiency.
The Turbo Force system is forged with an offset military-grade 80 KSI 7-gauge high strength steel deck. It has proven itself through over 100 million hours of real world experience cutting through the harshest conditions and all types of grasses. It is complemented with an extra strength tubular chassis and  rugged I-beam front-end.
Also, the Z Master 4000,  is available in deck sizes of 48, 52 and 60 inches and features Toro's legendary bullnose bumper that is meticulously designed to add durability, cut down on "blowout" and "bulldozing," and makes grass stand up and pay attention for perfect one-pass cutting.
Toro powers the Z Master 4000 with Kawasaki commercial engines ranging from 24.5- to 31 hp for top speeds of 12 mph and maximum blade speed of 18,500 fpm.
The engine and Turbo Force deck system is complemented with extra-rugged 26-inch Voodoo Trac™ drive tires that provide the user a higher vantage point to clearly see what lies ahead. Flat-free semi-pneumatic front tires and 24-inch turf tires are also available to meet the need of any conditions you might encounter.
Go-All-Day Comfort
For go-all-day comfort, every Toro Z Master 4000 is built with a suspension seat and lumbar support system designed to ensure proper back posture and support. With multiple seat adjustments (from forward and backward, to armrests that move up and down), the plush seat provides a quality seating experience. 
The Z Master 4000 can be upgraded with Toro's patented MyRIDE suspension system, which allows users to custom create the perfect fit. Regardless of your size, weight or leg length, MyRIDE can be adjusted to fit you.
The MyRIDE system is complemented with an adjust-on-the-fly rear suspension with shocks featuring nearly 3.6 inches of travel for a smoother ride.
Mow Your Way to More Profits
The Z Master 4000 series of zero-turn mowers is equipped with Horizon360 business software, which provides insights into operations designed to maximize profitability.
In addition, an hour meter and USB ports help keep tabs on time and allow users to incorporate other devices, such as mobile phones, to maintain communications with crews and customers.
Also, the mower is equipped with LED lighting to add a few extra minutes to a day in the morning or evening in the spring and fall.
The Toro Z Master 4000 is backed by a 5-year, 1,250-hour warranty featuring a 2-year no-hour limit. The mowers are available only at more than 1,500 authorized independent Toro dealers throughout the U.S. and Canada.