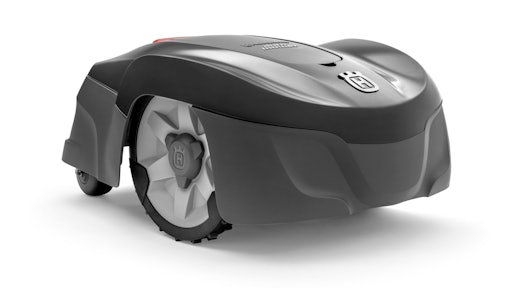 Husqvarna Automower 115H is an entry-level robotic lawn mower that comes with expert installation included in the price. It provides a carpet-like lawn with minimal user effort. Features include:
A one-stop solution for purchase, delivery and installation by Husqvarna.
The flexibility to handle all grass types, some of which flourish with a higher cutting height.
The capacity to mow mid-sized lawns up to 0.4 acres, and tackle complex yards, narrow passages and slopes up to 17 degrees.
A cutting height up to 3.6 inches.
The Connect@Home Bluetooth-enabled app that lets owners control and monitor the unit from their smartphones.
Expert installation provided through the company's widespread network of specially trained and authorized Automower dealers—at the point of purchase, the nearest dealer is notified and schedules installation directly with the customer, creating a seamless purchase-to-installation ecosystem that makes getting a robotic mower easier.
A hose-washable design for easy maintenance.
For more information visit Husqvarna.
Request More Information
Fill out the form below to request more information about
Husqvarna Automower 115H