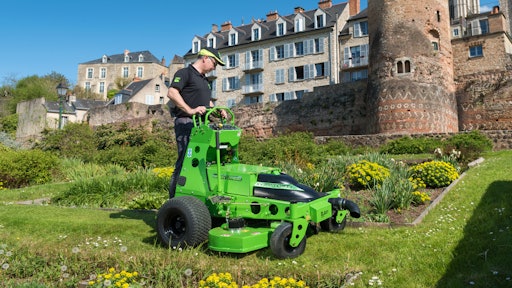 Mean Green

The Mean Green Stalker 48-inch (SK48) stand-on/walk-behind mowers is a compact full-day electric mower. With zero emissions, the Stalker is a powerful and quiet option for contractors that saves approximately $7/hour in fuel and maintenance costs and will run up to 7 hours on its lithium energy modules. Features include:
48V system equivalent to a 24 HP engine
Speed up to 8 mph
High/Low blade speed control
No flat front tires or optional Tweels.
Easy Adjust deck height system with cutting heights up to 4.75 inches.
Weight 730-845 lbs.
3 blade side or rear discharge deck
7 gauge welded deck
Drive speed control system
Standard 20" drive tires.
Noise level: 76 dba
Standard 25A (110V) or 35A (220V) 8 hr charger.
Additional options include a LED floodlight kit, aluminium grass catcher, rear mulching deck, QTXN debris blower or a 3KW inverter.
Request More Information
Fill out the form below to request more information about
Mean Green Releases the Stalker (SK-48), the Next Generation of Commercial Mowers