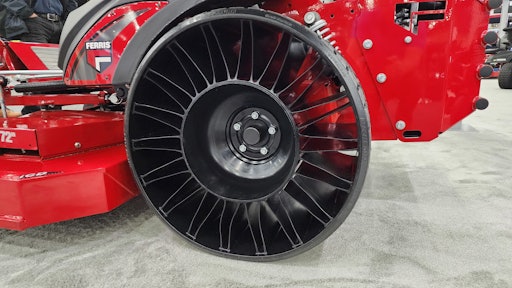 Michelin North America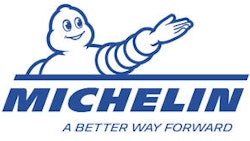 Michelin North America's Tweel 26-inch tires can now be used on Ferris Mowers' new ISX 3300 model.
The Michelin X Tweel Turf tire in size 26x12N12 XL with a 5on4.5-inch PCD and -2.2 in. offset can be used to replace the standard 26x12x12 tire on an existing mower. The pneumaticlike performance and ease of mounting eliminate costly downtime due to flat tires.
The Michelin X Tweel Turf tire in size 26x12N12 XL features a 1,031-pound load capacity, allowing the use of an optional bagging system. It incorporates a five-bolt design, which mounts easily to the Ferris ISX3300 mowers without modification or complex mounting equipment.
"The Michelin X Tweel Turf 26-inchinch tire is the offering within our new partnership with Ferris Mowers for their most productive commercial mowers," said Tony Marconi, business director of Michelin Tweel Technologies. "Ferris Mowers are already known for their consistent mow quality, high productivity, and excellent operator comfort due to their exclusive suspension technology. The Michelin X TWEEL Turf tire is an ideal choice to further expand and enhance that performance."
Michelin's airless Tweel tires eliminate downtime due to flats and unseated beads, and they help maintain a level deck without the need to adjust air pressure.
"At Ferris, we recognize the need to offer multiple tire options to meet the various needs of our customers," said Christin Wam, senior director of marketing at Briggs & Stratton. "Not all turf is equal, and not all jobs are the same. Providing an option like this, which we've tested and validated to deliver premium performance with Ferris equipment, demonstrates our understanding of what it takes to win in landscape contracting."
Representatives from both the Michelin X TWEEL Turf tire and Ferris Mowers teams will be available for media interviews at Equip Exposition Oct. 17-20. Michelin is located at booth No. 7040.
Request More Information
Fill out the form below to request more information about
Michelin NA Teams Up With Ferris Mowers on Tweel Tires