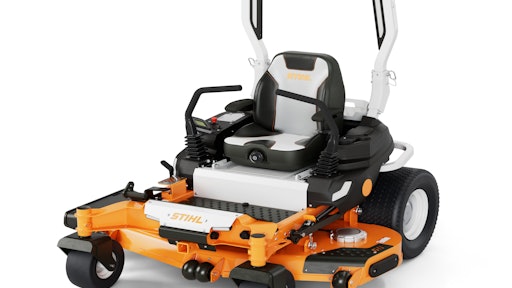 Stihl


Debuting for the first time at Equip Expo 2023, Stihl introduced a new line of battery-powered zero-turn mowers, trimmers and pole pruners and more.
Zero-turn mowers
The Stihl RZA 748, STIHL RZA 752, and STIHL RZA 760 battery zero-turn mowers have all-day run times, high speeds and good features with quiet and exhaust emissions-free operation.
Further cementing its place in the wheeled goods category, Stihl also introduced gasoline-powered walk-behind mowers to the U.S. market with four models: RM 655 V, RM 655 VS, RM 655 YS, and RM 756 YC. These models have many features, including:
An easily adjusted mono-comfort handlebar that offers direct access to the grass catcher and easily folds for convenient transport and storage.
A spring-assisted, single-point height adjustment offers seven cutting height options for the operator to choose from.
A Kohler engine with a cast iron cylinder liner provides powerful performance with durable engineering.
The easy-to-clean polymer grass bag and the clamshell design make emptying easier.
The RM 655 VS, RM 655 YS, and RM 756 YC also feature a blade brake clutch that allows operators to keep the engine running for intermittent stops such as emptying the grass catcher.
Trimmers
Stihl released the AP battery-powered FSA 200. Comparable to the gas-powered FS 131, the trimmer has 60 percent more power than the FSA 135. In addition, the FSA 120 and FSA 120 R trimmers are scaled to match the most demanding requirements, with an optimal power-to-weight ratio of up to 40 minutes of run time. The FSA 120 R features 40 percent more power than the gas-powered FSA 90 R. The FSA 120 has a bike handle with quick adjustability and rubberized texture. On the other hand, the FSA 120 R incorporates a new loop-handle design with toolless quick release for easy adjustments, optimal ergonomics, and toolless barrier bar installation and removal.
Pole Pruners
The HTA 150 is the most powerful fixed-length battery pole pruner in the Stihl AP System. Offering optimized stability when pruning, this tool offers a magnesium gearbox and hollow shaft that make the unit light. Its bigger brother, the HTA 160 is the most powerful telescopic battery-powered pole pruner in the STIHL line-up. Comparable performance to the trusted HT 135, the new pole-pruner offers 25 percent more power than its HTA 135 counterpart.
Kombi Motor
The versatile KMA 120 R battery-powered kombi motor is a multitool for landscaping professionals looking to trim, cut, blow, prune, and more. Powered by the same scalable STIHL AP System battery, the powerhead is compatible with 14 attachments for a wide range of landscaping needs.
Request More Information
Fill out the form below to request more information about
Stihl Intros New Mowers, Trimmers and More at Equip Expo 2023