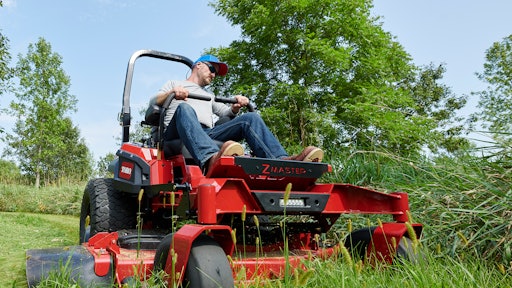 The Toro Co.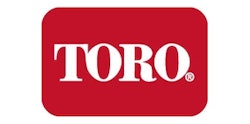 The Toro Co. unveiled its latest outdoor power equipment at Equip Expo 2023 in Louisville, Ky.
"This year we are really pushing the limits of convenience and power," said Ross Hawley, general manager at Toro. "That starts with our battery-powered equipment, whether we're talking about our removable batteries found on our walk-behind mowers and commercial handheld equipment, or on-platform battery systems featuring HyperCell found in GrandStand and Z Master Revolution mowers. HyperCell technology delivers (high) performance you've come to trust while eliminating costly maintenance and refueling from your budget. When rethinking our most popular mowers, we went to the extreme. Our cutting-edge battery technology is uniquely designed to meet specific challenges landscapers face on the job."
Details on Toro's new products are as follows:
GrandStand HDM (Heavy-Duty Mini)
The Grandstand HDM comes in new 32-inch and 36-inch deck options that can navigate tight spaces and fit through gated areas.
The compact deck design also saves trailer space, while enabling operators to complete jobs nearly three times faster than traditional 21-inch walk-behind mowers.
Following the field-tested GrandStand design, the GrandStand HDM comes with the Turbo Force

deck and a convenient flip-up utility hood provides easy access for maintenance, making servicing a breeze.

The single-belt drive system and sealed caster forks/wheels further minimize parts and servicing requirements, streamlining maintenance and reducing downtime.

Moreover, with its durable pump and wheel motor transmissions, the mower's lifetime is extended, and its handling response is improved, ensuring reliable performance for years to come.
Z Master 4000 HDX with MyRide
Extra large and ready to charge through the toughest and biggest jobs, the latest edition in Toro's Z Master 4000 series offers the widest, heavy-duty deck yet, power from a 35-hp Kawasaki FX1000 and the added comfort of our patented MyRide suspension system.
The 72-inch HDX sets new benchmarks for the landscaping industry with its unbeatable durability, style and wide range of features.
The Turbo Force

deck made of seven-gauge steel ensures perfect one-pass cutting and enhances the after-cut appearance through dual capture anti-scalp rollers, a rubber discharge chute and a rugged I-beam front end.

Rolling on massive 26-inch Voodoo Trac tires provides aggressive tread to conquer any terrain and give the operator a higher vantage point to always know what's coming.

The HDX can effortlessly handle triple bagger and dump-from-seat bagger attachments to streamline operations like never before.

The MyRide suspension system includes beefy shocks featuring up to 3.6 inches of travel to soak up whatever's ahead.
As an added bonus, holders for a drink or phone keep them always within arm's reach, and onboard USB ports keep the phone charged while mowing.
TurfMaster Revolution
Every component of the all-new TurfMaster Revolution is made for heavy use in rough conditions, just like its predecessor, but without the need to refuel. This machine is built to be tough and reliable while maximizing efficiency on the job.
The TurfMaster Revolution has a 30-inch deck to help tackle more ground in fewer passes, while still offering the simplified and easy-to-learn operation of a walk-behind mower.
Its three-in-one design allows operators to quickly switch between mulching, bagging or side discharge.
Three 60V Flex-Force batteries keep this walk-behind working for up to 80 minutes of continuous run time, and it can cut up to an acre per charge. Those same batteries can be used in any of Toro's Flex-Force handheld tools, snow removal or walk-behind mowers, maximizing convenience and utility. Each Flex-Force battery is designed to run cooler, enabling all-day use without overheating. Recharging the largest capacity batteries takes just 40 minutes.
Embracing electric power, the TurfMaster Revolution boasts significant noise reduction. With zero engine exhaust emissions, contractors can confidently work in any environment while lowering their carbon footprint.
Moreover, minimal maintenance is required as there is no need for oil and filter changes.
Horizon360
Each machine is Horizon360-capable.
New features to the Horizon360 Business Management System platform include streamlined equipment maintenance tasks, ensuring smoother and more structured equipment management.
Mobile invoicing and scheduling capabilities bring greater convenience to field operations, while the platform's expansion to support Canadian French extends its reach to a broader audience.
Financial, productivity and tracking analytics improvements provide users with invaluable insights for better decision-making. Plus, the Horizon360

Connect platform now includes equipment maintenance tasks, allowing users to manage equipment upkeep effortlessly.

With these updates, Toro's Horizon360 platform stands at the forefront of modern business management solutions, offering an even more comprehensive and user-friendly experience for landscaping professionals.
Request More Information
Fill out the form below to request more information about
The Toro Co. Adds New Mowers, Software Capabilities at Equip Expo