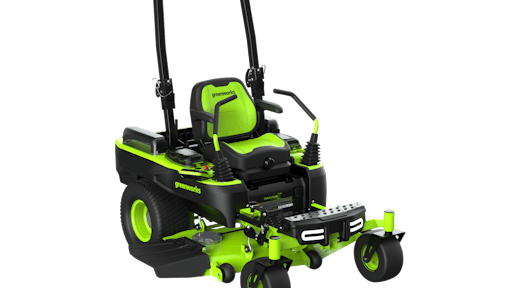 Greenworks Commercial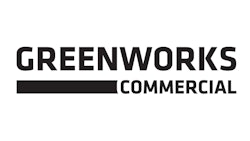 Greenworks Commercial
At the 2023 Equip Expo, Greenworks Commercial is showcasing its newest zero-turn mower. This mower runs on battery power which will offer a more sustainable option to users.
According to the company:
Greenworks Commercial, a provider of battery-operated outdoor power equipment, is set to make a mark in the residential lawn care sector, by introducing the Maximus Zero-Turn Mower. This innovation will be showcased at the 2023 Equip Expo in Louisville, Ky., Oct.17-20.
The Maximus Zero-Turn Mower represents a leap forward in the residential mower market. This machine, designed for ride-on zero-turn functionality, will be available through Greenworks' dealer network.
The Maximus features a dump bed that opens a world of possibilities for residential users. It enables the transportation of various materials, from sod and fertilizer to water and dirt, while accommodating up to 200 lbs. of rear storage. The dump bed's integrated dumping feature enhances its utility and convenience.
Equipped with four 8Ah batteries and two suitcase-style batteries, the Maximus delivers 20A of runtime. Users can enjoy a maximum runtime of nearly 2.25 hours, setting new standards for residential mowing. The unit can charge from zero to 100% in less than six hours, providing ample charge time.
This mower is available in either a 60-in. or 54-in. deck size, featuring an onboard charger for handheld batteries. The 60-in. variant includes 5,904 watt-hours, while the 54-in. variant offers 5,248 watt-hours, thanks to the combined output from the kit's batteries.
With three low-profile deck motors, the Maximus delivers instant power at a constant 17k ft. per minute. With 14 deck height positions ranging from 1.5 to 4.5 in., it can handle the thickest terrains, undulations, and obstructions, ensuring a precise cut.
The Maximus can reach a maximum cutting speed of eight mph. The Electronic Takeoff Output (ETO) port enables users to power accessories like a blower and a bagger kit directly from the mower's battery supply, eliminating the need for a secondary power source.
The mower comes standard with a Rollover Protection System (ROPS) and a light kit for user safety. LED headlights provide illumination for nighttime operations, and 4G/GPS connectivity allows users to monitor internal specifications and anticipated maintenance needs while enhancing security measures with theft protection.
Greenworks' Maximus Zero-Turn Mower is great for property owners with up to five acres to cut on a single charge. It's the ideal solution for transitioning from gas-powered equipment to a cleaner, more efficient alternative.
"The Maximus Zero-Turn Mower redefines the residential lawn care experience," said Greenworks Product Manager Mason Cain. "With cutting-edge features, unparalleled battery power, and a focus on user convenience, this mower is poised to set new industry standards."
Visit Greenworks at the 2023 Equip Expo in Louisville, Ky., at booths 3182 (Exhibit Facility) and 8120D (Outdoor Demo Area)to witness the future of lawn care.
Request More Information
Fill out the form below to request more information about
Greenworks Highlights New Zero-Turn Mower