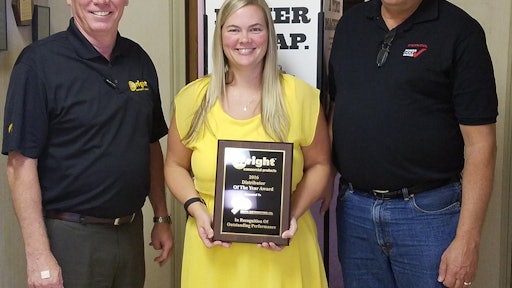 Wright Manufacturing has recognized Smith Distributing Company as its 2016 Distributor of the Year. Established in 1983, Smith distributes Wright commercial mowers to independent landscape equipment dealers in Oklahoma, Kansas and Texas.
Hal White, Wright's vice president of sales, presented the award to Glenn Smith, president of Smith Distributing, along with general manager Kandis Caldwell. Wright is Smith's exclusive mower line, and White noted that this is the second time the Oklahoma City firm is Distributor of the Year since taking on the line in 2003.
White lauded Caldwell, a longtime member of the Smith Distributing team who was promoted to general manager about 18 months ago. He credited her leadership with providing the impetus for the distributorship to win the award.
White said, "Kandis has built a very good management team that has grown the business significantly in a very short period of time."