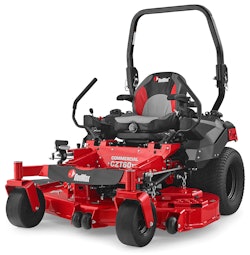 RedMax

The new CZT60TX Zero-Turn Mower from RedMax, a manufacturer of commercial-grade outdoor power equipment, has officially been launched for the 2023 cutting season. With a powerful 38.5-hp Kawasaki FX1000 fuel-injected engine, the CZT60TX packs plenty of punch for landscaping jobs.
The CZT60TX is equipped with a commercial-duty drive system that allows for ground speeds up to 12 mph. The 6-in. deep cutting deck is made of 7-gauge commercial-grade steel and features 10-in. cast iron blade spindles. The CZT60TX also has a 10-gal fuel capacity, for all-day cutting.
Built with the operator in mind, the CZT60TX features a hands-free deck lift system and an automatic parking brake. It also has a full suspension seat, providing a comfortable ride even on bumpy terrain.
"The CZT60TX is our most powerful commercial zero-turn mower yet and it is built to last, with industrial-grade components that can withstand the demands of any commercial landscaping job," said Sean Dwyer, wheeled product manager at RedMax. "We've created a machine that is rugged, durable, and powerful, while also easy to use. It is the perfect choice for mobile landscapers who want to dominate the landscape."
Request More Information
Fill out the form below to request more information about
RedMax Offers CZT60TX Zero-Turn Mower