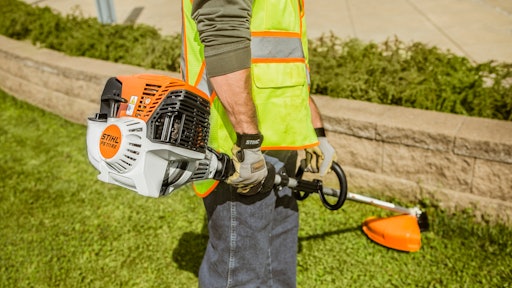 If you haven't been cut by a piece of orange string while trying to complete the trim in your yard, are you even using a weed-whacker? Or as they're known in the industry, a string trimmer. How complicated and innovative could this simple piece of equipment possibly be? Representatives from Greenworks, STIHL, Husqvarna and RedMax and Edgit offer some insight on the changes and advances of string trimmers, from ergonomics and safety to the future of environmentally conscious products.
What Contractors Want and Expect in a String Trimmer
Chad Bishop of Greenworks believes contractors are looking for balance and comfort: "They would like for it to be flexible so they can use it for many different functions, such as bed edging, ground trimming and in smaller areas that mowers cannot reach." 
Christian Johnsson Product Manager of Husqvarna and RedMax notes that the ability and durability of the equipment is essential, along with run time. "It has to be durable and withstand all of the abuse it is going to be exposed to. It should have a decently long or fairly long run time, regardless if it is gas driven or battery driven."
Mike Poluka of STIHL agrees, that whether a string trimmer runs on gas or batteries, landscapers want "more power, increased durability, a lightweight design and reduced vibration." Inventor and owner of Edgit, Steve Byrne adds that cost effectiveness, whether in saving time or money for a contractor also drives the choice. "When I was a mowing contractor I wanted the lightest, most powerful, most reliable, most versatile and least expensive trimmer, in that order. I settled on the first three. My trimmers were for manicuring lawns which meant using them for both trimming and edging."
Equipment Features
Greenworks' string trimmer is a battery operated offering whose design offers the same functionality users have become accustomed to in gas counterpart. Bishop notes, "A lower gear box and rear mount motor allows the end user to use a same style trimmer head as a gas unit, and therefore provides the same functionality a user is accustomed to when performing their trimming tasks." Additionally, multiple attachment offerings such as a string trimmer, edger, cultivator, articulating hedge trimmer and blower provide savings and convenience for users. Bishop said, "The cost side means the end user doesn't have to purchase multiple tools. Second, the amount of space required to hold or transport multiple tools within one's system makes them extremely convenient." 
Christian Johnsson, Product Manager of both Husqvarna and RedMax divisions differentiates each company's string trimmer by highlighting the traits each is known for. "One of the trademarks for RedMax is durability, but we've also been in the forefronts when it comes to engine technology with strato-charged engines that reduces emissions and increases run time," he said.
While Husqvarna products also pride themselves on durability and a focus on the comfort of the user. "We've put a lot of effort into vibration controls, lowering the vibrations and noise regulations," Johnsson said. Both Husqvarna and RedMax string trimmers also include the option of a two-stroke and battery. "There is a broad variety of products so depending on what you are looking for we have it all," he concluded.
Additionally, both Husqvarna and RedMax utilize the same coupler, allowing not only for a variety of attachments, but also the capability to use each brand's attachments interchangeably. For example, the pro coupler allows a user to change attachments within ten seconds, saving time and money. The user is also able to keep costs down by purchasing one product and adding attachments as he or she needs. "We have more than ten different attachments for the pro coupler: from brush cutters, cultivator, there is an extension if you are using pole saws or hedge trimmers maybe, there is a trimmer, two different kinds of hedge trimmers, edger, blower attachment, de-thatcher for your backyard or garden, sweeper, bristle brush," Johnsson said.
Marv Mathwig and Mike Poluka of STIHL also emphasize the importance of a string trimmer that can utilize multiple attachments. Mathwig listed STIHL's combi motor attachment offerings that cover a wide range of services offered by landscapers. Some of the different gearbox attachments we've got would be a mini cultivator, an edger, a 145 degree hedge trimmer, a zero degree hedge trimmer, a bristle brush and a rubber paddle. There's also what we call a power broom or power sweep for moving water, for moving snow, for moving mulch, for moving sand."
Furthermore, the combi motor can also utilize five different power heads without forcing the operator to stop, remove screws from the gearbox and secure a new attachment. Mathwig said, "you're not even having to undo screws at the gearbox, you just basically have one tommy screw that you turn and you basically split the shaft of the trimmer and you can attach any of these 14 different combi system attachments onto the power head."
Mike Poluka added that STIHL recently released a battery powered version of this popular tool. "Earlier this year Steel also introduced a battery powered combi machine and it is in fact a professional machine. It is powered by a battery and it uses the same gasoline powered attachments that we've previously had in the range." Not only do both gas and battery operated string trimmers offer over fourteen attachments, Mathwig notes that there may be more attachments in the future. "STIHL still continues to expand it's product lines to make lawn care faster and easier. Be it via battery, be it corded products, be it gas powered products," he said. Poluka anticipates that there will be a higher demand for battery powered products from trimmers to blowers will continue to grow. "I believe you'll see additional batteries that have increased energy content with the benefit of longer run time. So one of the biggest concerns to landscapers is what they can do on a single battery charge and as this battery technology advances, we're seeing more energy content in the same sized batteries."
Steve Byrne, inventor and owner of the Edgit string trimmer and company describes the advantages of combining a traditional string trimmer with an edger. "The Edgit rolls down an edge with the string spinning out beyond the Edgit's outer lip, clearing a path for both the string and the disk. This allows the trimmer operator to maintain perfectly straight and vertical edges with a gas powered straight shaft string trimmer," he said. "It's able to perform two tasks with one tool, the trimmer and edger, means less time on a job, which means more being more productive, which means making more money."
Changes and Innovation in String Trimmers
For Greenworks, Chris Bishop, changes are in the works from the types of materials used, promoting ease and safety for operators and improvements in battery operated equipment. "We're partnering with multiple companies to design different types of heads that have a universal fit that allows greater ease of use for the end user." 
Additionally, Greenworks is exploring using different types of shaft materials, and balancing the motor and battery location on trimmers to help prevent operator fatigue. Their focus on battery operated equipment also allows for ease of use and maintenance. "Battery technology affords power and comfort with minimal maintenance requirements. Simply add lubrication to the gear box annually and you are prepared for a season of cutting," Bishop said.
Christian Johnsson, representative for Husqvarna and RedMax noted that they've most recently worked on lowering vibrations, increasing ease of use for the operator, improved battery efficiency, and safety. "We worked on adding bushings and bearings in certain places in there to kind of reduce the amount of vibrations inside the shaft, along with reducing weight as much as possible," he said. Reduced weight has also been a benefit of battery operated string trimmers. "The 500 series line trimmer or string trimmer we have, the battery product itself is lighter weight, and then it's got that perfect balance in the product."
An additional innovation comes in the form of safety for the user. While Husqvarna and RedMax already utilize a pro-guard which reduces the risk of the operator being hit with debris while trimming, they are also adding apparel as personal protective equipment or PPE for users. Johnsson described the clothing, intended for trimmers. "For example, pants that are a little bit softer on the legs if you're in gravel or dirt so there is not risk of injuring yourself if it throws the rocks at you, or the gravel," he said.
STIHL representative Marv Mathwig noted some recent changes in STIHL string trimmers included an increased fuel tank that holds 24 ounces, and a semi automatic choke lever. "We've got a once touch stop button, semi automatic choke so that when you try to start the unit you'll put it on choke manually and then once the unit starts you hit the throttle trigger and it automatically takes the unit off of choke," he said.
Other recent innovations for STIHL string trimmers include easer access to spark plugs and valves for quicker service as well as a data port that monitors successful starts and number of hours on the machine, and in the future, will possibly even provide diagnostic services.
Finally, Mathwig notes, "We've got some new cutting heads and probably one of the biggest trends in the industry is cutting heads that you can reload without disassembling the head. So, we're right there along with the other folks in the industry but we feel we've got a big advantage with our auto-cut C26/2 new head."
From Edigt, inventor and operator, Steve Bryne notes that advancements in trimmer head design and split boom shafts have allowed for trimmers to become more versatile. "The best innovation in trimmer head design lately are those that let the operator thread lengths of line through the assembled head/spool, then simply wind the string onto the spool by twisting the bottom," he said. For contractors who are just starting out and looking to get the biggest bang for their buck, Byrne recommends a trimmer with a split boom shaft. " This allows the operator to have one powerhead with multiple shaft attachments which adds to the trimmer's versatility, especially for the small contractor with limited resources."
His own innovation, the Edgit System, has changed the way he trains string trimmer operators and put their safety at the forefront. "The one thing that I disliked about straight shaft trimmers was that the counterclockwise rotation of the string forces right handed operators to walk backwards while trimming along a wall," he said. Byrne's moment of realization came as he trained a new employee. "One day I happened hire a kid who had never used a trimmer before, and he was also left handed. He picked up the trimmer with his left hand on the gas, right hand on the handle. This is just the opposite of everybody else and how the industry recommends trimmers be held," Byrne recalled.
As Byrne watched his new hire at work, it occurred to him that this simple difference could drastically improve the operator experience, despite initial resistance. "From that day forward I forced all my trimmer operators to carry trimmers left handed. From this I created a training system for trimmer operators that I include to this day with every Edgit I sell. We call it "Following the Edge," and there is no faster, more effective or more productive way of manicuring a lawn than this system," he concluded.
Noise Ordinances Lead to Advances in Battery-Operated String Trimmers
Greenwork's Chad Bishop, emphasized the importance of battery operated trimmers for the lack of noise and fumes. "Battery technology allows for a quieter experience so the lack of noise gives the end user the ability to landscape anytime," he said. "Power and advancement in battery technology is allowing us to produce several trimmer / brush cutters to exceed the 40cc powerband of gas. This means little to no noise and no fumes for the environment and longer runtime." 
Christian Johnsson, speaking for Husqvarna and RedMax adds that upholding emission standards and focusing their energies on battery operated products will see them into the future, but they aren't abandoning gas powered equipment, either. "I think we need to put more effort into battery, however we're not forgetting about gas, we're still also the better lineup of gas by far, and we will do so for quite some years," he said. "We will continue to improve everything we have, two-stroke and four-stroke as well."
Similarly, STIHL representatives Mike Poluka and Marv Mathwig note that while there is a high demand for battery operated products, there is also a need an opportunity to improve the technology in gas powered trimmers. For example, Poluka notes that California wants to ban hand held equipment in the future. "we're aware of these demands and we design our battery powered equipment to meet these demands," he said. They're looking for noise reductions but also durability requirements. So although its a battery piece of equipment, the durability of the machine has to be similar to a gas powered machine, and we're working hard every day to make that happen."
Mathwig added that STIHL will also continue to focus on gas powered products. "Despite all these advances with battery powered handheld outdoor equipment, many of the pros still prefer our gas powered equipment," he noted. "As a result we've got a lot of technologies that enhance these tools, reducing emissions and noise output as well as providing greater fuel efficiency."
There's more to a string trimmer than meets the eye, especially for professionals who are looking for the most efficient and cost effective options, facing noise and environmental ordinances and keeping employee safety and health in the forefront. From Greenworks, Husqvarna and RedMax, to STIHL and Edgit, there are many string trimmer options to keep any contractor happy.
Angie Mellor is a freelance writer and editor in La Crosse, Wisconsin.