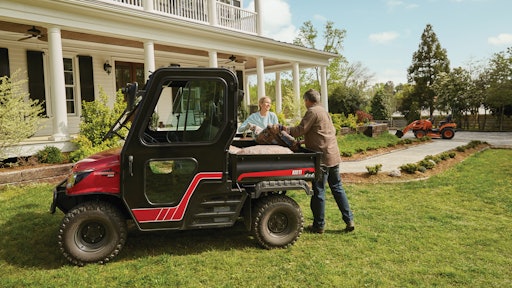 Kioti
In the game of baseball, a utility player is one who can play a variety of positions. In landscaping and groundskeeping, a utility vehicle (UTV) can also play a variety of positions in a variety of working environments. It is that element of versatility that makes them so popular and continues to fuel demand.
"From farmers and ranchers to surveyors and contractors, all types of users find UTVs to be a valuable part of their equipment lineup," says James Little, dealer development manager for Kioti, a manufacturer of tractors, zero-turn mowers, utility vehicles and attachments. "Landscape contractors rank high on that list—probably as one of the top three or four heaviest users of UTVs."
According to Roger Gifford, Kubota product marketing manager for utility vehicles, the primary audiences for UTVs often vary by vehicle and manufacturer. For example, some UTVs are designed more for recreational use, and some manufacturers cater more to certain customer segments such as landscapers, rural property owners or farmers.
"Kubota's full line of workhorse utility vehicles serve landscapers and contractors, construction sites, large-property owners and ag customers," Gifford says. "Landscape contractors rank ahead of the construction market and are in Kubota's top three customer segments along with our agriculture and residential customers." Kubota is a manufacturer of tractors, loaders excavators, mowers, UTVs and attachments.
Ideal landscaping applications for a UTV
Landscape contractors often have to haul heavy materials and tools around a jobsite. According to Kioti's Little, a UTV with a large cargo bed, strong weight and substantial towing capacity can greatly improve production.
Another thing to think about is traveling around congested areas of land, such as a bustling commercial site or heavily landscaped residential property.
"A UTV is more maneuverable than a truck," Little says. "A multirow UTV is helpful when transporting tools across large landscape sites."
Gifford adds that because UTVs are fun to ride and drive—and easy to get in and out of—some jobs that were done with pickup trucks are now being done with UTVs.
"UTVs are much more maneuverable, don't cause as much turf damage and are often cheaper in capital and operating cost," he said. "UTV versatility is endless. As more landscapers invest in them, they are finding more ways to get their jobs done efficiently and effectively."
One example is in irrigation and lighting applications. UTVs can be helpful in traveling around sites to check sprinkler heads for leakages, or lighting fixtures for damaged wiring.
The ability to power a long list of attachments creates an equally long list of productivity-enhancing possibilities.
"A horticulture application may call for a spray rig to be mounted on a UTV, while a snow removal application may call for a snowplow, snowthrower or broom on the front and a salt spreader in the bed," Gifford cites as examples.
Kubota offers roughly a half-dozen attachments that can be used on its utility vehicles: a spreader, sand/salt spreader, sprayer, 60-inch broom, and 72-inch straight, V and general purpose blades. Bobcat, a manufacturer of compact construction equipment, UTVs and attachments, says users can operate roughly eight standard attachments and select power take-off attachments with the Bobcat 3650 UTV. Bobcat's Toolcat Utility Work Machine can power more than 40 attachments.
Choosing a UTV
There are many brands and models of UTVs today, giving customers a mind-boggling array of options to choose from.
Gifford says it's important for a landscaper to determine what their needs are based on the projects they'll be doing both today and in the future.
If a landscaper is looking to tow and haul, important features to consider are payload, towing capacity, cargo bed capacity and engine type (diesel vs. gas).
"These features are especially important for a landscaper, as they allow for maximum ground speeds and hauling potential of what can be bulky landscape materials," Kioti's Little points out. "A hydraulic dump kit is an excellent add-on to make jobs quicker and easier for the crew."
Ground clearance is another important consideration.
"The higher the ground clearance, the more the landscaper can navigate any environment with ease," he said.  
And speaking of navigation, the landscaper must also consider two-wheel drive vs. four-wheel drive. Additionally, some kind of protection package—including full-coverage skid plates and a grill guard—can prove important on long days and more challenging terrain.
Long, tough days can also necessitate some additional creature comfort features to make things easier on crewmembers.
"Don't forget to look for intuitive usability and perks like extra storage, comfortable seating and ergonomic design," Little says.
On that note, the landscape contractor also needs to think about how big a crew will be utilizing the UTV. A two- or three-man crew may only need a single-row model, while a larger crew likely needs a multirow UTV.
Climate is another consideration. Some UTV models provide air conditioning and heat. In-cab climate control can be an important feature if operating in a very hot environment or if utilizing the UTV in the winter to plow snow.
Finally, Little adds that it is important to purchase from an equipment dealer that has a good reputation and can be trusted. "He or she will take care of you during and after the sale," Little reminds. "A good relationship with your dealer is key to any purchase."
Speaking of equipment dealers, Kubota's Gifford says a landscaper should walk into a dealership with a clear understanding of what applications they want to use the UTV in, as well as any necessary attachments or accessories. It is not uncommon, then, for the utility vehicle itself to become a secondary qualifier.
It is easy for a professional user such as a landscaper to make a bad choice when it comes to a UTV.
Gifford says it is important to understand the difference between "work" and "play" vehicles. Those lines have become somewhat blurred in recent years due to the increasing number of UTV brands that are out there, some of which have track records with commercial customers while others cater more to recreational users.
"Landscapers who want to get a serious amount of work done should focus on true commercial-duty work utility vehicles," Gifford says. "The standard work specifications between vehicles may be very similar, so it's important for landscapers to investigate and research the durability and reliability of a vehicle by talking to their peers."
Kioti offers two series of UTVs: the K9 and the Mechron. The K9 is powered by a 24-hp diesel engine that provides for ground speeds up to 31 mph. Additionally, this UTV has a 1,598-pound payload (hauling) capacity and 1,300-pound towing capacity. The Mechron UTV has a 22-hp engine, a towing capacity of 1,300 pounds, and either a 1,325- or 1,598-pound payload capacity depending on model.
Kubota offers two series of UTVs: the mid-size RTV Series and the full-size RTV-X Series. Its new RTV-XG850 Sidekick is powered by a 48-hp engine and can travel up to 40 mph with cargo. "This is our fastest gas-powered utility vehicle yet, and really blurs the line between work and fun," Gifford says.
Kubota's RTV-XG850 Sidekick features a 1,435-pound payload capacity and 2,000-pound towing capacity. If a contractor wants as much hauling capability as possible from Kubota, the RTV-X900 has a 1,664-pound payload capacity. However, the RTV-X900's towing capacity of 1,300 pounds is roughly 35% less than the new RTV-XG850 Sidekick. The Sidekick represents the optimum blend of speed, towing capability and hauling capacity from Kubota.
Several other manufacturers with notable footprints in the landscape contractor market also market UTVs. For example:
·      Toro's Workman HD Series has a 3,500-pound towing capacity and 3,352-pound payload
·       The Kawasaki Mule Pro-FXT has a 2,000-pound towing capacity and 1,616-pound payload
·       Bobcat UTVs have a 2,000-pound towing capacity and payload up to 1,250 pounds
·       The Gravely Atlas JSV has a 2,000-pound towing capacity and 1,900- or 2,100-pound payload
Service, maintenance and optimizing performance
When evaluating whether or not a UTV makes sense for their landscaping operation, one thing a contractor cannot overlook is how they will transport their UTV to a given jobsite. Little says that to safely haul a UTV, a 14- to 16-foot trailer and a minimum of two 3,500-pound axles with brakes on both axles is necessary.
Landscape contractors must also think about the ongoing maintenance and overall care of a UTV in order to get the longest, most productive life possible.
Gifford notes that contractors should refer to their UTV owner's manual in order to establish a good preventive maintenance schedule.
"Be sure to lubricate all grease fittings, check tire pressure, and check the levels of your fluids such as antifreeze, especially in the colder winter months," he said.
Before each use, Little suggests operators should look over the engine, transmission compartment, suspension dust guards and air filter to ensure that everything is clean and free of debris.
"Also check the oil level," Little adds. "If necessary, be sure to top it off."
Since a UTV is typically being asked to do a lot of things on a variety of terrain, proper tire care becomes really important.
"Visually check the tires and keep track of tread wear," Little says. "If the treads are worn to 50% or less, it is time to replace them. It's always better to replace your tires proactively than to experience a tire failure on the jobsite."