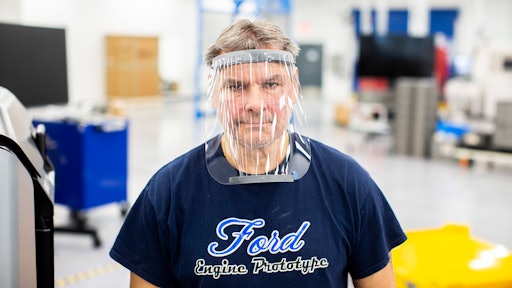 It is during times of crisis that industries pull together, set aside competitive differences and inspire us all with the ability to overcome seemingly insurmountable challenges through ingenuity and pure determination. When I first saw the social media posts from medical professionals thanking an automotive manufacturer for their life-changing face shields, I was moved to investigate further. What I found was that the automotive manufacturing industry voluntarily stepped up to the government's request for assistance.
Ford, General Motors (GM) and Fiat Chrysler Automobiles, parent company of Ram Trucks, have stepped up to the plate to offer manufacturing and logistics support for critical medical supplies needed to combat the spread of COVID-19. Items such as face shields to protect medical workers from contracting the virus and ventilators to treat critically ill patients are in short supply.
Unlikely Partnerships Form
The automotive companies are joining forces with leading medical device manufacturers to address the shortages. For instance, Ford Motor Company is joining forces with 3M and GE Healthcare. "This is such a critical time for America and the world," says Bill Ford, Ford's executive chairman. "It is a time for action and cooperation. By coming together across multiple industries, we can make a real difference for people in need and for those on the font line of this crisis."
Ford team members are working with 3M to increase the manufacturing capacity of their powered air-purifying respirator (PAPR). The companies are collaborating to develop a new design that leverages parts from both companies to address the current shortage. For instance, the Ford and 3M teams have identified off-the-shelf components such as fans from the Ford F-150's cooled seats for airflow and 3M's HEPA air filters to catch contaminants such as droplets that carry virus particles.
Ford is exploring building these new-generation PAPRs in one of its Michigan manufacturing facilities to potentially increase capacity tenfold.
In addition, Ford and GE Healthcare are working together to expand production of a simplified version of GE Healthcare's existing ventilator design to support patients with respiratory failure or difficulty breathing caused by COVID-19. These vital ventilators could be jointly built in both companies' plants to maximize production.
General Motors and Ventec Life Systems are working with StopTheSpread.org to enable Ventec to increase production of its respiratory care products in its fight against the COVID-19 pandemic. Ventec will leverage GM's logistics, purchasing and manufacturing expertise to build more of the critically needed ventilators.
"With GM's help, Ventec will increase ventilator production," says Chris Kiple, Ventec Life Systems CEO. "By tapping their expertise, GM is enabling us to get more ventilators to more hospitals much faster. This partnership will help save lives."
Mary Barra, GM Chairwoman and CEO, adds, "We are working closely with Ventec to rapidly scale up production of their critically important respiratory products to support our country's fight against the COVID-19 pandemic. We will continue to explore ways to help in this time of crisis."
Face Masks Protect Healthcare Professionals
The shortage of face masks is one of the more pressing needs for first responders in the battle against the virus. Again, the automotive industry is meeting this challenge head on.
Fiat Chrysler Automobiles (FCA) plans to manufacture and donate more than one million protective face masks a month. Production capacity is being installed this week and the company will start making face masks in the coming weeks. These will be distributed across the United States, Canada and Mexico.
Recipients of these face masks will include police, EMTs and firefighters, as well as medical professionals in hospitals and clinics. "Protecting our first responders and health care workers has never been more important," says Mike Manley, CEO of FCA. "In addition to the support we are giving to increase the production of ventilators, we canvassed our contacts across the healthcare industry and it was very clear that there is an urgent and critical need for face masks. We've marshaled the resources of the FCA Group to focus immediately on installing production capacity for making masks and supporting those most in need on the front line of this pandemic."
Ford's U.S. design team is also creating and starting to test transparent full-face shields for medical workers and first responders. The face shields are designed to fully protect the face and eyes and, when paired with N95 respirators, can prove a more effective way to limit coronavirus than N95 respirators alone.
The first 1,000 face shields are being tested at Detroit Mercy, Henry Ford Health Systems and Detroit Medical Center Sinai-Grace Hospitals. Roughly 75,000 shields are expected to be finished this week with more than 100,000 face shields per week to be produced at Ford subsidiary Troy Design and manufacturing facilities in Plymouth, MI.
Ford is also leveraging its Advanced Manufacturing Center in Redford, MI, and in-house 3D printing capabilities to manufacture components and subassemblies for use in personal protective equipment.